Big town? Small City? Just right! (If we work at it…)
by Ashley Bean Thornton
I love that Waco is small-big town or maybe a big-small city. We are small enough that rush hour is still more like "rush 15-minutes" and big enough to have a public radio station to listen to if you happen to get stuck at a light. (Thank you KWBU!) We are small enough that I run into people I know at the grocery store, and big enough that I meet new people with new ideas every day. We are a great size for a city…umm…town…umm…whatever…
Of course there are some challenges with being big-small. As sort of a "small town," we might be tempted to believe that we all have the same ideas about what Waco should be, and how to go about getting there. In fact, we are big enough and diverse enough that there are many ideas about Waco. We need to make a point of listening to each other to pull those varied ideas together into one coherent vision. On the other hand, as sort of a "big city" we might be tempted to lapse into "big city apathy"– the unfortunate habit of letting "them" make all the decisions and then getting mad at "them" when "they" do something we don't like. In fact, we are small enough that almost any of us could organize a group of like-minded residents and influence just about any decision being made in our city/town.
Because we are small-ish we all have the very real opportunity and responsibility to participate in the discussions and decisions that shape our community. Because we are big-ish, we need to take communication and participation seriously. It doesn't just happen automatically.  We have to be intentional about it. Our local government, school district and other institutions need to continue to provide opportunities for input, to make sure those opportunities are accessible to a wide range of people, and to publicize those opportunities far and wide in plenty of time for people to plan to participate.  "We the people" need to take full advantage of the numerous opportunities available to us to join in the civic conversation. (The phrase "use it or lose it" comes to mind.)  Here are a few ideas for doing that:
Participate in city planning with the new "Plan Greater Waco" on-line site at wacoplan.mindmixer.com. – The City of Waco and the Waco Metropolitan Planning Organization (MPO) are working right now on long-term plans that will shape and guide Waco for the next 10, 20, 30 years. The "Plan Greater Waco" site is open for everyone in the community to pitch ideas and give feedback on topics like "What are the three most important challenges facing Waco and McLennan County that we need to address between now and 2040?" and "What are our best resources that we should build on to strengthen our community?" On the site, you can give your own input, and see and comment on what your fellow residents are saying. It's easy, and fun, and your feedback goes directly to the folks in the planning office.
Get involved with "Prosper Waco." – Prosper Waco is our community-wide initiative to address challenges related to the high rate of poverty in Waco.   Those guiding this initiative have wisely adopted a holistic approach of simultaneously working on health, education and financial stability. The initiative is designed based on the "Collective Impact" philosophy that calls for all of us to work together on a common agenda. Prosper Waco has been years in the making and has already benefitted from the input of many, many voices. If you would like to receive updates about the progress of Prosper Waco, send a note expressing your interest and requesting to be placed on the distribution list to [email protected].
Keep an eye out for town hall meetings and information sessions, and go! – Our various institutions – the city, the school district, the public health district, Waco Transit etc. – regularly hold town hall meetings and public information sessions for the express purpose of getting more community input into issues that affect our community. Even in this age of Facebook and Twitter, going to meeting is still a great way to get to know like-minded and different-minded neighbors, and to get to know the people who work for you in the various city, school-district, county and other public offices. Two great places to find out about meetings are the Waco Trib and Actlocallywaco.org. If you hear about a meeting that sounds important and interesting make it a habit to call a friend or neighbor and go! 
Serve on a board, commission or committee – The civic work of our big-small community gets done to a large extent by boards, commissions and committees. There are over 30 boards and commissions listed on the City of Waco website and they welcome applications from every Waco resident. In addition to city boards and commissions, every non-profit in town has a board to help plan its work and committees to help carry out that work. Participation on one of these boards can give you a whole new appreciation for what is required to build a great community. Not sure you have the skills to serve on a board? Consider applying to participate in "Leadership Plenty," a free 10-week leadership development program available to Wacoans who want to prepare themselves for effective civic participation. For more information, google "Leadership Plenty Institute Waco."
Waco is a terrific place to live. We are big enough to dream audaciously, and small enough to know that we have to depend on each other and work together to make those dreams come true. A big "Thanks!" to all of you who are already working hard to make our community great. If you haven't gotten involved yet, there's no time like the present for joining in! Start with something small like leaving a comment on the wacoplan.mindmixer.com site or going to a meeting. Before you know it, you will be the one inviting others to the party!
---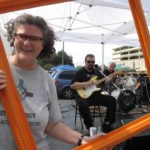 This Act Locally Waco blog post is by Ashley Bean Thornton, the Manager of the www.www.actlocallywaco.org website and the editor of the Friday Update newsletter. The Act Locally Waco blog publishes posts with a connection to these aspirations for Waco. If you are interested in writing for the Act Locally Waco Blog, please email [email protected] for more information.
(Visited 14 times, 1 visits today)