Upcoming Women's conference: IF God is real, how can we live like we really believe it?
by Sara Perry
One year ago this February, I had a life-changing experience. The setting was the Austin Music Hall with 1200 women seated round long farm tables for two days. None of us could really articulate WHY we were there, and we had no idea what to expect. There was no published program or speaker list. But we all had an undeniable sense of something important about to happen.
Over those two days, we heard worship led by Christy Nockels, teaching from international women authors and speakers, like Christine Caine and Jen Hatmaker, and testimonies from ordinary women just like us. We were given beautiful gifts from ministries around the world. We engaged in the deepest level of life ponderings with women who were strangers until we all stepped into that magical place together. We were all very aware that a lot of women had wanted to be there that day who could not secure a ticket. But we were the lucky ones.
God started something that day that has grown like a thousand wildfires around the world. It was a sense of purpose, meaning, and desire to be present in our lives and our communities. It was a battle against the fear that permanently resided in each of our minds, telling us we were too insignificant to make a difference. It was an awakening to the power of women joining together, supporting each other, and living like God is real and heaven really is coming.
I am thrilled to say, Waco, the wildfire has spread to our town. And it is called IF.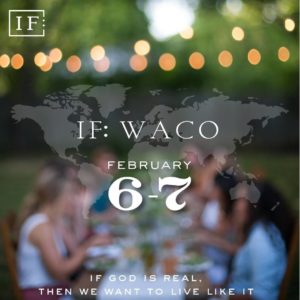 The main question the IF movement asks is: IF God is real, how can we live like we really believe it? The leaders of IF are working tirelessly to gather, equip, and unleash women across denomination, age, and background to live out their God-given purpose, wherever they are. For some of us, that is all about being the best mom, student, or friend we can be. For others, it may be taking a leadership role or meeting a local need in the community. There are endless possibilities and all roles are equally important. Haven't each of us at some point thought, what IS my purpose?
Whatever it looks like for each of us, it becomes a lot easier to embrace our role when we have support and encouragement from those around us.
So on February 6-7 we will come together. The theme is FAITH in God's promises. We will hear teachings via simulcast from Austin. We will engage in worship and take time to reflect and discuss with each other. We will enter strangers and no doubt leave with at least one new supporter, encourager, and friend. And I am certain each woman will leave emboldened for living out her God-given purpose, whatever it may be at this season in her life.
I invite every woman in Waco to consider attending. Locally it is free to attend, and there are 3 locations – Baylor campus, Columbus Avenue Baptist, and Harris Creek Baptist. Or you can even watch it on your own in your own living room. Go to http://www.ifgathering.com for all the details. You can also join the IF:Gathering Waco group on Facebook to receive updates and to see clips from IF leaders and speakers.
My life changed for the better one year ago this February. I have heard countless testimonies of others who had a similar experience. Don't miss this opportunity to see what God has in store for us as women unite across Waco and the world.
Here are the links to register:
---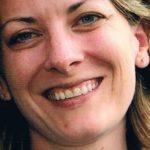 This Act Locally Waco blog post was written by Sara Perry. Sara  is a teacher, mom, wife, sister, and child of God. Faith and yoga are her stress management prescriptions for anyone who asks. She is passionate about unleashing women from the fear and uncertainty that prevents them from living life to the fullest, and fulfilling the role God has for them. She lives with her two preschoolers, husband, and two senior citizen doxies in Waco. She attends Grace Church and is one of many IF:Local leaders passionate about uniting women across Waco.
The Act Locally Waco blog publishes posts with a connection to these aspirations for Waco. If you are interested in writing for the Act Locally Waco Blog, please email [email protected] for more information.
(Visited 22 times, 1 visits today)