Foundational Employment: Workplace Ideas for Healthy, Stable Lifestyles
By David Saucedo
The Reinforced Earth Company is a precast concrete company that is part of a national and international conglomerate comprised of construction, technology and concession companies, among others. We are located in China Springs and we employ between 150 to 160 people, many of which are Waco residents.
My personal passion for community change and empowerment has played out in many ways over the last four to five years, but the last two years have been amazing! When I was hired at Reinforced Earth in 2013, I never thought the most enlightening and fulfilling work so far would take place at this company, but it has. I was blessed with opportunities, and I advanced to become the Safety Coordinator in late 2013. This promotion opened doors that I would have never imagined and allowed me to work with some terrific people who have taught me a great deal about what we call "foundational employment" – employment that is foundational to a stable lifestyle.
The Reinforced Earth Company's Waco plant, managed by James Ashley, is paving a new road in employee development. We focus on a quality made product, produced in a timely manner, as safely as possible. But most importantly we are aiming to promote healthy and stable lifestyles to the men in our community that work here. From a business perspective, it goes without saying that a high turnover rate interferes with those goals and makes it very hard to establish maximum efficiency. In 2014 our company on average employed 58 workers per month through local staffing agencies. This not only increased the cost of producing our product, but it also led to a workforce with less experience and more potential for mistakes or injuries.
We began our work in foundational employment by using encouraging messages in our safety toolbox meetings. For example, we would use words like, "This is a family out here," or "We want you to use Reinforced Earth as a foundation for your family." We encouraged car pools to help employees who didn't have transportation, showing that we are here to help. We introduced simple budget spreadsheets and encouraged employees to ask how they could escape the check-to-check lifestyle. Our most recent, and I think our most fruitful step has been referring and encouraging our employees to a local psychiatrist that is covered by our insurance. In some cases we even covered the copay for employees who are more serious about improving their standard of living.
I'm very proud to report that this month we will be reporting that fewer than 20 employees are working at Reinforced Earth through local staffing agencies. We have increased production and decreased our production hours by improving our production procedures and focusing on better training and efficiencies. By no means would our efforts be considered a comprehensive study, but we are seeing results and we associate these results with the investments we are making in our employees.
From these experiences, I'm very confident that a company dedicated to promoting strong foundations in the lives of their employees will see improvements in the quality of their workforce, a decrease in their turn over, a reduction in overhead, and — the icing on the cake — an increase in their profits. What would our community look like if more companies were encouraged to promote strong and healthy foundations in the lives of their employees? That's a question I have been asking myself more and more.
---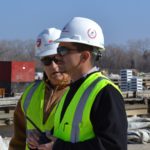 This Act Locally Waco blog post was written by David Saucedo. David is a local minister with Life Church Waco and has committed the last 8 years of his life to impacting his community in a positive way. David has a loving wife, Michelle and three beautiful children, Lianna (7), Isaiah (4) and Isaac (10 Months).
The Act Locally Waco blog publishes posts with a connection to these aspirations for Waco. If you are interested in writing for the Act Locally Waco Blog, please email [email protected] for more information.
(Visited 18 times, 1 visits today)