A Place to Call Home … Booth Gardens Apartments
By Cecelia Rodriguez
Do you have an older friend, or perhaps a friend with a disability, who is on a limited income? Booth Garden Apartments might be the perfect home for him or her. We are proud of the environment we have created here at Booth Gardens, and we would like to make sure that those who might need a place like Booth know that it is here for them.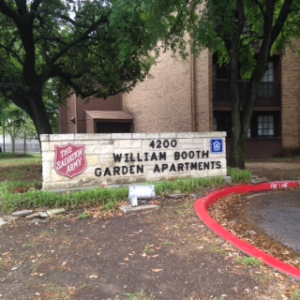 The Booth Garden Apartments are an independent housing community owned and managed by the Salvation Army. We provide safe and comfortable living conditions at affordable costs for seniors, and those with federally defined disabilities, who have limited incomes. At Booth Garden Apartments, residents can live in an atmosphere of love, acceptance and encouragement.
The Booth Gardens Apartments are one-connected building, but they are actually two separate projects: William Booth (which faces N. 19th) and Catherine Booth Garden Apartments (which faces Stewart Dr.). William Booth was first opened for occupancy in 1983 and Catherine Booth was later opened for occupancy in 1997.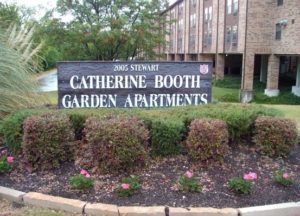 The buildings are four stories high, and together contain 196 one bedroom apartments. The apartments include added amenities especially designed to benefit our two target audiences: persons 62 years of age or older, and persons 18 or older who have a federally defined disability. William Booth is for those who are 62 years of age or older and also for those that are at least 18 years of age with a federally defined disability. Catherine Booth is just for senior citizens, 62 years of age or older.
We contract with HUD (U.S. Department of Housing and Urban Development) which provides subsidized rent for our residents. The apartments are reserved to be safe, comfortable homes for people with limited income. Annual income limitations (which are subject to change annually) are currently $19,150.00 per year for a single person and $21,900.00 per year for couples. The exact rent charged is based on a formula which takes into account the residents' adjusted gross income, assets and medical expenses.
Here are some of the things residents appreciate about living at Booth Gardens:
A group of our residents have formed a very active "Tenant Council" which meets monthly. They lead numerous activities ranging from trips to lunch fundraisers and are continuously working to be a voice for our residents.
We offer a variety of activities including weekly bus trips to H-E-B and Walmart.
There is a 24 hour response system in case of emergencies. Emergency pull-cords are available near the beds and in the bathrooms of each apartment and can be put to use in case of a medical emergency.
Multi-faith groups come-in to conduct spiritual programs. We also enjoy a variety of educational programs hosted by local home healthcare agencies.
We have a resident chaplain, Major Harvey Harwell. He leads regular Bible studies and devotion times and offers counseling to those who need it.
Our resident services coordinator, Mrs. Barbara Parnell, is also available to help residents meet their own needs.
Domesticated pets are welcome.
We have a total of 3 laundry facilities.
Although we are independent living, many of our residents have private contracts with home-health care agencies that enable them to remain independent.
We have a partnership with "Meals and Wheels" program which provides lunch meals to our residents three days a week.
Friends for Life is a partner and has helped some of our residents meet financial management and budgeting needs. This also helps them to stay independent longer.
It has been an honor and a pleasure to serve with The Salvation Army Booth Garden Apartments for the past 10 years.  I cherish every moment participating in and assisting with housing for senior citizens.  Several years ago I lost my mother, who was disabled, and shortly after, an elderly aunt. They are my inspiration for being part of this wonderful ministry. Like many others, they were on limited means of income, and faced health challenges. They struggled to maintain the aging, deteriorating home in which they lived. We hope that our residents are able to be as independent as possible, for as long as possible and receive the dignity and respect they deserve in a safe and affordable home. If you know someone who is looking for a home who you think might be a good fit for the Booth Gardens, please contact us! You may contact me, Cecilia Rodriquez by email at [email protected], or our Assistant Director, Rachel Sheridan at [email protected], or call either of us at (254) 757-2242. We look forward to hearing from you!
---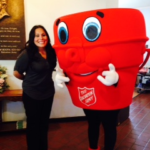 This Act Locally Waco blog post is by Cecilia Rodriquez.  Cecilia began her ministry with The Salvation Army Booth Gardens Apartments as the receptionist 10 years ago and is now the Director of both properties.  She is a Certified Manager of Housing and Certified Occupancy Specialist through the National Center for Housing Management.  She has a passion for senior citizens and also enjoys being an active part in her children's lives coaching in her spare time.  She is family-driven and thrives on helping to make a difference in people's lives as she carries out the mission of The Salvation Army.
The Act Locally Waco blog publishes posts with a connection to these aspirations for Waco. If you are interested in writing for the Act Locally Waco Blog, please email [email protected] for more information.