Balancing our Relationships & Technology: Talk more. Tech less.
by Dawn Wible
 A friend blankly stares across the table while you check your texts.  As she anxiously awaits an answer, you have no idea what she just said.
Your four year old is describing his new friend at school, but you are busy scrolling through the newsfeed and missing the whole story.
Vegging on the couch was the agenda for the night but instead you are responding to a work email at 11:15pm, because really, what are "work hours" these days anyway?
We have all found ourselves in these situations, myself included. It truly is a sign of the times.
The two questions I ask myself are: "Why am I choosing to put my relationships on the back burner?" and "When and where is the best time to be on my device?" I believe we do not even realize we are making these small and influential choices.  Statistics and studies are actually showing a change in our brain function due to technology addiction. Many neurologists and psychologists are pointing to our dependence on technology as the root of many mental, physical, emotional, spiritual, social and relational issues. These issues range from poor academic or job performance, to job loss, lack of social connectedness, sleep disorders, divorce and in some cases even death.
There's a crucial conversation happening in our culture concerning the problem of tech addiction, and my family and I want to be a part of the solution! This idea has become so important to the mental health of my family that we started a local movement: Talk more. Tech less.
Talk More Tech Less is for myself, and essentially anyone who uses technology in this tech heavy culture. This is not an anti-technology movement; it is a pro-relationship movement. I'm a mom of three BOYS and technology is very much a part of my family's life. But, we struggle with the overuse and addiction that causes tantrums, irritability, ignoring, zoning out…you get the picture.  Like most of you, my phone is my home and work computer in hand.  It helps me to be efficient – way more efficient than I would be without my device.  It is valuable, but it also distracts me from the life going on right in front of me.  I realized a few years back that I needed to shift my perspective and priorities.  I saw it not only in my own life, but in society as well. We can get lots of information, facts and communication from our phones, but what we're missing is the emotion, the conversation, and the connection that should come with communication.
Talk More Tech Less was birthed from mentoring and spending time with teenagers. My husband, Matt, runs a Waco based organization called Field Guides that mentors young men through outdoor activities. We have seen first- hand the benefits of getting young men away from all the distraction and overuse of technology, video games, smart-phones and computers and getting them outside!  As the CRC Health Group says, "There is a strong body of research confirming that direct contact with nature increases mental health and psychological and spiritual development. Benefits include stress reduction, a sense of coherence and belonging, improved self-confidence and self-discipline, and a broader sense of community."
At Field Guides summer camps we have participants take one-week breaks from their phones.  Working with these guys year after year our eyes have been opened to some true dependency issues involving technology.  We have also been privileged to see the breakthroughs that happened as they embraced this process. With those experiences as background I began researching tech dependency and addiction stats and saw the great need in this culture for balance and freedom.
Last summer we had the campers construct boxes for their phones.  We encouraged them to take the boxes home and use them with their families.  The idea is that family members place their phones in these "Detox Boxes" during meal times and other important moments during the day and night.
Our own family's experience with technology balance, my research into this subject, and the success of this "detox box" idea convinced me that other people could benefit from a structured way to explore and reduce dependency on technology.  That led me to create the Talk More Tech Less 30 Day Experience.  The 30 day experience is designed to strengthen relationships and create awareness about the overuse of technology. It is a guide to empower individuals, families, and groups to find balance, leading to greater connection.  I hope it will help those who use it gain control of this growing concern in our culture and world.
The 30 Day Experience includes a custom made "Detox Box", 30 daily note cards, a journal and a decal. The box is created to place our devices in during strategic times throughout the day.  They are locally crafted here in the 254, by Sticker Universe and Hole in the Roof Marketing.  The daily note cards are a true journey to healthy technology usage. Each card takes approximately 90 seconds per day, so as not to take up time, but to give it back. Those involved are actually surprised at how much time they have on their hands during the 30 days.
Research shows negative effects from the lack of face-to-face, eye contact, physical, spiritual and emotional contact. In the 30 Day Experience we pool all that information and combine it with practical ways to deal with and replace this dependency issue. Talk More Tech Less is designed to bring conversation and connection back to our culture. We'd love you to be a part of this movement! For more information please visit us at www.talkmoretechless.com
---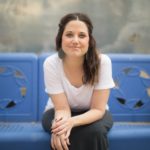 Dawn Wible is the creator of Talk More. Tech Less.  She is a Waco resident and graduate of Baylor University. Her husband, Matt founded and runs an outdoor ministry, Heart of Texas Field Guides, that mentors young men through outdoor activity. Together they raise 3 amazing boys, Levi, Jude and Ty. Dawn finds life in deep connection with family and friends, volunteering, kayaking, cooking, jogging and she loves a good party.
The Act Locally Waco blog publishes posts with a connection to these aspirations for Waco. If you are interested in writing for the Act Locally Waco Blog, please email [email protected] for more information.
(Visited 28 times, 1 visits today)