Grandparents as Parents: Local Heroes
by Sara Beth Stoltzfus
Being a parent can be tough. Returning to the role of parent as a 65 year old can be exhausting.
Now, I do not know this from personal experience. I am a 28 year old childless woman. I know this from what I have seen and heard from the grandmas and grandpas I have worked with through the Methodist Children's Home (MCH) Family Outreach Grandparents as Parents Program (GAPP).
The Grandparents as Parents Program offers supportive in-home services to grandparents raising their grandchildren. The program includes case management, information and referrals for community resources, workshops, assistance with legal issues, and support groups.
Through this program, I have had the privilege of walking alongside young grandparents, older grandparents, grandparents with money, and grandparents with almost no income at all. Some grandparents come to our program seeking legal support, some because they are not making it financially, and some come because their grandchildren have been through so much physical and emotional trauma that they are constantly battling the problem behaviors that result. Some grandparents are just looking for someone to talk with, vent with, and cry with…someone to let them know that they are not alone.
All are coming to our doors because they love their grandchildren.
More and more grandparents are raising their grandchildren. In the United States, approximately 5.8 million children are living in grandparent homes. Similarly, almost 2 million children are living in the home of other relatives. (AARP, 2015). The AARP writes that grandparent caregivers and the children they are raising are frequently isolated. "They lack information about the range of support services, resources, programs, benefits, laws and policies available to help them successfully fulfill their caregiving role." (AARP, 2015).
Grandparents serving as parents face a whole range of issues that the typical parent may not face. The U.S. Census found that grandparents living with a grandchild in 2012 were more likely to face poverty than those who did not live with a grandchild (Williams, 2012). A 2013 article in the Washington Post cited that 20% of grandparents raising grandchildren are living in poverty (Bahrampour, 2013). Grandparents are often not financially prepared for children to enter their home. This means they often have to take on a second, or even third job to pay for their grandchildren's needs. Sometimes grandparents quit jobs that they once had in order to be able to adequately care for a child with special needs. While there is some financial help available for grandparents in specific situations, there is not enough financial assistance as many of these families need to feed growing children and themselves. Grandparents are also not getting any younger and often have health issues of their own to deal with. These financial and physical health challenges are highly prevalent amongst grandparents raising grandchildren. The need for greater support for these courageous grandparents is significant.
One of the greatest joys of working with the GAPP Program is facilitating a support group for these grandparents. I love watching one grandparent light up with deep understanding as another grandparent shares their story. I feel great satisfaction hearing a grandparent say they no longer feel so alone. Grandparents serving as parents are dealing with a lot of emotions. They shed tears regularly over their adult child's drug addiction, another child's domestic violence charges, the death of an adult child and the many other reasons their grandchild is staying with them. They wish for more for their adult children, but they work hard to set boundaries in order to keep their grandkids safe. Every story is different, but none is without complications.
Many grandparents feel very blessed to have a second chance to parent again. They know they've learned lessons over the years. They are often more patient the second time around. While the journey is not easy, most grandparents I've talked to feel very blessed by the entrance of their grandchildren into their lives.
We need to support our grandparents serving as parents. They are spending their golden years running around with toddlers, staying up into the night with a traumatized 8 year old, and learning to use a computer for the first time in order to relate to their teenage grandchild. All of the grandchildren that come to live with their grandparents have experienced some type of trauma. This is often trauma the grandparents are not prepared to address. Grandparents as parents need not only programs, such as GAPP and support groups, but a community of support. Grandparents as parents are indeed unsung heroes to our communities' children.
One quote I often share with the grandparents I work with is:
"The more healthy relationships a child has, the more likely he will be to recover from trauma and thrive. Relationships are the agents of change and the most powerful therapy is human love." –Bruce Perry
This quote also inspires and strengthens me in this work.
If you know a grandparent you would like to refer to our program or would like more information, please call 254-750-1263.
---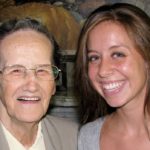 This Act Locally Waco blog post was written by Sara Beth Stoltzfus. Sara Beth is a case manager at the MCH Family Outreach office through the Methodist Children's Home. Sara Beth received her master's degree in Social Work from the University of Texas at Austin. Sara Beth is originally from Pennsylvania but has been living in Texas for almost 6 years, 4 of which have been spent in Waco.
The Act Locally Waco blog publishes posts with a connection to these aspirations for Waco. If you are interested in writing for the Act Locally Waco Blog, please email [email protected] for more information.
(Visited 41 times, 1 visits today)