MEND: Mind, Exercise, Nutrition, Do It!
by Crystal Melton
Four weeks ago I welcomed baby number four into my arms and into the world. I'm biased, but this little person that I've been given the privilege to raise is absolutely perfect. However, I realize that feeling is universal among parents. We gaze in awe at the unblemished miracle we've been given, and, with the best of intentions to maintain that perfection, we make lofty promises in an effort to keep that child as healthy and well as we can.
Promises like "I'll never let the television babysit my child" or "I will never feed my child fast food." And sometimes the promises aren't about what we'll never do, but what we'll always do. "I'll always take time to play hide-and-seek with my child" or "I'll always find time to push my child on the swing."
I've made those same promises. I don't know about you, but life and the chaos that it brings seem to always get in the way. I'll admit it: I've counted on cartoons to occupy my children on more than one occasion, and, yes, a trip through the drive thru has rescued us more than once. And, sadly, at times work expectations have come between me and that game of hide-and-seek with my child.
Parents, you're not alone. We all have the best of intentions with our children, but sometimes we don't quite accomplish what we set out to do. An occasional upset to those promises probably won't derail their health, but a constant lifestyle of those choices definitely could begin to send your child down the path of poor health. Although we don't need to beat ourselves up about it, we do need to open our eyes and see what's happening to our kids and their health and begin to reapply ourselves to those goals we may have once set.
According to the Centers for Disease Control, in 2012 one in three adolescents was overweight or obese. The reality surrounding those numbers is sobering because what we are seeing with this increase in bodyweight is an increase in risk factors for heart disease in our youth, such as high cholesterol and high blood pressure. This increase in body mass also puts them at risk for prediabetes, bone and joint problems, sleep apnea and poor self-esteem. And all those risks are present right now during their youth- in the past, these problems didn't occur until people aged! Today's kids head into adulthood ahead of the curve when it comes to being at risk for heart disease, diabetes and some forms of cancer.
After you've digested that, let me reassure you that we can help our kids get their health back on track. It's not too late to help lead your child to a life of health and well-being. Programs, such as MEND, can help you and your child learn to change behaviors and make healthier choices. MEND (Mind, Exercise, Nutrition, Do It!) is a free 10-week program that meets twice a week that helps children ages 7-13 who are above their healthy body weight learn about nutrition, physical activity, goal setting and more. Together, parent and child move through an engaging research-based curriculum that not only educates the family but also often reduces tension and stress at home surrounding food and activity. The lessons include fun, thought-provoking activities, like a supermarket tour where kids get to be MEND detectives, finding healthy food options on the shelves of the grocery store. Each meeting also includes a fun, progressive, noncompetitive, game-based physical activity session. Another one of the endearing things about this program is that you're diving into this material and making these lifestyle changes with other families that are struggling to be healthy, too. There is support, accountability and shared ideas among parents and children.
Finding the help you and your child are looking for is no farther than the YMCA of Central Texas. The MEND program is offered several times throughout the year. Space is limited, though, so you'll want to sign up soon. Remember: lots of parents just like you want a healthier future for their child. For more information call the DORIS MILLER FAMILY YMCA at 254 752 1605 or WACO FAMILY YMCA at 254 776 6612.
---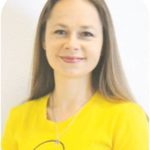 This Act Locally Waco blog post was written by Crystal Hernandez. Crystal is the Healthy Living Director for the Waco Family YMCA. She received her degree in Exercise Science and Health Promotion from the University of Memphis. She and husband Shawn are blessed to be the parents of 4 beautiful children. In her free time, she loves hitting the pavement and pounding out a good run.
The Act Locally Waco blog publishes posts with a connection to these aspirations for Waco. If you are interested in writing for the Act Locally Waco Blog, please email [email protected] for more information.