Open Mic : On why holding space matters
by Jenuine Poetess
"It is easy to feel lost and betrayed in a world of increasing alienation, where greed, injustice, and dull materialism obscure the underlying dream of life. There is a path the soul would have us take and a unique way of seeing the world it would have us awaken to. There is a music and rhythm in the body and a song in the soul; both an inner vitality and an instinctive connection to the divine that is the inborn source of great imagination and creativity," mythologist Michael Meade writes. Rooted in this very conviction, Waco Poets Society holds space for every voice to share its story, song, poem, rhythm, and truths via regular open mic events throughout the city.
There is something uniquely transformative, when a collection of people—across so many cultures, beliefs, ages, disabilities, life-practices, genders, abilities, talents, genres, styles, and languages—gather together to share with to one another. Assumptions, prejudices, walls begin to crumble as we listen to each other. We begin hearing pieces of our own stories, nestled within the harmonies and poetics of another. We recognize parts of ourselves in the mirrors our creative expressions are for one another.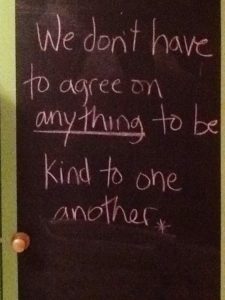 The extraordinary thing is that regardless of all the things that might divide us, within the space of an open mic, we respect and honor the expression. We don't all have to agree on the content, but we hold space for one another acknowledging that every person has authority over their own truth. While Waco Poets Society is committed to holding an uncensored space, their one caveat is that hate speech of any kind—toward self or others—is not welcome because it is not a productive part of cultivating authentic community.
Beyond Waco Poets Society, other individuals and grass-roots initiatives are beginning to bloom throughout this city. Organized by Saddiq Granger, a new gathering called Minority Report is an open-to-all talking circle safe space where everyone is invited to share their stories of minority experiences or being marginalized in any setting due to a specific difference…and it's a potluck!
It is vital to the thriving of our community that such spaces continue and multiply. There is no such thing as too many spaces for creative and authentic expressions of personal truths! These circles and conversations and open mic gatherings and dialogues are what allow us to give one another agency. To affirm that Yes! our stories, our experiences matter. To step for a moment into another's shoes and feel the challenges of the path they walk daily. To deepen our mindfulness and broaden our compassion. This is how our city will flourish. This is how we will continue growing into the community where everyone is welcome, celebrated, and honored for exactly who they are. Of course we don't all have to believe or live or practice or speak or dress or express in the same ways. How bland would life be if that were the case!
Open mic and creative talking circles give us the opportunity to practice being curious about the truths of others. We hold space for people to be nourished and inspired by the collective creativity exchanged. Artists are allowed to practice new styles and voices and expressions while sorting out their own true identity. We have grace for the mistakes, stutters, and stumbles because we celebrate the fact that all of us, not just our art works, are rough drafts. We challenge one another as those more experienced nudge those of us just starting out into enriched becoming. Across generations and cultures and languages and beliefs and genders and identities relationships are formed. And those relationships, transform individuals, transform neighborhoods, transform cities, transform nations.
Get Involved:
New Open Mic collaboration between Waco Poets Society, Central Texas Artist Collective, & Tea2Go Waco every 3rd Thursday beginning May 21st @ 7pm with a kick-off event featuring singer/song-writer Katie Stewart. CTAC will be curating a monthly visual arts exhibit which will open each month at open mic. FREE ~ please purchase drinks to support this new local business!
Nuestra Voz open mic @ Art Forum of Waco May 23, 2015 at 7pm. Theme for this event is Grief & Loss. This will be a safe space for remembering, honoring, reflecting on expressions of who and what has been lost. This is a potluck event; bring a main, side, dessert dish or drink to share. FREE ~ $3 donations appreciated & shared with Art Forum.
Keep up with the next Minority Report circle & potluck by visiting & liking their social media page at: facebook.com/MinorityReportWaco
(Visited 16 times, 1 visits today)