Getting to the Heart of Things at the Farmer's Market
By Katie Grovatt
Waco: I came here as a Baylor student not knowing what to expect from the city where my school is located.   My quest: to go out and discover what my new home city has to offer. What I found: the Waco Downtown Farmer's Market, a place where I can be part of the heart of a community.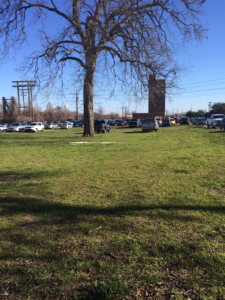 Located next to the river, close to the downtown intersection of Webster and University Parks, the farmer's market is where local venders, people, dogs, children and live music unite to create an atmosphere of joy, especially on a beautiful Saturday morning. My first trip was on Valentine's Day. I was excited to strap up my loving canine companion, Rosie, and see what the market had in store for us! As we rolled into a parking spot at half past 9 (the market opens at 9 a.m.), the sounds of music, laughs, and food sizzling on grills met my ears.
Families were touring the shady path lined with booths. Children were shoving freshly made sweets into their mouths, laughing, and hula hooping on the bright lawns. As I started my own tour through the many different vendor tents, Rosie pulling my arm off in the process, my eyes landed on a man selling freshly grown pecans.
His name was John Cogll and he was selling his grandchildren's pecans. The business, known as "Fresh Native Pecans" is located in McGregor, Texas. They utilize wild pecans growing around Central Texas and season them with tasty spices such as "Apple Pie" or "Mesquite Smoked". I was offered a sample as I talked to Cogll about where I could purchase some of these tasty pecans. "HEB isn't too interested in 'healthy' or organic foods," Cogll answered when I asked if I could buy these at our local grocery store. The pecans do however get distributed to grocery stores all around the area, as far as Albuquerque, New Mexico. These delicious nuts can also be purchased at ThePecanShop.com. But I would recommend traveling on Saturday yourself to the farmer's market and purchasing a bag personally from John Cogll.
After tasting local and freshly harvested pecans, Rosie dragged me to a small booth handing out fresh samples of Indian Food. Scolding my over eager dog and untangling myself from the leash that had wrapped around my body, I smiled at the lady and asked about her history selling Indian Food. Her name was Christina Allen. She's originally from a town outside of Austin, but currently works for the commercial kitchen known as Lamba's. Started four years ago by an Indian couple, Garima and Gurpuet Lambo, Lambda's is located near Austin. They sell their food at many different farmer's markets in the Central Texas area. I sampled the delicious Spinach Pakora. Completely gluten free, Pakora is a crunchy snack bursting with a creamy flavor from the special dipping sauce known as the Royal Dip — delicious! And, I am not even a huge fan of Indian food.
Allen herself was never an Indian food fanatic either; she just picked up the job to make some extra money. After sampling the food though — authentic, healthy, and so tasty — she loves it. She still wouldn't want to go to just any Indian restaurant, but Lamba's food is one of her favorites. Her go-to meal is the Chicken Tikka Masala, a dish made up of freshly roasted chicken seasoned with spicy and creamy sauces. Whether or not you're an Indian food expert, Lamba's has options for everyone. Even the pickiest of eaters won't be disappointed with this yummy cuisine.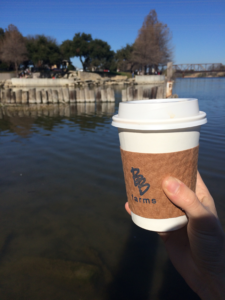 Next I followed the aroma of fresh-brewed coffee to a long and winding line of people waiting for fresh cookies, soft and warm muffins, and coconut cream lattes. I made my purchase and received my coffee in a simple white cup with the logo Double B Farms. The family running the tent was very busy with their customers so I sweetened my coffee and headed over to the live music.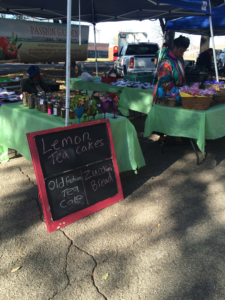 Sipping my coffee and listening to a talented girl playing acoustic versions of everything from Taylor Swift to Katy Perry, I surveyed what I had just experienced. I had discovered a welcoming place, full of joy, and full of stories. I smiled as each person walked by, carrying their "souvenirs" from the farmer's market. Each person's purchases tells a little different story about who they are and what they like. Each one with an individual character, and each one supporting the local businesses of Waco as a whole.
It made me think. Though each one of us has our own interests, our own busy lives within this town, each of us are here for a reason and are a part of something bigger. We are people, we are joy, and we are Waco. Even though we each play a different part, we support each other. As we gather together on Saturday mornings to shop and eat and listen to music and enjoy each other's dogs and children, we are the heart of the city, and it is a big, beautiful heart!
---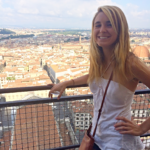 This Act Locally Waco blog post was written by Katie Grovatt. Katie, a New Jersey native, is studying journalism at Baylor University. She has fallen in love with Waco since she has gotten here, and loves to spend her time exploring, meeting the many different people that make this city thrive, and writing about her adventures. Currently she is working at the Wacoan Magazine as an editorial intern, and running track and cross country for the Baylor Track & Field Team. Her dog, Rosie, is her faithful side kick and equally enjoys exploring and meeting the people of Waco. 
The Act Locally Waco blog publishes posts with a connection to these aspirations for Waco. If you are interested in writing for the Act Locally Waco Blog, please email [email protected] for more information.
(Visited 45 times, 1 visits today)