1000 Friends Presents: Smashing Watermelons
By Chris McGowan
My old college roommate used to say, "Nobody really ever thought Gallagher's jokes were funny, people came to watch him smash watermelons, so get to smashing Gallagher…" What he meant was that he wanted me to quit talking and start doing.
This past Year Waco has been portrayed incredibly positively on the national stage regularly thanks to College Gameday, Fixer Upper, and others. Suddenly Waco is becoming a place people want to be. It's increasingly viewed as an up and coming interesting place, and our best days are ahead. Our community has made spectacular progress in the last few years, thanks to the extraordinary efforts of everyone involved.
Take a minute to pat yourself on the back, because if you're reading this, you are a big part of this community's success…
…ok now let's get back to work…
2015 will be the year that we see the most significant change to date in greater downtown. Market pressures have built up a head of steam and public sector priorities are aligned to make great things happen. It will only be successful if you continue to work to make it so.
The time to capitalize on momentum that has been building for the past several years is now. Along those lines, it's time for us to do what we came to do. It's time to start smashing watermelons.
That's means actively engaging to make Waco a better place; Acting locally is all you have to do. Make Waco yours. Support local business, buy local art, or do something to make your community more beautiful —  it's fun and that's all it takes.
Along those lines here are ten things you can do to connect in your neighborhood.
Go outside, this is important, it's not so scary out there.
Get to know your bartenders and barristas.
Have a contact in your regular dining and shopping establishments, relationships are everything.
Befriend the neighborhood pets, Evie loves you!
Organize a regular weeknight get together and do it every week.
Talk to strangers.
Vote. Make sure your voice is heard.
Do something to make your neighborhood more beautiful, if not you who will?
Act like a tourist sometimes and check out museums, monuments, etc…
Take some time once a month to just walk around and explore.
Want to get even more involved? Join 1000 Friends of Waco. The primary goal of 1000 Friends of Waco is to prepare residents to be advocates for a vibrant, successful Greater Downtown Waco. Join us in being a part of the discussion daily by following us on Facebook and Twitter @1000friendswaco.
Thank you for working to make Waco a better place. We can't do it without you.
---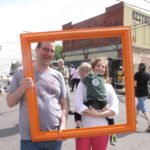 This Act Locally Waco blog post is written by Chris McGowan. Chris is the Director of Urban Development at the Greater Waco Chamber of Commerce. At the Chamber, Chris has been responsible for working with the business community, the public sector and other stakeholders to help revitalize our urban core and strengthen the heart of our city. He is husband of Cristi, dad of Ollie, and for fun he is a charcutier. If you even know what that word means, you are probably eating way too much bacon!
The Act Locally Waco blog publishes posts with a connection to these aspirations for Waco. If you are interested in writing for the Act Locally Waco Blog, please email [email protected] for more information.
(Visited 13 times, 1 visits today)