Not My Taboo: Inspired by Wacotown
By Sarah McPherson
On June 30th, just a couple of weeks ago, I launched my new personal and professional project, a website called Not My Taboo (read about it at the end of this post!). Not My Taboo has been in the works since April, and in my introductory post from early June I mention how every two years or so I would get the idea to start up a new online project, but I would only get so far as the name and a vague idea of what the site was going to be. But this past April, when I got the name and vague idea for Not My Taboo, I was moved to actually follow through and make it happen.
I was inspired by a few different things this time around. I am a new mom; my daughter Eleanor was born in February. I've completed my master's degree and I'm out of school, which had a tendency to deplete me of all my creative (and otherwise) energy. I'm 26, nearly 27, so, I don't know, maybe I see things a little differently than I did at 22 and 24. And yes, I now live in Waco (I moved here in December from Temple, where I'd been commuting from for two years), and I do believe that had something to do with it.
What is it about Waco that inspired me to finally do something I had been putting off for four years?
What is it about Waco?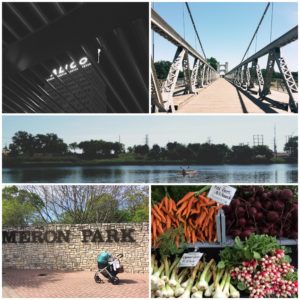 Waco is home to brilliant minds. I am fortunate to have been taught by some of them, like Dr. Helen Harris and Dr. Gaynor Yancey at the Diana R. Garland School of Social Work at Baylor University. From them I learned (so many things, including) the importance of community, and the awareness of my own ability and skill to be a world-changer.
Waco is home to exciting organizations. I am lucky to have been a part of some of them, like the Texas Hunger Initiative, working to address and end food insecurity in our state. From them I learned that talented, passionate people, doing innovative, smart things, can create effective, systematic change. (But really- they can, and they do)
Waco is home to conflict and contention. I am honored to work to ease some of these wounds and to emphasize that Waco is more than that. From this I learned that we have a long way to go, and more good will always be welcome.
Waco is home to great success, and deep struggle. I am witness to both sides. From this I learned that motivation, and inspiration, are all around.
Waco is home to the Waco Downtown Farmers Market. I am a frequent patron on Saturday mornings (you can also go on Tuesday afternoons!), and I can always count on seeing smiling and familiar faces, and purchasing delicious, locally-grown and made food. From this I learned that community can serve multiple purposes, and nourishment comes in many forms.
Waco is home to poverty, hunger, gender-based violence, inequality, racial discrimination, homelessness, and abuse. I am surrounded by people whose eyes are open to these issues and hearts are set on fixing them. From them I learned that change takes time (often a very, very long time), and small victories should sometimes be celebrated with the fervor of monumental success.
Waco is home to Dr. Pepper. I am inclined to share this fact whenever my people up North ask about Waco, so it just kind of slipped into this list, too.
Waco is home to the Brazos River and Cameron Park. I am refreshed by the beauty of nature (less refreshed during the unforgiving summer heat) and the simplicity of putting one foot in front of the other. From these walks I learned the importance of spending time doing what you love.
Waco is home to my friends and colleagues, who have welcomed and loved me and my daughter like family. I am made better by their friendship and support. From them I learned that this isn't just a place for us to live until we can leave.
And now that Waco is my home, it's really no wonder that inspiration hit.
*
Not My Taboo is an online space and host for taboos, stigmas and stereotypes to be normalized and explored through the sharing of stories, fact, and good dose of humanity. It is somewhere between a social media campaign, social justice venture, a creative outlet, and an ambitious attempt to change the world. In addition to posts by the (currently one-woman) Not My Taboo team, each week NMT features posts by contributing authors who in some way reflect on taboos, stigmas or stereotypes in their lives– whether they have experienced stigma themselves, witnessed taboos in their communities, or they are reflecting on stereotypes that have weighed on their minds. Based on the famous and debated Plato quote, "be kind, for everyone you meet is fighting a hard battle," Not My Taboo seeks to make this premise more accessible and easy to live-out in the real world, where it is sometimes easier to judge and skimp on kindness. Head over to www.notmytaboo.com to find out more and see what others have shared so far (you can also check out Instagram and Twitter @notmytaboo)! If you are interested in contributing to NMT, send me an email at [email protected]; I would love to hear from you!
---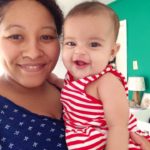 Sarah McPherson is originally from Toronto, Canada, and arrived in Texas by way of California, Pennsylvania, Finland, and Washington, DC. She received her MSW from Baylor University in 2014. Sarah is wife to Kyle, mom to Eleanor, and feeder/snuggler/vet bill-payer to Darwin, Huxley, and Luna (two cats and one dog). She is the founder and editor of Not My Taboo.
The Act Locally Waco blog publishes posts with a connection to these aspirations for Waco. If you are interested in writing for the Act Locally Waco Blog, please email [email protected] for more information.