Creating: getting started & moving through dry spells
By Jenuine Poetess
Here at the Act Locally Waco Arts & Culture blog we muse often about events, programs, the value of arts and cultural activities and the inclusion of creative health as a matter of justice along side employment, education, hunger initiatives, and other aspects of cultivating a sustainable community. Hopefully, something here has inspired some of you to pick up your own instrument, pen, brush, or tool-of-choice to begin making your own art works. For some of us though, it can be difficult to know where to begin, even when we are inspired. And even people who create on a regular basis sometimes find themselves in a dry spell.
In this month's post I share some of the resources I have turned to through the years to get started or to get through a creative block. I hope you find something here to prime the pump.
Books:
My personal selection of books reflects my primary creative discipline of writing. Recently I've started branching out to more visual art mediums as well.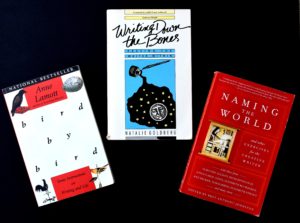 These three books are an excellent starting place for any writer:

Bird by Bird by Anne Lamott is a witty, candid, exploration of where to begin and how to continue a healthy writing practice. Lamott assures us that whether we are writing a novel, memoir or multi-volume series, it will be accomplished, one sentence at a time.
Natalie Goldberg's Writing Down the Bones works by shaping the person who is the writer. By challenging mental blocks and obstacles, she helps us stretch our imaginations to make space for all of our uncensored thoughts.
Just like athletes must move through the paces of pushups, sprints, and weight-lifting to get ready to perform on the field, strong writers engage in exercises to get ready to perform on the page. Naming the World and A Writer's Book of Days by Judy Reeves (not pictured) are two excellent sources of varied writing exercises. While what you compose in an exercise may not be a masterpiece, hopefully it will move away the clutter so you can access the real writing gems later.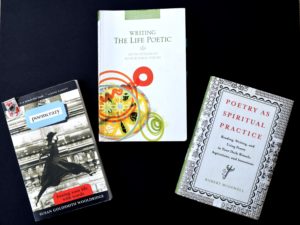 For those who specifically wish to hone their poetic craft and practice, I highly recommend these three books: Poemcrazy by Susan goldsmith Woolridge, Writing the Life Poetic by Sage Cohen, and Poetry as Spiritual Practice by Robert McDowell as well as an on-line resource Writing from the Soul both website and social media site. If you follow the social media site, new writing prompts are posted in the form of photos every week. From taking a walk, to collecting trinkets, to identifying and practicing technical poetry forms, these resources offer commentary, exercises, and invitations to explore one's inner and outer worlds in order to enrich one's poetry pages.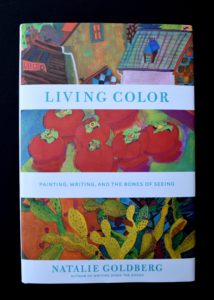 For those like me who dabble in both writing and visual arts, Natalie Goldberg has a new memoir out, Living Color: Painting, Writing, and the Bones of Seeing complete with full color photos of her visual art works! I can't wait to dive in and learn more about her practice. Memoirs, biographies, and autobiographies of artists whom you admire are also fantastic resources to learn about practice and process!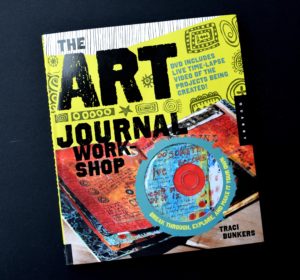 Another possibility is art journaling. There are a myriad of resources out there to help a person get started. This Art Journal guide book by Traci Bunkers, complete with DVD, provides step-by-step directions for how to achieve a variety of mixed-media looks throughout a journal book resulting in a creative collaboration between collage, scrap-booking, writing, and painting. The results are vibrant reflections of one's own life and journey.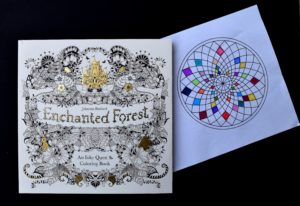 For those who want to get into visual arts there is a new outpouring of "Grown-up Coloring Books" to enjoy. I recently picked up Joanna Basford's Enchanted Forest from BookWoman; it was a difficult decision between that and her Secret Garden collection of what she calls, "an inky quest and coloring book." The pages are filled with intricate patterns and designs, complete with hidden images and themes throughout each book. There are many "Grown Up Coloring Books" which include mandalas, templates to make your own designs, starters for doodling, and even something called, Zentangles—a kind of meditative intentional doodling.
I also included in this photo, a sample of a mandala I found online. Coloring, especially mandalas, is an incredible relaxation creativity exercise.
Local Classes/Resources:
Waco has some wonderful classes available to artists of all ages. For one-time experiences try Practically Pikasso where you can form your own fused glass or mosaic creations, or create custom glaze designs on a vast array of blank pottery shapes.
If you'd like to try your hand at a canvas, check out one of these options:
Painting with a Twist guides participants (18+) through a specific project while sipping on a favorite adult beverage (BYOB). Each event offers a specific design, so check out their calendar and pick whichever painting you'd like to try!
Paint the Town Waco offers painting guidance for artists of all ages. During the summer classes for kiddos are every Tuesday at the Art Center of Waco. Adult classes are held periodically at the CAST on Austin Avenue or parties and groups can book the founder & teacher, Sarah Weatherly for private events. To learn more, check out this interview she did with the Art Center of Waco!
Speaking of the Art Center of Waco, they offer classes for kiddos throughout the year. Resident ceramics artist, Jonathan Martin offers occasional adult ceramics classes as well. For more information contact the Art Center of Waco.
McLennan Community College offers a wide variety of arts classes through their Community Continuing Education program. Once you get to the site, click on the upcoming season's program for a listing of available classes. I've seen anything from quilting to ceramics to photography to tango listed at quite reasonable prices for multi-session classes. It's a great way to learn new skills and meet new friends who are learning too!
Finally, another wonderful resource is the Central Texas Artist Collective. Most recently they have been holding a series of pop-up painting in the park sessions—these are impromptu gatherings of artists of every level and ability getting together to paint, enjoy each other's company, exchange ideas and technique, and build community through art. Supplies are usually provided and donations are always appreciated. Follow them on Facebook and/or Twitter to stay informed about upcoming events.
I hope you have now been both inspired and motivated to get out there…or stay in and create. Please share in the comments classes you've taken, books you've read, and volumes that are must-have resources on your shelves! I can't wait to hear about what helps you get started or what gets you through your creative deserts!
---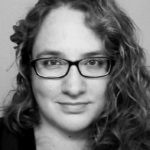 Jenuine Poetess is an artist, visionary, and community organizer. In 2010, she founded In the Words of Womyn (ITWOW), an international, grass-roots, written and spoken-word arts project with chapters throughout Los Angeles, CA; Waco, TX; and Lebanon. Jenuine is the founder of Waco Poets Society and co-founder of the Central Texas Artist Collective. She writes, organizes, and creates rooted in the fierce conviction that holding intentional space, access, and opportunity for all people to foster their creative health is a matter of justice and is a vital asset to the sustainable thriving of communities. She currently lives and poems in Central Texas where she enjoys finding new ways to disrupt the homeostasis of her city. You can contact her at: [email protected].
The Act Locally Waco blog publishes posts with a connection to these aspirations for Waco. If you are interested in writing for the Act Locally Waco Blog, please email [email protected] for more information.
(Visited 13 times, 1 visits today)