By Chris McGowan
A downtown Waco renaissance aims to inspire pedestrian activity by creating a concentration of jobs, shopping, entertainment and housing together. Having these activities closer together creates opportunities for walking and builds the kind of community identity that is useful in attracting and retaining businesses and new residents.
The trend toward higher intensity urban development and downtown revitalization in this country has many benefits. Obvious advantages include: higher value land uses, more efficient provision of public services, increased tourism, new restaurants, fun places to shop, great new places to live and opportunities for the community to come together.
Perhaps most important is emerging research that points to America's post WWII lower density development patterns as a significant contributor to our diminishing health as a nation. A growing body of evidence links increasing rates of diabetes, cancer, obesity, asthma, depression and several other health related problems to community design. Maybe that means the American experiment in community building over the past half a decade or more has made us fat and unhappy.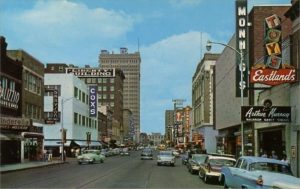 Along these lines I remember a discussion with my father-in-law from back when I first moved here eight years ago. He grew up a few miles outside of Waco. We were talking about new things popping up downtown, and he couldn't help but hearken back to the "good old days" when he was a kid and his family would drive into town. He told me that back then he was sure that downtown Waco was the biggest, grandest place on earth. This conversation inspired him to take a few minutes to walk down Austin Avenue during his lunch hour, grab a hot dog from George's and remember the way it used to be.
As he grew up, downtown changed dramatically. At one point in its history downtown was declared "brain dead", many of the buildings downtown were boarded up, and new transportation infrastructure investments shifted Waco's center south or southwest three or four miles.
He told me after his walk that while downtown is not as big today as it was back when he was three and a half feet tall, it still has plenty of potential as a great place. I wasn't around Waco back then but his story inspires me to look at things from a different perspective and to celebrate the great place Waco is becoming.
Next time you have a few minutes to pull yourself away for just a few minutes, do yourself a favor, park your car and take a walk downtown. Discover something new.
Rediscover downtown on a human scale.
---
After your walk drop us a note and let us know some of the thoughts inspired by your walk as to what you believe downtown Waco can and should be. We look forward to hearing from you. @1000friendswaco.

Interested in the connection between urban design and human happiness? Join us for Act Locally Waco book club at 6:00 on September 14. We'll be discussing "Happy City: Transforming Our Lives Through Urban Design" by Charles Montgomery. Email [email protected] for info about how to join us.
---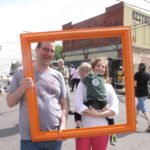 This Act Locally Waco blog post is written by Chris McGowan. Chris is the Director of Urban Development at the Greater Waco Chamber of Commerce. At the Chamber, Chris has been responsible for working with the business community, the public sector and other stakeholders to help revitalize our urban core and strengthen the heart of our city. He is husband of Cristi, dad of Ollie, and for fun he is a charcutier. If you even know what that word means, you are probably eating way too much bacon!
The Act Locally Waco blog publishes posts with a connection to these aspirations for Waco. If you are interested in writing for the Act Locally Waco Blog, please email [email protected] for more information.