Prosper Waco: We need YOU!
By Matthew Polk
The Prosper Waco initiative only works if community members come up with ideas that we can put into action together. You know more about your life and your community than anyone. You know what it will take for you to be able to take the next step toward success.
Prosper Waco is about:
More kids being ready to learn when they start Kindergarten
More students (and adults) finishing a college degree or certificate that will get them a good job
More people knowing where they need to go to get the best healthcare…and being able to afford it
More people living a healthy lifestyle and losing weight
More youth (16-24 year olds) getting a job
More people getting the job training they need to make a better living
More people being able to save for their future
These are things we all want. There are ways to make them happen for people in our community. The City of Waco and this community are serious about helping people move forward successfully. But we can't solve your problems without you. We need to work together to find answers to these challenges.
How can you help? Come share your ideas about how best to help people in our community improve their education, health, and financial security.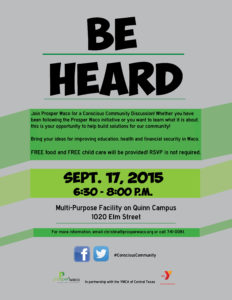 Day: Thursday, September, 17th
Time: 6:30-8:00 p.m.
Where: City of Waco Multi-Purpose Building on Quinn Campus (next to the Doris Miller Y)
Details: FREE FOOD! FREE CHILDCARE!
(Thanks to our awesome partners at the Doris Miller Y for working with the kids!)
No need to RSVP. Bring yourself and invite others. This is a chance for us to have a conscious community discussion about how we can work together to help people improve their education, health, and financial security. You don't need to know anything about Prosper Waco to be able to contribute to the conversation.
People want to invest in a community that is working together. Next week will be the first visit of our partners from the National Resource Network (NRN). This team of experts is funded by the Department of Housing and Urban Development to assist cities that are dealing with the impact of poverty.
The NRN team visited Waco in June and was impressed with the City leadership and their support of the Prosper Waco initiative. Like many others, the NRN team commented that Waco is ahead of many other cities in taking a coordinated approach to addressing poverty-related issues and helping people improve their education, health, and financial security.
The NRN experts will be visiting Waco on a monthly basis over the next year in order to help our community implement the strategies that we decide are the best bets for achieving the Prosper Waco goals listed above. Because they have worked with cities facing similar challenges across the country, the NRN team will be able to help us identify the best practices for doing work related to improving education, addressing community health needs, and developing the local workforce.
Next week, the NRN team will be meeting with a large number of people who are involved in the Prosper Waco initiative. When they return in October, we want to be able to share with them more feedback from the community about what needs to be done to make Prosper Waco a success. This is why we need you to be part of the discussion on September 17th.
Continue to stay informed about the Prosper Waco initiative and share what you learn with your friends and neighbors. Visit our website—www.prosperwaco.org—to find links to our monthly show on the City's cable channel. Sign up for our email newsletter at the top of the homepage or click Contact to send us a quick comment or question. Check out the Calendar to see when various working groups are meeting, and click Get Help Locally to find resources for improving your education, health, and financial security.
Feel free to call us anytime at (254) 741-0081 for more information.
---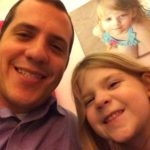 This Act Locally Waco Blog post was written by Matthew Polk. Matthew is Executive Director of Prosper Waco. Prior to that, he served as Superintendent of Rapoport Academy Public School. He and his wife attended Baylor, and after spending a few years in the northeast, they returned to Waco to raise their family. They have four children, ages 8 to 3 months. You can contact him at [email protected].
The Act Locally Waco blog publishes posts with a connection to these aspirations for Waco. If you are interested in writing for the Act Locally Waco Blog, please email [email protected] for more information.
(Visited 19 times, 1 visits today)