What about people who "Just don't want to work…"
by Ashley Bean Thornton
A couple of years ago I spoke to a class at MCC about poverty in Waco. One of the students asked a question that I think just about everyone has wondered about at one time or another, "Yes, but what do you do about people who just don't want to work?" I've been asked that question more than once, so I've had time to think about it. My answer is, "Don't start with them."
I don't mean that to be a smart-alecky reply. I am not blind to the fact that there are some people in the world who seem like they don't want to work. I'm just saying that there are people who do want to work, plenty of them. Let's start there.
There are people in Waco who want to find and keep good paying jobs, but who face barriers that would be tough for even the most resolutely motivated among us: What if you don't have a car, and the good paying jobs are on the other side of town? What if you have children and no one to keep them during your shift at work? What if the only jobs you are qualified to do, don't pay enough to support your family? What if your life is chaotic because of homelessness or because you can't afford to keep the electricity turned on? That can make it hard to be a dependable employee. What if you have been to prison, and even though you have turned your life around, no one will hire you because of your past record? What if you have no idea how to do a job search on a computer, or how to present yourself in an interview?
I serve on the "increasing income" working group of the Prosper Waco initiative. As a participant in that group I've had the chance to learn about some of the programs available in Waco to help people overcome the barriers mentioned above.
One such program is "Jumpstart." Currently being administered by the Economic Opportunity Advancement Corporation (EOAC), this program is available to anyone who has a household income of less than $37,000 and who is supporting at least one child under the age of 18. Since it kicked off in March, Jumpstart has already helped over 100 people find work. Their goal is to place over 300 by the end of the year.
Funded by a grant from the Texas Workforce Commission, Jumpstart forms partnerships with local employers who agree to consider hiring program participants, and then the staff does pretty much whatever it takes to help participants get jobs with and succeed as new employees at these partner companies.
Participants in Jumpstart receive job readiness training, and training about how to budget and manage their money. Depending on the situation, participants might also get set up with child care, or work clothes or a gas card to help pay for transportation. They might get help paying for utilities while they get on their feet at a new job. The folks at Jumpstart are relentless in helping their participants. The day I visited their offices they were working with a husband and wife who had both recently gotten employment thanks to the program. Because of the new jobs, the couple and their young son were moving from the homeless shelter into an apartment, but they had no furniture. The Jumpstart caseworker was tracking down a bed so the family would have something to sleep on the first night in their new home. Do you think having a bed to sleep in might make a difference as far as an employee's performance on the job? I do.
Once a Jumpstart participant gets a job, he or she has access to a "job coach" for 90 days. This job coach is available 24 hours a day to help solve any work related problem that might come up – whether it be a flat tire, or a difficult boss, or a blown child care plan. Do you think it is an advantage to employers to have employees who are receiving this kind of stabilizing support during their first three months on the job? I do.
Rather than fretting over people who "just don't want to work," we can help programs like Jumpstart make a big difference for those who do want to work.  I asked Melvin Collins, the Director of Jumpstart, what they needed from us, the Waco community. He said to meet their goal of helping over 300 people find work by the end of the year, they need more participants, and they need more partner employers.
You and I can help by spreading the word. Share this information with your circle of friends, with your church, at the organizations where you volunteer…anywhere you think there might be folks who need help finding work. Interested individuals should call the Economic Opportunities Advancement Corporation (EOAC) at 254.756.0954, or go by the EOAC office at 500 Franklin Ave., and ask about Jumpstart.  If you are an employer who would consider hiring participants from the Jumpstart program, you can call that same number and ask for Melvin Collins, the Jumpstart Director.
Yes, I imagine there are some people out there who "just don't want to work," but I don't see the upside to letting that frustrate and distract us. There are plenty of people who do want to work, and who could use our help to overcome some significant barriers. Let's focus our energy on supporting programs like Jumpstart that are helping those who want to work!  If we finish that and still have some time, we can worry about the others.  Who knows, by the time we have helped all the people who do want to work, we may find there are not as many people as we thought left in the other category.
---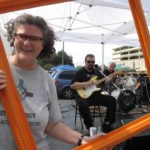 This Act Locally Waco blog post is by Ashley Bean Thornton, the Manager of the www.www.actlocallywaco.org website and the editor of the Friday Update newsletter: The WHOLE Enchilada. The Act Locally Waco blog publishes posts with a connection to these aspirations for Waco. If you are interested in writing for the Act Locally Waco Blog, please email [email protected] for more information.