By Bruce Huff
1989 – Recently diagnosed. Losing Cape Cod fish markets due to our last recession, wife wanted a divorce and I was a mess. My two kids were too young to understand.
At a crossroads…commit the ultimate…or get strong…not "strong," but STRONG!
Six very short months later I trimmed 60 pounds and gained a 6-pack. My first event was the Cape Cod MS Walk of 1990. I learned early on it wasn't about me. Every day my focus was on a person with MS who couldn't. Soon this obsession of running became my routine. One mile became two, then three. One day I called my Mom and gleefully said I had just run five miles. Well, I can't lie to my mother, so out I went…5…8…12. At six months, my first 26.2mile marathon.
It was time to leave New England. Charted a course to Alaska where I had gone to high school. After moving from Hyannis to Anchorage, it looked like Waco would be doable. While visiting mom here, I realized she desperately needed a man's touch around the house. So, a three month project became a need for real employment.
1993 – Waco was changing. Really changing. I really wanted to become a part of that! Sherrell and I married in Jamaica 1995. She totally accepted my flaws, became a caregiver. Wow, that takes a special person.
2011 – Had to retire early. Balance bad, fatigue, numbness. Immediately an opportunity to volunteer at the Waco Tourism & Convention Center was advertised. Such an awesome city! My hometown! And 2012 became a springboard of volunteerism.
I still focus on others with MS. Everyday. I work part time at the Salvation Army Men's Shelter, am very active with musical events, art openings, environmental causes. Making Waco a better place.
Sounds like I have a topped off reservoir of Energizer Bunny? Pushing to my limits is all I know. Get up early. Go hard till 2:00, take a nap, go hard again till 10:00. Failure is not an option to me. I believe others who see me, see me struggling. See me in pain. But, I go on. I believe my efforts will be contagious. I want people to believe in themselves.
Saturday, October 3, is the annual WalkMS2015. My team, "Huff's Magic Dragons," last year had walkers from five continents providing unbelievable support for MS research. Please come out to support me, Waco and Multiple Sclerosis!
---

October 3 – Walk MS (Multiple Sclerosis): Waco – Walk MS: Waco is first and foremost a fundraising event. Money raised at this year's event will support research progress in many areas, moving us closer to our ultimate goal of a world without MS. Walk MS connects people living with MS and those who care about them. When you participate in this community event, the funds you raise give hope to the more than 2.3 million people living with MS worldwide. We've been walking since 1988 and to date have raised more than $870 million to support life changing programs and cutting-edge research. Cost: See here. Time: Site opens at 8 AM. Walk begins at 9 AM. Location: Heritage Square Park, Austin Ave & N. 3rd St. Click here for a map. For more information and to register, click here. Contact Lily Goldstucker at 469.619.4707 or at [email protected] for any questions.
---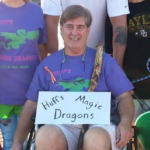 Bruce Huff was diagnosed with MS in 1989. He started running as a way of learning to live with MS and it morphed into a 100 mile per week obsession. Now in a mobility scooter when there is a need to walk for more than five minutes, he still has the drive to inspire others and to be a part of life. His message: DON'T EVER GIVE UP! 
The Act Locally Waco blog publishes posts with a connection to these aspirations for Waco. If you are interested in writing for the Act Locally Waco Blog, please email [email protected] for more information.