How to Make the Most Out of Your Freshman Year
by Diego Loredo
You just graduated high school, you've been anticipating this moment all year, and now you're finally here. You're a college freshman! Although it can be fun and exciting, starting college can also be a huge challenge.
Starting college is a huge step in your career and in life. So don't feel bad if you're intimidated by it. Everyone goes through challenges during freshman year. Some may include making new friends, getting used to the classes, etc.
I've experienced many challenges my freshman year at UNT, so I know how it feels. My first semester was particularly tough. Mostly because of one class, statistics… That was, and still is, the toughest class I have ever taken. There were numerous homework assignments that took me hours to do, several exams that I studied all night for, and concepts that I just could not understand. Luckily, I made a few friends in that class who helped me get by. Statistics was also the first class ever where I got a D on an exam, which was the final exam (I still managed to pass with a C).
I didn't really have any problems making any friends, literally the first week I moved into my dorm I made a small group of friends. Also, I was roommates with a good friend of mine that I have known since freshman year of high school. I introduced my roommate to my other friends and we all started hanging out all the time. We made a team for the outdoor soccer intramurals and met some other people who joined our team. After the tournament, which we made it to the playoffs but unfortunately lost 3-1, we had our own little group. They made it easier for me in my transition to college.
During my freshman year, I've encountered many different kinds of people, such as the guy who walks around campus with a flower pot on his head (I'm serious). I also enjoyed, and disliked, some of my classes and learned many things. Here are a few things that have helped me get through freshman year and will hopefully help you too as you continue to go through your transition into college and for others who will soon start their freshman year.
Find your own clique!
This is what I think is the most important thing to do your freshman year. You may have chosen to go to a college away from home to get a fresh new start, but it always helps to have a group of friends that you can depend on. Start by introducing yourself to people in your dorm or in your classes, or if you are living with a friend, the two of you can introduce yourselves to others. Having your own little clique will no doubt make college a lot easier, and more fun, for you.
Join an organization!
Your college is bound to have something that interests you. Whether it's a debate club, photography club, or various sports clubs, find something you like! Joining some club or organization is always fun and it keeps you busy so that you won't be stuck in your dorm all day (more on that later). Plus, joining an organization will help you meet people with similar interests as yours.
Attend events!
College campuses are always holding events to get their students involved. Your college should be no different. I'm sure there are countless events going on at your college every month. Go to a few of them! Get your roommate to go, or a few of your friends. Going to campus events are usually fun and you could win free stuff! Plus, it can get you interested in something you thought you never would.
Get to know your classmates!
This is extremely important. Introduce yourself to your classmates. I suggest you share notes or host study sessions. You never know when you will need your classmates' help and vice versa. This will especially come in handy when exams start. Also, get to know your professor and attend study sessions held by TA's.
Don't stay in your dorm all day!
This was difficult for me. Every day after class I would head to my room and take a long nap. Sometimes I would just stay in bed all day. Luckily, my friends convinced me to get out more. If possible, don't stay in your dorm all the time. Get out more! Hang out in your dorm lounge or game room, play sports outside, or go to various locations on campus with some friends. Although it's fine to stay in your dorm every now and then, make sure that you go out too!
I'm not going to lie, freshman year was tough. It took me a while to get used to it but once I did, I became a lot more comfortable at UNT. My friends no doubt played a huge part in it. We made a lot of memories together, such as playing football in the snow and intramural sports. Along with having those friends, getting involved on campus helped as well. I believe these things that I did are what all freshman should do. Make new friends, get involved, study, and just have fun!
---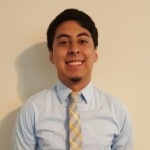 Diego Loredo is a sophomore at the University of North Texas. He is majoring in public relations. He graduated from University High School in 2014. Although he is still not quite sure what exactly he wants to do, he thinks he wants to work somewhere in sports PR (preferably soccer or college football). His hobbies include playing soccer and golf. He is 19 years old.
The Act Locally Waco blog publishes posts with a connection to these Aspirations for Waco. If you are interested in writing for the Act Locally Waco Blog, please email [email protected] for more information.
(Visited 13 times, 1 visits today)