Art as Action: Creating Responses to Current Events
by Jenuine Poetess
One of the oldest motivations of creativity is as a response to political circumstances and social justice issues. It is not the only inspiration, by any means, and not all artists engage their discipline in this way. Within the context of the mission and vision of Act Locally Waco the Arts & Culture blog seeks to present artists, events, and organizations which are practicing the intersectionality of creative expression, meaningful message, and local action.
On December 4, 2015, over 65 people showed up to offer poems, prayers, statements, songs, sacred texts, and calls to action. Waco gathered in response to global and domestic terrorism and violence; speaking out against hate, racism, discrimination of every kind, ignorance, and intolerance — with the intention of co-authoring an alternative narrative to our current dire situation.
That evening, our community co-created an exquisite artwork with Hopi prayers and Gospel songs, Athiest Holiday carols and passages of the Qur'an, original poetry and Bible verses, impromptu words from the heart and spoken-words of others not with us. One thing brought us together: the earnest desire to build a better city, a better community, a better world, for one another, in peace, in love, in truth, for justice.
we gather, because there are people rallying for hate, acting in violence, speaking out with ignorance.
we gather, because we must co-author an alternative narrative for our community, our society, our humanity.
we gather, because to remain unmoved, silent, disconnected, is to surrender to everything that threatens our thriving.
we gather, because anything less is a hypocrisy of love.
What an honor it is to hold such a sacred space.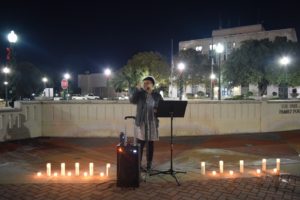 In times when the world seems swirling and chaotic around us, it helps to know we can gather with others to express the spectrum of emotions that such profound events can elicit.   When words fail us we can turn to paint, music, dance, photography, sculpture, and any other medium that calls to us. We can work out our questions, knowing full well that there are often no answers. But with defiant resilience, we can make beautiful out of broken, and when we share what we have created, we remind ourselves and each other that we are not alone. Poem by poem, song by song, painting by painting we create the change we so deeply long for.
Get Involved:
Shop local and support artists living and creating in Central Texas
Volunteer with an arts organization or collective
---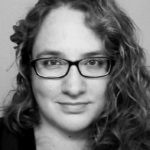 Jenuine Poetess is an artist, visionary, and community organizer. In 2010, she founded In the Words of Womyn (ITWOW), an international, grass-roots, written and spoken-word arts project with chapters throughout Los Angeles, CA; Waco, TX; and Lebanon.  Jenuine is the founder of Waco Poets Society and co-founder of the Central Texas Artist Collective.    She writes, organizes, and creates rooted in the fierce conviction that holding intentional space, access, and opportunity for all people to foster their creative health is a matter of justice and is a vital asset to the sustainable thriving of communities.  She currently lives and poems in Central Texas where she enjoys finding new ways to disrupt the homeostasis of her city.  You can contact her at: j[email protected].
The Act Locally Waco blog publishes posts with a connection to these aspirations for Waco. If you are interested in writing for the Act Locally Waco Blog, please email [email protected] for more information.