Resolutions, Intentions, and Creating Wellness in 2016
by Jenuine Poetess
We're almost two weeks into the New Year and for some, just hearing the word "resolutions" can cause eyes to roll and groans to emit. I know. It has become rather cliché. Even so, there is value in a ritual of reflection—gazing back on what we've accomplished and how far we've come, and there is an important humility in recognizing ways we have yet to stretch, grow, and become. A new year, new week, new month, new day are all great times to reflect, recalibrate, and resume our movements toward what it is that makes us come alive.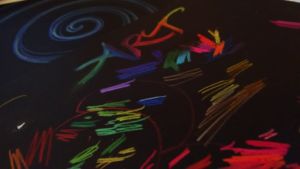 As an artist, fresh starts can look like raw clay, blank canvas, empty pages, a quiet studio, an open stage, a fresh roll of film (er…uh…or an empty memory card), a furnace of molten glass, a beautiful blank wall, skeins of untouched yarn, newly tilled soil, or folds of new fabric. Just the thought of any of these sends my heart trilling with the aroma of possibility.
Whether or not you are an artist (and not-so-secretly, I believe everyone can accomplish their work with artistry from mechanics to accountants, from care-givers to morticians) I challenge you to consider your creative health and how you will intentionally nourish this part of you throughout 2016.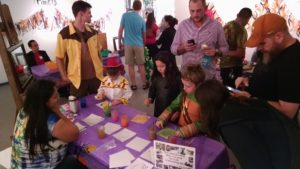 Will you take in a night at the Waco Symphony or maybe attend or even participate in a Waco Community Band concert? Maybe you'll spend some time at the Martin Museum of Art, or the Art Center of Waco, or the Anthem Studios—maybe you'll attend an opening, or maybe you'll head over on your lunch break, just an intimate rendezvous between you and art. Will you visit the theater, taking a play by Waco Civic Theater or a concert by the Central Texas Choral Society or enjoy a dose of laughter medicine at an improve show with the Brazos Theatre Group, maybe you'll support emerging artists and see a show at Baylor or MCC or at Waco High, University High or Midway ISD?
Maybe you'll hit the streets and meet new neighbors at Art on Elm Ave. or Waco Cultural Arts Fest enjoying all the fullness of free arts programming in Waco and maybe you'll purchase a print, or a set of earrings, or a new mug, or an original art piece.  Maybe you'll buy a Creative Waco tote hand-painted by a local artist, maybe you'll by two—one for you and one for a friend. Maybe you'll take a flower-arranging workshop at the World Hunger Relief Farm, or help out with the Urban Gardening Coalition.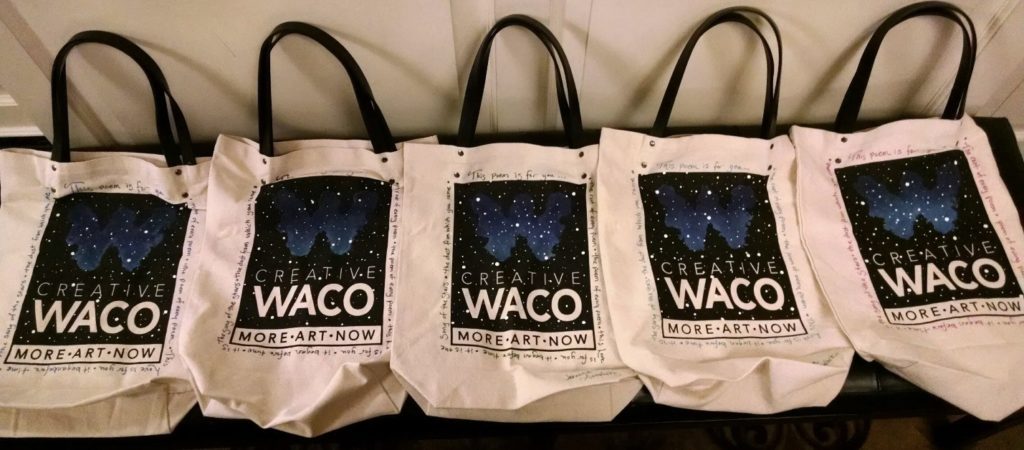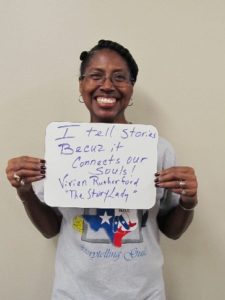 Maybe you'll knit or crochet tiny hats for new babies, scarves for refugees, or blankets for an elder with the Waco Knitters & Crocheters. Maybe you'll listen to some stories, even try your hand at your own at the Heart of Texas Storytelling Guild. Will you check out Maker's Edge and laser cut, 3D print, or wood burn a fascinating piece for your home? Maybe you'll stop by Central Texas Artist Collective's painting in the park station one breezy day in the spring, or finally work up the courage to exhibit your work at Tea2Go or Rufi's Cocina.
Maybe you'll make your own ornament and learn a bit about blowing glass next December at Stanton Glass Studio. Maybe you'll decide it's time to finally get serious about that book you've always wanted to write and you'll join In the Words of Womyn writing circle or maybe you'll tackle NaNoWriMo with the Central Texas Writers' League or take a workshop with the Heart of Texas Romance Writer's. Maybe you've been quiet long enough and you're ready to get up and perform at Waco Poets Society monthly open mics and maybe you'll take in some world renown poets at the Beall Poetry Festival this spring.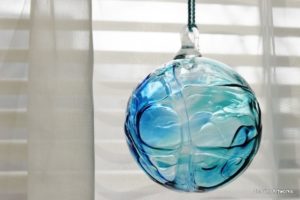 Maybe you'll volunteer at any number of community arts events or make a financial contribution so that we can all keep creating. Maybe you'll help share events on social media, telling your friends and neighbors about arts and cultural opportunities nearby. Maybe you'll make it a regular outing with a partner, some friends, or co-workers at Painting with a Twist or Practically Pikasso. Maybe you'll bookmark this post so when you have a day with no particular plans, you'll have some ideas for how to paint the town!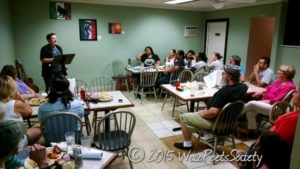 My goodness the arts are blooming in Waco! Even with all these options, I'm sure I didn't capture them all. But that's okay, this way you can do some exploring with an art adventure of your own—whatever you find, please be sure to share it with us so we can enjoy it too! I hope whatever your goals for 2016, that they include the arts, in any way, shape, form, or expression.
Thrive on!
---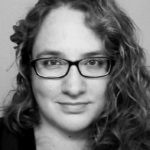 Jenuine Poetess is an artist, visionary, and community organizer. In 2010, she founded In the Words of Womyn (ITWOW), an international, grass-roots, written and spoken-word arts project with chapters throughout Los Angeles, CA; Waco, TX; and Lebanon.  Jenuine is the founder of Waco Poets Society and co-founder of the Central Texas Artist Collective.    She writes, organizes, and creates rooted in the fierce conviction that holding intentional space, access, and opportunity for all people to foster their creative health is a matter of justice and is a vital asset to the sustainable thriving of communities.  She currently lives and poems in Central Texas where she enjoys finding new ways to disrupt the homeostasis of her city.  You can contact her at: j[email protected].
The Act Locally Waco blog publishes posts with a connection to these aspirations for Waco. If you are interested in writing for the Act Locally Waco Blog, please email [email protected] for more information.