Practically Pikasso: Creating Wellness & Fostering Community
by Jenuine Poetess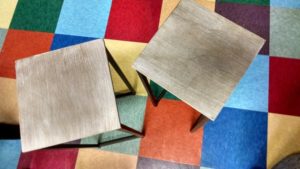 I recently purchased a couple of plain end tables to use in my new office. I got them for a great (read: cheap) price at a local discount home goods store but they lacked a certain…something. As I was looking at them, the thought occurred to me, "These would look awesome with mosaic tops." My second thought was how daunting it might be to try to find all the supplies to accomplish my creative goal myself. Happily, my third thought was, "I wonder if I could take these to Practically Pikasso and mosaic them there?" So I called, and they said, "Sure, come on over!"
I was thrilled! For a mere $6.00 studio fee I began my project to turn these somewhat drab tables into something delightful.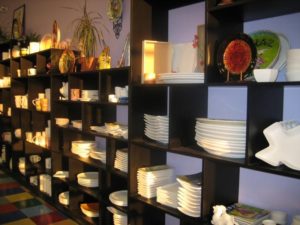 Before I continue, let me rewind and share a little back story. Practically Pikasso is, "an eclectic art studio" located in the shopping plaza at the intersection of Waco Drive and New Road. I have been there a few times before to paint pottery—which is one of their main offerings: a grand array of blank, white, ceramics in so many shapes and sizes ready for color and design. Their selection ranges from practical dishware, to specialty holiday décor, to character figurines, and intricate sculptures. There is no need to have any prior art experience, the knowledgeable and patient staff at Practically Pikasso will provide all the instructions, recommendations, and guidance needed to create your masterpiece! There is a vibrant array of ceramic glazes from which to choose including textured/flecked, smooth, and glass glazes in a rainbow of hues.
My mosaic project was divided into two segments over two days. Step one was to select my materials and create my desired design. There was a wide selection of materials to choose from including ceramic tiles of various shapes and sizes, glass beads, stained glass pieces, glass tiles, and mirror pieces. Once I determined my design—which took some time on my part to make sure that all the materials I was using would go together, had the same thickness so my finished table tops would be smooth and flat, and fit my design—then I needed to secure all the pieces onto my table top which I did with regular white craft glue (which dries clear). I also needed to be sure I left little channels between all my pieces where the grout would go in the second half of my project. The staff on duty during my first phase was helpful and patient with all my questions; he gave me excellent direction and assistance.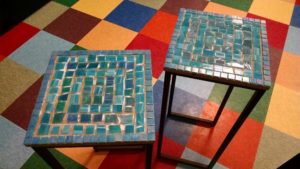 I was excited to find the stained glass pieces among my options for mosaic. I have a special fondness for glass art as my grandmother was a stained glass artist. I also love how the pieces were swirled with a bit of white which yielded a lovely ocean and sky feel to me. I selected iridescent blue glass tiles for the outer border and then alternated iridescent glass with streaked stained glass in concentric squares. I was definitely channeling a beach vibe! With that, phase one was complete and I took the tables home to dry overnight.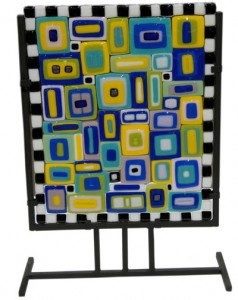 In addition to the pre-made ceramics to paint, Practically Pikasso also offers glass fusing, mosaic, and hand thrown pottery projects and classes. This unique art space is the perfect place to unwind after a stressful day, catch up with friends, enjoy a date night out, or relish some adult/child bonding time for parents, mentors, and relatives alike! No reservations are needed for individuals and small groups (2-4 people) but larger parties may want to call ahead to be sure there is enough space. Large groups may also reserve the special party space for after work art happy hours, birthdays, parties, showers, and other special occasions. Practically Pikasso hosts a number of group events such as Girl & Boy Scout troops, School art classes, Greek gatherings, Corporate Team Building/Staff Retreats and more—groups may reserve a spot on location or Practically Pikasso will come to you!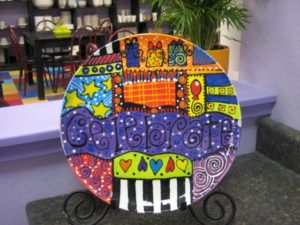 I was able to complete phase 2 of my project the next day after work. I brought my tables back to finish them with grout. I was able to choose from white, black, or grey grout. I went with the white to bring out the bright blues and mimic an island beach look. While I was grouting, I had the pleasure of meeting the owners, Marie and Russ. They hadn't ever seen anyone bring in their own objects to mosaic so they were curious about my project. While I applied the grout across my project working it into every space and crevice, I asked Marie and Russ about how they came to own and run Practically Pikasso. Russ shared that as a medical practitioner he would often come to the studio to relax, unwind, and restore calm after particularly strenuous work days. He loved the atmosphere and ability to just sit down and begin working on a project. When the previous owner, Sam shared that she would be closing up shop, Russ began to consider the possibility of taking over the business. Both he and his niece shared a love for the place and didn't want to risk losing such a treasure. After many conversations between Russ and Marie and Sam, they took the plunge and bought the business. They laughed as they shared the story with me—neither of them considered themselves artists or business owners both coming from medical professions. But they knew they wanted to preserve this space for the community and had the resources to do so.
Since they have taken over the business, they have added many shelves of ceramic selections to choose from as well as the other kinds of projects. Russ noted that one of the things he loves best is seeing people engage with each other,
"They come in and all the phones and devices stay put away. Here they talk together, laugh, share an experience with each other and in the end, have an art object they made to remember the occasion. I love seeing people slow down and reconnect here."
Marie shared how after a long career in nursing, she loves the positive atmosphere and creating that happens. While she enjoyed the work she did as a nurse, she reflected that there are far fewer dangers and much more joy in this work adding, "and it really is relaxing—a kind of therapeutic or meditative activity."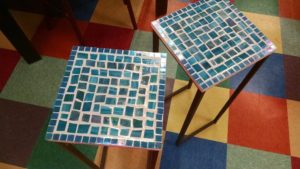 The exciting thing about mosaic work is the dramatic reveal. After all the grout has been filled my pieces looked quite the mess. Basically as though I had just smeared frosting all over my tables. My favorite part came next: cleaning off the tiles and smoothing the grout to reveal the sparkling finished project!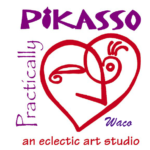 Practically Pikasso is the only art space of its kind here in Waco and offers a much wider selection of items than many other studios in cities around Central Texas. Whether you're looking for a fresh option to get together with friends, or you need a creative place to refresh on your own, check out what Practically Pikasso has to offer. They have a selection of Valentine's Day themed pieces available this month just for you!
Summer Kamp Classes for ages 6 and older: consider sending your creative ones to Kamp at Practically Pikasso this summer! With 8 sessions to choose from with different themes, there is sure to be something for everyone.
Mosaic Mondays: enjoy 10% off all mosaic projects every Monday
Tuesday Fuseday: enjoy 10% off all glass fusing projects every Tuesday
Wednesday Ladies Night: ladies enjoy $2 off regular studio fees all Wednesday night
Open Weekends! not free during the weekday? Come hang out on a Saturday or Sunday afternoon. Enjoy the music, and create something wonderful!


---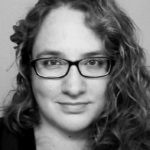 Jenuine Poetess is an artist, visionary, and community organizer. In 2010, she founded In the Words of Womyn (ITWOW), an international, grass-roots, written and spoken-word arts project with chapters throughout Los Angeles, CA; Waco, TX; and Lebanon.  Jenuine is the founder of Waco Poets Society and co-founder of the Central Texas Artist Collective.    She writes, organizes, and creates rooted in the fierce conviction that holding intentional space, access, and opportunity for all people to foster their creative health is a matter of justice and is a vital asset to the sustainable thriving of communities.  She currently lives and poems in Central Texas where she enjoys finding new ways to disrupt the homeostasis of her city.  You can contact her at: j[email protected].
The Act Locally Waco blog publishes posts with a connection to these aspirations for Waco. If you are interested in writing for the Act Locally Waco Blog, please email [email protected] for more information.
(Visited 55 times, 1 visits today)