by Jenuine Poetess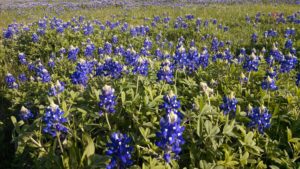 There's no denying that Spring is an inspiring season in Central Texas. Having grown up in the north where Spring was such an emotional event—hope, finally! after so much cold, ice, snow, and darkness—I never really put much stock in the changing of seasons in places like Texas. That is, until I lived here and experienced the sheer delight and joy of a riot of color as bluebonnets, Indian paint brushes, and primroses splash their vibrant adornments across the landscape.
So as robins with their plumb red bellies and beloved wildflowers are the harbingers of a Central Texas Spring, so too a calendar chock full of dynamic events is the artists' first bloom of a new season!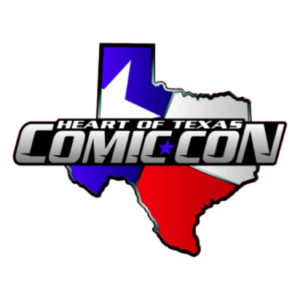 To kick off, the Heart of Texas Comic Con returns this weekend March 11-13th with artist vendors & live art-making on site, cosplay, food vendors, special guest appearances, and more there is something for comic lovers of every age! And be sure to stop by the Central Texas Artist Collective (CTAC) to say "hi!" to some of your favorite artists and community organizers living and creating in Waco!
Also coming up this and next week are a number of Waco Poets Society (WPS) events including Nuestra Voz open mic on Saturday March 12th at 7:15pm at Rufi's Cocina (which you may have seen in the most recent Waco Today!). Open mic is open to all creative expressions—poetry, story-telling, spoken-word, music, reflections, and more! On Tuesday March 15th, WPS is partnering with other artists to present Unsilent :: Survivor Stories, an evening of poetry & spoken word at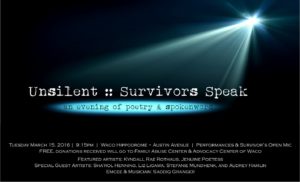 9:15pm at the Hippodrome on Austin Avenue in downtown Waco. This event is free and open to the public. There will be an opportunity to make a donation which will go to support the efforts of the Advocacy Center of Waco and the Family Abuse Center. In gratitude of the generosity of the Hippodrome donating their space for the event, attendees are encouraged to purchase concession items as a way to support our local business and make sustainable such partnerships between venue and programming! This event will have limited open mic spaces so please arrive at 9:15pm if you are interested in signing up to share 1 piece (2 minutes maximum).
If you have things to share and were not able to get on the list at Unsilent, the next WPS open mic will be Thursday March 17th at Tea2Go Waco-Baylor on S. 7th street with sign-ups opening at 7:15pm. Again, this venue is open to music, poetry, story-telling, spoken-word, reflections, and more!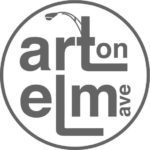 This Saturday March 12th also marks the deadline for all art submissions for the annual Art on Elm neighborhood arts festival in East Waco Saturday April 9th from 10am-5pm. With live music, artist vendors, juried art exhibit, art activities, live art-making, food trucks and vendors this event is FREE and open to the public of all ages. Bring your friends, your family, your neighbors, and your funds to support local artists and enjoy the thriving creative culture Waco is growing! If you are an emerging artists looking to take the next step into exhibiting and selling your artwork, have a conversation with Angie or Steve Veracruz of CTAC; they will support you through the process and provide you with all the details and tools you need to soar! (Be sure to ask them about Paper Shoes the next time you see them!)
If you're looking for some music to enrich your palette, consider taking in a concert with the Waco Symphony Orchestra. On Saturday, March 19th, they will feature 16-year-old violin prodigy Fiona Shea who will join the WSO to perform Mendelssohn's Concerto for Violin & Orchestra and the Waco Symphony Youth Orchestra–celebrating their 25th Anniversary. Tickets are available for purchase here.
Live theater may be more your style and if so, check out the Waco Civic Theater's Spring production of The Great Gatsby…make a swanky evening of it and dress up in your own best attire. To stay up-to-date on the season or to learn about how you can audition for their next show, please visit WCT's site here.
Maybe you're more interested in kicking back in a casual setting with some good food and drinks and a great band. If so, check out the Spring line-up on stage at The Backyard and Common Grounds. Throughout this Spring, the Waco Hippodrome also has some live music offerings, as well as free film screenings–from the silly to the serious, and other performances to engage audiences of all ages.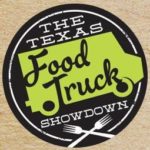 To get you ready for all the excitement of Art on Elm, head out to Waco's Downtown Heritage Square for the 2nd Annual Food Truck Showdown on Saturday April 2nd. Tickets and full schedule of all the delicious offerings and events are available here. Gates open at 10am and be sure to bring your appetite! There will of course be a food truck showdown/competition, live music, artist vendors, concert, and sunset screening outdoor movie! What a generous portion of goodies to savor!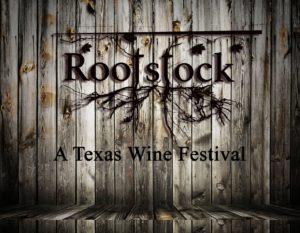 And while you're digesting this buffet of soul-nourishing and taste-bud pleasing offerings Waco is dishing up, mark your calendars for the Rootstock Texas Wine Festival on Saturday April 23rd put on by the Valley Mills Vineyards at Indian Spring Park. This event will include tastings from 14 Central Texas wineries to be followed by a special VIP dinner featuring the culinary artworks of Milo Biscuit Company! To purchase tickets for the day or festival and VIP dinner please visit here.
So whether you are an artist, a patron, an admirer, or one who simply enjoys delicious sights, sounds, and savors there is something to inspire everyone. Let us know how you'll be enjoying the arts in Waco this Spring!
---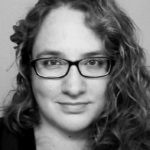 Jenuine Poetess is an artist, visionary, and community organizer. In 2010, she founded In the Words of Womyn (ITWOW), an international, grass-roots, written and spoken-word arts project with chapters throughout Los Angeles, CA; Waco, TX; and Lebanon. Jenuine is the founder of Waco Poets Society and co-founder of the Central Texas Artist Collective. She writes, organizes, and creates rooted in the fierce conviction that holding intentional space, access, and opportunity for all people to foster their creative health is a matter of justice and is a vital asset to the sustainable thriving of communities. She currently lives and poems in Central Texas where she enjoys finding new ways to disrupt the homeostasis of her city. You can contact her at: j[email protected].
The Act Locally Waco blog publishes posts with a connection to these aspirations for Waco. If you are interested in writing for the Act Locally Waco Blog, please email [email protected] for more information.