By David Saucedo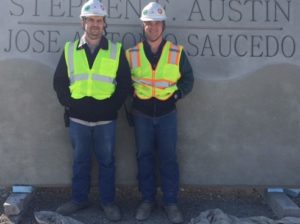 My brother, Robert Saucedo, and I have always had a desire to impact today's culture.  Between us, we have been blessed to work on many exciting projects that we believe are having a significant positive influence on the public, private and non-profit sectors in the Waco area.  We didn't know it, but we have been preparing for our newest project our whole lives.  It's called "Hope through Concrete."
You might not immediately associate the words "Hope" and "Concrete," but for my brother and I those two words fit together perfectly.  Robert and I grew up working in concrete.  We come from a family that has been involved in the concrete industry for over 40 years.  Eventually we both landed careers in the precast concrete industry. Robert is a certified concrete technician and quality control supervisor; and I am a Safety Coordinator and training developer, also with industry certification.  Now we are working to combine the skills and expertise we have developed working in the concrete industry with our desire to be a positive influence in the community.
We have started a concrete company, Saucedo Brothers, and are partnering with Life Church Waco, Pastor Gabriel Dominguez (Pastor Gabe), and the job creation/discipleship efforts of Hope Through Everything, a 501c3 Non-Profit here in Waco.  The tagline of Hope Through Everything is "Moving Forward Despite our Struggles."  Here's a part of the description from the website of what Hope Through Everything is working to do:
Hope Through Everything exists to disciple and provide jobs to those who are committed to God, are going through the systems established at "Life Church Waco," and who are below the poverty line and/or who once were incarcerated or living the "street life" and are now choosing life change…

Our goal is to create jobs where this population can learn how to show up consistently and on time, handle responsibility, and gain employable skills in a safe and loving environment…

We do not want to provide jobs to just anyone because they need a job, but rather because they truly want one. We have healthy accountability systems already in place to ensure everyone we accept into our program is there because they want to be…
Robert and I agree with Pastor Gabe that people, especially young people, need an opportunity to learn fundamental work ethic and basic work skills.  We vow to use our business to finance "Hope Through Concrete," where young men and women seeking life change can find the guidance, training, spiritual growth and WORK they need to move forward despite their struggles.  Our vision for "Hope Through Concrete" is a company that disciples young men and women as they learn the trade.
This approach is not only good for the young people who work for us, we think it makes good business sense. We call this concept "Foundational Employment." Employers are in a good position to invest in employees in a way that helps employees build a solid foundation for their lives. Employers who are willing to make that investment will reap the benefit of high quality, loyal employees.   We intend to run our company on that principle. As Robert says, "We believe companies would benefit by investing in the lives of their employees … sometimes it's easier to show possibilities rather than preach them. The vision we have for our company is one of transparency and purpose, all employees at Saucedo Brothers will be invested in."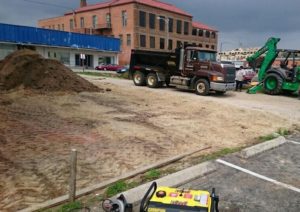 We are currently constructing a 6500 square foot parking lot and custom design retainer wall for the Masonic Temple at 724 Washington Avenue.  Jon S. Spann, President of the board for the York Rite Library and Museum that owns the Masonic Temple, understands our vision, "The York Rite Library and Museum of Texas is dedicated to the preservation of the history of the York Rite, this includes The Masonic Temple building itself.  We also seek out the opportunity to support local programs that benefit our community in and around the Waco area. Our faith is our guiding light in all that we do."
We are also already working with Cory and Kate Duncan. In a December 2015 article, the Waco Tribune said "Cory and Kate Duncan have been praised as the type of young, aggressive business owners that downtown Waco needs." Cory, a real estate developer and Waco native, recently acquired nearly 14,000 square feet of space in the 700 block of Washington Avenue. Approximately 4,000 square feet of the development has been set-aside for Wildland Supply Co., a business founded and operated by his wife, Kate.
The Duncan's admire the vision for Hope Through Everything and will be calling upon us for all of their concrete needs, including work on the renovation of their 1926 Cameron Park estate. As Cory says, "When exploring your options of contractors to use, you must look for the perfect balance of skill, experience, and price. The ability to support a good cause is icing on the cake. These guys are very transparent, very professional, and passionate about serving our community, we are excited about working with them on future projects."
As Saucedo Brothers and Hope Through Concrete continue to work with developers and entrepreneurs like The Duncan's, our vision is that the company's reach will continue to spread Hope throughout the Waco area.
We need your help to grow! We can handle house foundations, building foundations, parking lots, custom designed retainer walls, sidewalks, patios, we love what we do and no job is too big or too small! Our business model is transparency.  We will show you what it takes to get the job done, and explain what our aim is for a reasonable profit.  We will provide testimonials about the lives impacted by your project. Visit www.hopethrougheverything.org and let us provide your concrete needs!
---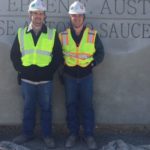 This Act Locally Waco blog post was written by David Saucedo. David is a local minister with Life Church Waco and has committed the last 8 years of his life to impacting his community in a positive way. David has a loving wife, Michelle and three beautiful children, Lianna (7), Isaiah (4) and Isaac (10 Months).
The Act Locally Waco blog publishes posts with a connection to these aspirations for Waco. If you are interested in writing for the Act Locally Waco Blog, please email [email protected] for more information.
(Visited 54 times, 1 visits today)