The Inside Scoop on Steppin' Out
By Macy Warburton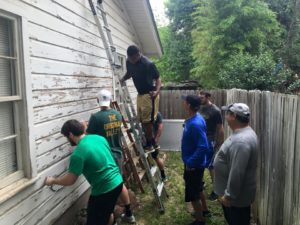 If you were out and about in Waco this past weekend, you may have seen large numbers of Baylor students in the community sporting tools and paint brushes.  What was happening, you ask?  Steppin' Out – a day of service Baylor students participate in each semester.  Led and organized by the Steppin' Out Steering Committee comprised fully of students, individuals clean yards, paint houses, and help meet various other needs by coming alongside homeowners and organizations within Waco.  This semester almost 2,000 students served at more than 60 locations around our community.
I have had the honor of serving as the advisor for the Steppin' Out Steering Committee this semester, and I am simply amazed by their work and commitment to the Waco community.  These students run the entire program, working with our Baylor community on one end to recruit volunteers and working with our Waco community on the other end to pinpoint potential areas of service.  They spend countless hours building relationships with homeowners, raising money to purchase the necessary tools and paint, and coordinating all other logistics.  Along with the committee, we see the commitment from those students that choose to serve each and every semester, many of whom return due to the impactful relationships they have formed within the community.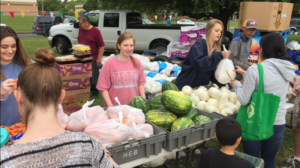 What can seem like just a "day of service" is truly more than that.  Just this past weekend almost 20 house painting sites were postponed due to the rain.  Instead of taking the easy way out, most of the students and organizations assigned to those sites have asked to maintain their commitment by completing these paint jobs by the end of the semester.  These students have displayed their commitment not to Steppin' Out, but to the people they are serving.
It is important to note that these connections are not made to be confined within the walls of Steppin' Out.  Our Office of Community Engagement and Service continuously works to connect the Baylor community with the Waco community.  We work to showcase service opportunities, promote education and advocacy, and much more.  Many of our students are in the community doing great work through mentoring, volunteering, and more, but there is much room for growth.  We are dedicated to this growth and committed to empowering our students as residents of Waco.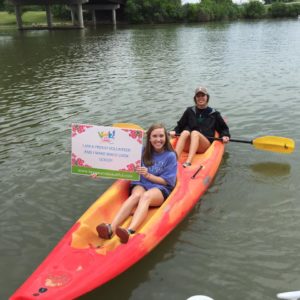 People and organizations within the Waco community can make a connection with us at any time.  Want to promote your volunteer opportunities on CONNECT, our online service database?  Want to plan an educational event with our office?  Want to develop a collaborative training for volunteers?  We would love to come alongside you in any way possible to help you reach your visions.  I personally would love to chat with you about our opportunities for connection.  Send an email to [email protected] or give me a call at 254-710-7687 at any time.
---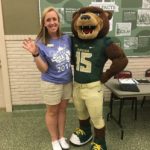 Macy Warburton is the coordinator for community service in the Office of Community Engagement and Service at Baylor University.  She loves running, playing guitar, and drinking coffee.
The Act Locally Waco blog publishes posts with a connection to these aspirations for Waco. If you are interested in writing for the Act Locally Waco Blog, please email [email protected] for more information.
(Visited 49 times, 1 visits today)