Creating Wellness – a collaboration of art and healing
By Jenuine Poetess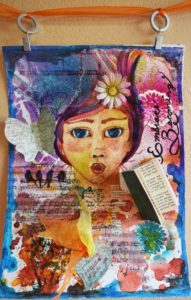 I have the immense joy of working with a professional colleague who is not only a gifted mental health clinician, but also a talented artist—across a number of disciplines.  As I joined Enrichment Training and Counseling Solutions we moved into a new suite of offices–a space which has afforded the creation of a therapeutic art studio.  In this month's Arts & Culture Blog,  I share with you an interview I did with Salley Schmid, LMFT about her use of art in session with clients.

Jenuine Poetess: Please share a bit about yourself generally—as an artist, as a therapist, as a person with various roles/identities.
Salley Schmid:  I am a child of God, daughter, sister, wife, mother, friend, therapist, student, trainer, business owner, and artist.  I guess since I have done three triathlon events, I can say I am a triathlete as well.  But that one is hard for me to believe.  That would fill a whole different article though so I will leave it at that.  I love being outdoors, music, long meaningful conversations, learning, drawing, painting, kayaking, cycling, swimming, the beach the mountains and living life out loud.  I once was silenced, but no more.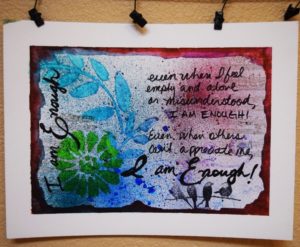 I have not had formal training as an artist.  I grew up around constant expressions of creativity from my mother and my three older sisters.  My oldest sister studied art formally.  One of my greatest lessons in life came from a high school art teacher.  Ironically, one of my most painful moments came from the same place.  The great lesson was after making a mistake on a watercolor painting.  I was painting a face.  I dropped a huge blob of red paint in the middle of the face.  I asked my instructor for new paper so that I could start over.  She refused to let me start over.  She said I had to work with it and make it work with the painting.  I ended up painting only part of the face and making it look like someone behind a door peeking through the window.  I was pretty mad at my teacher for not letting me start over, but in the end this painting was much better, much more interesting.  It now had mystery and intrigue and became one of my favorite paintings.  The painful experience came from somehow walking away from that class believing that I had no talent based on a single letter on a report card.  I let go of art for a long time after that.  And I really missed that part of me.  To this day, I struggle to make the statement that I am an artist.  Never the less; I AM AN ARTIST.

My first degree is a BS in Therapeutic Recreation.  Yes, that is a real degree.  I love the work I did in that degree.  I think it has made me much better as a therapist now because I am not afraid to tap into experiential ways of processing and wrestling with life's challenges.  That's why and how I began to takes risks with incorporating art and other creative expressive outlets into the therapeutic process.  Art has helped many of my clients tap into deep emotions that words could not connect with or give a voice to.
JP:  How did you first connect with art?  What about art as an expression drew you in?
SS:  I remember sewing by hand what my mother called yoyo's while sitting on the ping pong table in the basement, my mother at the sewing machine and the TV filled with soap operas, often Dark Shadows.  That's my earliest creative memory.  From then on, I was creating whenever I could.  I created in the kitchen, I would spend hours on the floor sketching.  I loved to decorate my room and come up with creative ways to paint an accent wall, which my mother thankfully indulged.  I can't remember my life without art.  Art has always tapped into my soul and given life to emotion when words failed.  Art has helped me find, recognize and express emotions that I had hidden from myself.  Art has brought healing to me.  I often see the world in paint strokes, colors and shadows.  I catch myself staring at things, people, nature . . . sketching always in my mind, studying the lines, the light and the shadows.
JP:  How did you come to integrate creative process with your therapeutic process?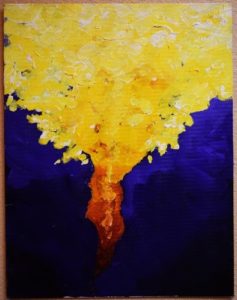 SS:  Perhaps first through the use of art in my own healing process after a difficult emotionally abusive marriage, followed by a volatile divorce.  I painted my way through and out of the pain.  I found that I loved different mediums for different emotions.  Distressing emotions were best expressed in textured thick acrylic, where I preferred watercolor for hope and free spirited forward movement in my healing journey.  Oddly, my first divorce painting is acrylic but became an expression of hope contrary to my plan when I began the painting.  It's an abstract expression of what feels like painful brokenness but is actually the pathway to the light and hope and living vibrantly.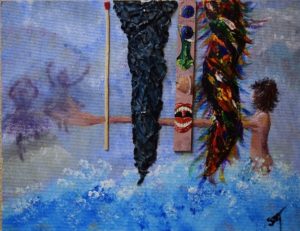 I was convinced when I began private practice that art was to be a part of how I worked with people, but I was afraid to introduce it initially.  Gradually one person at a time, one step at a time, I began to incorporate art.  One of my first clients was a big burly man who was at a loss for words.  I handed him a pencil and a sketch pad and told him to put the pencil to the paper and see what came out.  It was profound and his insights were pivotal.  Each time I introduce art to the therapeutic process I am affirmed in this work and the therapeutic relevance and power of visual creative expression.
JP:  What do you see as the value of incorporating art into the therapy journey?
SS:  Because art has a way of giving a voice to experiences that occurred before the age of language and because the soul is more emotion than cognitive thought, art is the best matched medium for many to connect healing to pain.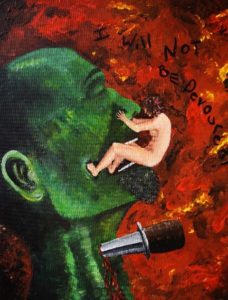 JP:  What are some of the most significant moments/experiences you've had with art?
SS:  The experiences I shared earlier from high school for sure.  My "divorce" paintings as I call them were significant both in the power of expression, clarity and healing as well as reclaiming a lost part of my soul.  Those were very healing and the first time I let myself express myself through art in more years than I can count.  The artist in me was one thing stomped out by the emotionally abusive relationship.  I think because I became so numb and empty.  Now, giving others an emotionally safe place, space and opportunity to find healing through art, brings me joy and affirmation.  I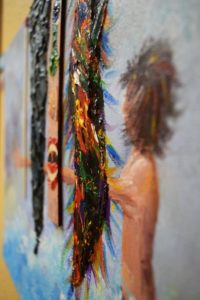 personally feel most full after sessions where a client gave expression, gained insight or found a path toward healing through art in therapy.  Additionally, I find I do my most emotionally honest work and healing through art.  My head swims with ideas.
JP:  What are your favorite mediums to play with?
SS:  Stained glass is actually one of my favorite mediums.  However, I have not done stained glass since my daughters were born 18 years ago.  The mood of what I am painting makes a big difference in what medium I like.  If I had to pick, I would say water color.
JP:  Would you share about a project you are working on or plan to work on in the future?
SS:  I have recently begun working on creating jewelry with therapeutic and inspirational meaning.  I am stamping words into metal, framing the metal with solder, and adding elements that capture mood, and meaning.   I hope to master this in a way that I can then engage my clients in creating their own pieces with what I call anchor words.  So for example, an anchor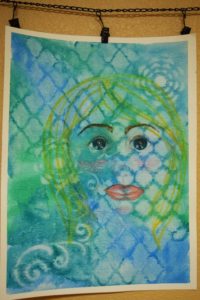 word for me is PEACE.  I use this word by saying in times of distress "what would I be doing differently right now if I were acting from a place of peace".  The jewelry is a beautiful reminder to use the anchor word.
I have a list of ideas that is constantly growing.  Images come to me in sessions from what client say sometimes.  When that happens I jot down a quick note.  Sometimes it becomes an assignment for the client, it inspires a page in the art journal I hope to publish.  Sometimes it becomes a piece that I create and give to the client.
JP:  What is something you wish more people knew about with regards to art and the therapeutic process?
SS:  The therapist does not always have to know the meaning in the client's work.  We do not have to put words to every single thing.  Words matter, meaning is important.  As long as the art touches the client's soul, has meaning for them, inspires them, creates a needed shift for them, it is worth doing.  It is a wise investment of self, both the self of the therapist and the self of the client.
JP:  What do you love about Waco?
SS:  When I first arrived in Waco, I thought, "Oh my gosh, where have I landed?"  In short order, however, I learned to love the community.  The small town feel, the entrepreneurial spirit, the friends, the ample opportunities to be involved in activities of all kinds from athletics, to art to food, to music, the list goes on.  I can't see myself living anywhere else now.  I think we have such a gift in Cameron Park, Woodway Park, downtown.  I love to kayak and cycle, we have so many places and opportunities to engage in outdoor activity here.  We are a generous community too.  I see so much giving going on.  We are a community that creates opportunity, growth, and we are learning to embrace diversity.  I love my Wacotown!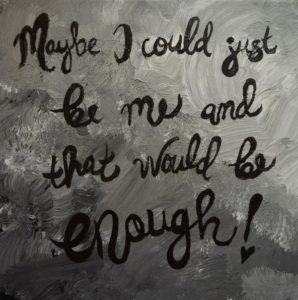 JP:  What would you like to see more of in/around Waco?
SS:  More art of course.  I am super excited about the efforts being made to recognize Waco as a cultural arts hub.  I am about to launch my children into adulthood.  Scary, but also brings opportunities to get involved in things that I held back from in order to be home more.  I would love to see more draw to our community from surrounding areas and even out of state around the arts.  Opportunities to see art as it's created, to buy local art, to hear local art – music and spoken.  I would love to see Waco on the map as a place for great food, music, art and opportunities to have a great day, great evening, great weekend, both indoors and outdoors.
JP:  Anything else on your heart to share?
SS:  I hope this inspires people to get involved in Waco, put some color on paper, engage in expressing themselves, and both invest in and indulge in the opportunities that abound here.
---
*All photos are of Salley Schmid's original artwork, shared with permission for this blog.  Please do not copy or use without permission of the artist.
---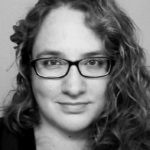 Jenuine Poetess is an artist, visionary, and community organizer. In 2010, she founded In the Words of Womyn (ITWOW), an international, grass-roots, written and spoken-word arts project with chapters throughout Los Angeles, CA; Waco, TX; and Lebanon.  Jenuine is the founder of Waco Poets Society and co-founder of the Central Texas Artist Collective.    She writes, organizes, and creates rooted in the fierce conviction that holding intentional space, access, and opportunity for all people to foster their creative health is a matter of justice and is a vital asset to the sustainable thriving of communities.  She currently lives and poems in Central Texas where she enjoys finding new ways to disrupt the homeostasis of her city.  You can contact her at: j[email protected].
The Act Locally Waco blog publishes posts with a connection to these aspirations for Waco. If you are interested in writing for the Act Locally Waco Blog, please email [email protected] for more information.
(Visited 60 times, 1 visits today)