"Be friends with your words" – Poet Laureate Speaks to Tennyson Students on the Importance of Writing Honestly
By Amber Harris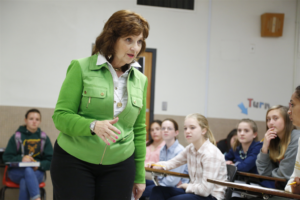 On April 7, 2016, the Poet Laureate of Texas, Dr. Carmen Tafolla, challenged students at Tennyson Middle School to share their experiences and stories. The assembly introduced students to Planting Poet Trees, a project Dr. Tafolla created that provides students the opportunity to have their works published in an anthology, as well as receive literary critique and support from Dr. Tafolla.  Tennyson was honored to host this seminar, having been only one of 20 campuses in the entire state selected to participate in the Planting Poet Trees project.
During the assembly, Dr. Tafolla painted a visual picture of her experience visiting a tortilleria to demonstrate how important your surroundings are in inspiring your writing. Students laughed as she blended together English, Spanish, sensory language, and body language to bring this poem to life. Dr. Tafolla explained before sharing this poem that you don't have to live in a big city to have something meaningful and important to write about. She connected her personal experiences growing up in a San Antonio barrio and how she learned through writing that her neighborhood had many interesting and important stories to share with the world. "You have something unique to contribute," Dr. Tafolla emphasized throughout the assembly. "Let those words out…Be friends with your words…Catch the words in the air and put them on paper."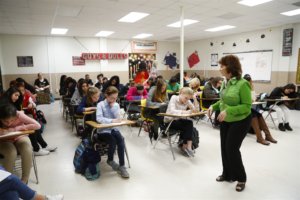 After the assembly, Dr. Tafolla was able to work with a small group of students representing each grade level in a writing seminar. Students engaged in creative writing exercises to begin their own poems for submission in the anthology. I asked some of my students who attended the seminar for their thoughts and they all agreed that the experience was valuable. One student commented that the feedback she received was useful and led to more ideas for her poem. Another student shared that poetry is his favorite writing style and how much he appreciated the opportunity to engage with this seminar and assembly.
This opportunity was thanks to two of Tennyson's staff members: English Teacher Kaleigh Gibbons and School Librarian Mary McCaghren. Through a network of connections, they completed the grant that led to Tennyson being selected. Mary McCaghren was excited at the opportunity to expose students to spoken word poetry. For her, this was a way to help students heal from experiences they have faced, to have an outlet to be heard. The grant also paved the way for a poetry collection to be added to Tennyson's library, increasing the amount of poetry selections students can choose from.
The assembly and seminar reminded students that they "have the finest computers in the world, your mind." The impact has been great among students since the assembly. Many students have checked out the new poetry books added to our library, including The Crossover by Kwame Alexander, a book of poems focusing on basketball that Dr. Tafolla read excerpts from during the assembly. Our students love to be creative and have stories to share. When we give them platforms to express themselves, the impact can be life changing.
---
Amber Harris is currently an English Teacher for Waco ISD. She is passionate about education reform and mental health reform. She is also very passionate about why In-N-Out burger is the best fast food burger. Originally from Los Angeles, she spends her weekends exploring new parts of Central Texas with her fiancé (and sometimes with their dog, too!). She is looking forward to becoming even more involved in her church and the Waco community after their wedding this summer.
The Act Locally Waco blog publishes posts with a connection to these aspirations for Waco. If you are interested in writing for the Act Locally Waco Blog, please email [email protected] for more information.
(Visited 16 times, 1 visits today)