Summer Meals in Waco, And How You Can Help
by Craig Nash
Because the Texas Hunger Initiative cooperates in some way with just about every group, individual and agency devoted to ending food insecurity in Waco, people often identify us as one of those entities. In the short amount of time I have been with THI, I've been asked when the next Farm Day will be, how an elderly parent can sign up for Meals & Wheels service, how our food pantry determines who gets food, and what the estimated opening date will be of our new non-profit grocery store. It's an honor to be associated with such great organizations as Mission Waco, M&W and World Hunger Relief! But what is more in line with our day-to-day work is when we are called the "Summer Meals People."
Although the Summer Food Service Program, administered by the USDA, has been around since 1968, it has in recent years received more exposure in Texas because of the promotional work of the Child Hunger Outreach Team in our regional offices around the state. I first heard about it several years ago as a minister in town, and now am working to inform everyone in our community about this important tool to help address nutrition gaps among our area children.
When summer hits it brings with it a host of challenges for families. Schedules have to be coordinated differently. Childcare has to be arranged. Camps, sports, and other activities begin to take up time. These new realities can bring with them added financial burdens that don't always exist when school is in session. The Summer Food Service Program is intended to help families overcome the financial challenge associated with nutrition, especially in communities where the majority of children qualify for free and reduced meals.
To do this, the USDA contracts with sponsors who operate summer feeding sites around the country. The largest and most prominent of these sponsors are local school districts. Both Waco and La Vega ISDs work tirelessly during the summer on campus and with mobile meal routes that serve libraries, parks and community centers. In addition to school districts, faith based non-profit groups like Road to Damascus and City Square operate summer feeding sites in apartment complexes and churches. In the Waco and La Vega School Districts, (including those sites operated by non-profits) lunch is served free to any child aged 18 and under;  no identification is required to participate.
As we approach the summer, the Heart of Texas Sponsor Council, which includes the aforementioned school districts and non-profits, has set a goal this summer to increase awareness of the summer meals program in and around Waco. There are ways you can help us make that happen.
First, be aware of the nearest summer lunch sites in your area, and spread the word to your neighbors. In the next few weeks you will begin to see posters, signs and door hangers pop up all over the city with this information, but word of mouth is still the most powerful method of communication. You can locate your nearest site here– http://www.fns.usda.gov/summerfoodrocks. (This website will be continually updated as sites are added before the summer begins.) You can also find sites by dialing 211. Most all sites in Waco will begin summer food service on Monday, June 6.
Second, the H.O.T. Sponsor Council is hosting community wide kick off events at four sites around the city on Tuesday, June 14th. We need help from individuals, church groups and other organizations to help pull these events off. The events themselves will be no longer than 2 hours, with some promotion during the week leading up to it. If you or your organization can help in any way, please email C[email protected].
Lastly, a more long-term way you can help alleviate summer food insecurity is speaking with your churches, community organizations and groups to consider being a future site where one of our sponsors can serve summer meals. If this is something your group is interested in for future summers, I can organize a visit to a current site this summer for you to see how the program is operated.
By working together we can be known as the town where no kid goes hungry during the summer!
---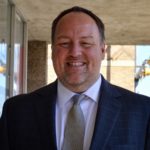 Craig Nash has lived in Waco since 2000. Since then he has worked at Baylor, been a seminary student, managed a hotel restaurant, been the "Barnes and Noble guy," pastored a church and once again works for Baylor through the Texas Hunger Initiative. He lives with his dog Jane, religiously re-watches the same 4 series on Netflix over and over again, and considers himself an amateur country music historian.
The Act Locally Waco blog publishes posts with a connection to these aspirations for Waco. If you are interested in writing for the Act Locally Waco Blog, please email [email protected] for more information.