Getting serious for the final two years
By Diego Loredo
I've finally finished my first two years of college. For most college students, the first two years are a transition period where you're still getting used to the college life. Afterwards, it's when you really have to get serious about college and thinking about what will happen after graduation.
My first two years at UNT have been pretty crazy. I've lived in a dorm for my freshmen year but moved into an apartment this school year. I've met so many great people and made my own little group of friends who I hang with all the time. I took part in intramural sports such as soccer and football and I got to see what kind of city Denton really is. But after these two years, what next? For me, what's next is a long and bumpy road to graduation.
First of all, I need to get serious with my classes. My GPA has dropped and I'm going to have to bring it back up. I'm also going to have to think about getting experience in the career that I want to pursue as well as networking with people to get connections so that I can have someone to look to when I'm looking for a job. I also plan on studying abroad next summer so I will need to save up money for that. There's so much that will be going on these next two years and I would be lying if I said I wasn't intimidated by it all.
Regarding getting experience, I have already worked with a nonprofit called Minnie's Food Pantry in Plano where I worked as a communications expert. I have made a communications plan, a fact sheet, an infographic, a feature story, and a media list for them to use. This was all done in two classes, which was great because it provided me with all of this experience. Plus, my professor had us all make an online portfolio, complete our resume, and create business cards to ensure that we are prepared. I'm really grateful to my professor for that and I know that they will come in handy down the road. I plan on doing community or media relations as a career (preferably in sports PR) and working with Minnie's has provided me with valuable insight that I know will be useful.
Although working with Minnie's was fun, I'm the most excited about getting the chance to study abroad. UNT offers opportunities to students to study abroad and take classes while also learning about the different cultures there. For me, I think my options are Japan and England. England is my first choice because I've always wanted to travel there but also because I'm a huge soccer fan (I'm a Manchester United fan) and traveling to see the different soccer stadiums there would be great. I decided to get a job this summer to start saving up for studying abroad next year.
So as you can see, I have a lot in store for me for my final two years at UNT. I may even graduate a semester early because of the college credits I got during my senior year in high school. But I'm pretty sure I'll be taking my time and will probably end up graduating in the Spring of 2018 because I don't want to rush myself.
As for advice for other college students, new or current, it's to enjoy your first two years of college. Use that time to get out and experience that "college life." Join organizations, meet new people, play intramural sports, or just go around and see what your city is like. Because after those two years, that's when you really have to take not only college seriously but what your future career will be like. I'm not saying that the last two years of college will be boring, but it's best to use it to focus more on college and your future career.
I've learned so much these past two years and I like to think I've matured a bit. I know what to do and what not to do and I know about the stresses of juggling college, social life, and personal life together. I also know what I need to do to succeed in my career field, which is crazy because I never thought I would get to this point a few years back. I know it's going to be tough but I also know that I have the support of my friends and family to help me get through it all.
---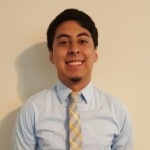 Diego Loredo is a sophomore at the University of North Texas. He is majoring in public relations. He graduated from University High School in 2014. Although he is still not quite sure what exactly he wants to do, he thinks he wants to work somewhere in sports PR (preferably soccer or college football). His hobbies include playing soccer and golf. He is 19 years old.
The Act Locally Waco blog publishes posts with a connection to these Aspirations for Waco. If you are interested in writing for the Act Locally Waco Blog, please email [email protected] for more information.