Waco Founder Lions Club Shines a Spotlight on the Importance of Vision Screening
by Louise Powell, Waco Founder Lions Club Vision Screening Chair
This summer, the Waco Founder Lions Club is pleased to announce our partnership with Allergan Foundation. Prevent Blindness Texas, other Waco area Lions Clubs, and the optometry practice of Dr. Robert Salganik to improve the vision of Central Texans.  At the recent groundbreaking of  Waco's Allergan plant expansion, the Allergan Foundation gave the Waco Founder Lions Club a grant to provide 100 no-cost eye exams to Waco area people who don't have the money or insurance to cover eye exams.
Why 100 exams?   The Waco Founder Lions club celebrates its 100th birthday July 2016 (with a huge street party on July 15, 2015 at Lions Park), and Lions International will celebrate its 100th birthday in 2017. Allergan Foundation has chosen to honor the Centennial Anniversary of both the Waco Founder Lions Club and Lions International because, like Allergan, the Lions are dedicated to vision preservation. Since 1925, the Lions' primary focus has been on vision-related projects. That year—1925–Helen Keller challenged Lions International to become "Knights for the Blind." Through the years, Lions have recycled donated eye glasses, distributing the refurbished glasses to people all over the world. We have trained service dogs and provided Braille materials for the blind, operated eye banks for corneal transplants, combatted river blindness in Africa and Latin America, and conducted vision screenings in local communities.
Why are no-cost professional eye exams important? Many adults cannot afford eye exams for themselves or their children. Health insurance doesn't always cover eye exams. Lots of folks don't have separate vision insurance. And Medicare will not cover routine eye exams for glasses. Lions have discovered these facts as we travel about the community providing vision screenings. When our screenings with our fantastic new Spot Vision Screener reveal a vision problem, we advise clients to make an appointment with an eye care professional, but often they will tell us they can't afford the exam. Now we can tell our friends that the Lions Club can help them—through the generosity of our partners.
Why is partnership important in preserving the sight of Wacoans? With the help of our partners, we have more people and more money dedicated to vision preservation in Central Texas.  For years, optometrist Dr. Robert Salganik of Optical Dispensary has provided discounted eye exams for referrals from Waco Founder Lions Club, but our Waco Founders Lions Club budget was limited to about 50 eye exams a year. With Allergan's grant, this year we can provide 100 more Wacoans no-cost exams.  Another partner, the non-profit organization Prevent Blindness Texas, will continue to cooperate with Lions clubs in vision screenings and provide additional vouchers for no-cost eye exams and glasses for adults who qualify. In addtion, local area Lions Clubs cooperate in providing vision screenings to the community and referring people for eye exams.
What does a Vision Screening by Lions Club look like​? You have to see it to believe it!  The Waco Founder Lions Club has purchased a high tech vision screening camera that within seconds "takes a picture" which can identify the following serious eye conditions in a child or adult: nearsightedness, farsightedness, astigmatism, and pupil and gaze abnormalities. Results are printed automatically and given to the client; if a problem is detected, a printout (in red) advises "Complete Eye Exam Recommended." In over 1600 screenings this past year, approximately 20% of the children and adults received a recommendation for an eye examination by an optometrist or ophthalmologist.
Why is this 20% important? Children from the age of 6 months to 5 years of age are often called the "underserved population" because parents do not realize the importance of a complete eye exam in these early years. In fact a child's first eye exam should be at 9 months (according to the American Optometric Association and American Ophthalmological Association). Babies and young children don't know they can't see, so they don't tell their parents that anything is wrong. Unfortunately, if a vision disorder such as "Lazy Eye" is not detected and corrected early, permanent vision loss can occur. Poor vision can also affect early learning and beginning reading efforts. Schools conduct annual screenings; however, many children unnecessarily suffer from poor vision for several years before they begin school. Vision disorders stand a chance of correction without surgery if detected at an early age.
If you are interested in scheduling a vision screening– which can be arranged for day cares, health fairs, churches, schools, recreation centers, or community festivals/events—call the Lions Club.  Vision screening for the citizens of the Waco area is a service project of the Waco Founder Lions Club and other area Lions Clubs.
Contact Numbers:    Louise Powell (409) 392-4671 or Waco Founder Lions Club Office (254) 776-5341 –office open Mon-Thurs.   9:00-1:00   –leave a message or e-mail  [email protected]
You can find more information about Spot Vision Screening at this website: Spot Vision Videos.
---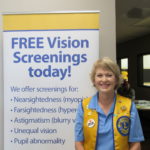 Louise Powell is currently an adjunct English instructor at Baylor and MCC. Previously she was an English teacher and administrator in Waco I.S.D. She is married, the mother of three grown children and grandmother to six (and one on the way). Louise is a past president of Waco Founder Lions Club and currently serves as Vision Screening Chair.  Waco Founder Lions Club is the oldest continuously operating Lions Club in the world. We will be 100 years old this July 2016. To learn more about the Waco Founder Lions Club, be our guest any Wednesday at lunch, 12:00 at the Lions Den, 1716 N. 42nd St.
he Act Locally Waco blog publishes posts with a connection to these aspirations for Waco. If you are interested in writing for the Act Locally Waco Blog, please email [email protected] for more information.