Please Do Not Give to Pan Handlers Out of Guilt
By Major Anita Caldwell
Dear Waco,
Over the past twenty-seven years as a Salvation Army Officer, I have learned the many journeys of those in poverty.  There are those who seek lasting change in their lives.  There are those who manipulate with great skill.  This blog is written to consider the pan handler.  There are generally three or four types:
The desperate pan handler is that person who is desperate for alcohol or drugs.  My first experience was in El Dorado, Arkansas, on a cold Christmas Eve with a drunken man, his sign and his little dog, Joshie.  When we got him to the local hospital, he had $300 in his pockets.  In that small, Christian community everyone was giving him money.  He then took it a few steps to a nearby wine store, purchased his drink of choice, slept under a nearby tree and returned the next day to the same corner.
The professional pan handler is that person who is skilled to the point that he or she can make as much as $300 or $400 per day.  This person will use any and all types of "crutches."  Locally, we have a man who pan-handles using a wheel chair.  At the end of the day, he wheels to his vehicle, stands up, folds up his wheelchair, gets into his car and drives home.
The syndicate pan handler gathers a group of people and uses them to collect money.  These people are much like traffickers because they only give their pan handlers food and shelter but gather the remaining income for their own purpose.  In Moscow, Russia, where we lived for six years, pamphlets were placed in all expat locations such as clinics with a clear warning to not give to any person begging because they were all part of a crime syndicate.   They would place an elderly person in the metro and pick her up at the end of the day, take her money and continue the same routine day after day.  These organized groups are here in Waco as well.
Finally, only on very rare occasions, will there be a truly needy person asking for money.  However, they generally go to the many social service locations in town and seek the help needed.
Pan handlers prey on giving people.  They will find a giving community and gather in that giving city.  Waco is a Christian community with Christian people traveling here to visit our fair city.  The pan handler has the best of both worlds in Waco:  new people and giving, caring people.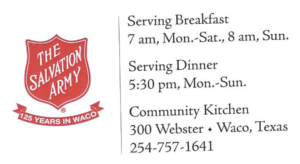 The Salvation Army has developed a small card you can give to the pan handler so they can have a free meal and you can be guilt free.  We don't fear that too many people will come; the pan handler typically wants money, not food, not gas for their car.  Please send them to one of the many local agencies who can help them.  Our commitment is to build a relationship with those who are willing to overcome their needs and to seek how we can best support their pathway to hope.
Should God speak to you and ask you to give, follow His guidance and give, but please do not give purely out of guilt.  Such guilt does not guarantee that you will assist a genuine need.
May God bless you and bless those in need.
Major Anita Caldwell
---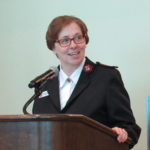 Major Anita Caldwell was born in Olean, NY, to a family of ministers.   She attended and graduated from Kentucky Mountain Bible Institute with a BA in Religion.  Her MA is in Pastoral Leadership from Olivet Nazarene University.  She and her husband, Bradley Caldwell are Majors in The Salvation Army and are Regional Coordinators for this area.  They have served as ministers of the gospel in The Salvation Army for 23 years.  After serving in three USA appointments, they were transferred as Regional Leaders in Moldova, Romania, Russia and the country of Georgia over a twelve-year period.  They received their Waco assignment after serving at International Headquarters in London, UK.
The Act Locally Waco blog publishes posts with a connection to these aspirations for Waco. If you are interested in writing for the Act Locally Waco Blog, please email [email protected] for more information.
(Visited 30 times, 1 visits today)