Beyond Sustainability: Transitioning to Regenerative Communities
By Lucas Land
Sustainable is one of those words you hear more and more, but seem to know less and less what it really means. Like "organic", "green" or "eco-friendly", sustainable is sometimes applied to products or things that don't make sense. Can beauty or cleaning products really be called sustainable if they depend on non-renewable resources for packaging or any part of their product? Something can only be called "sustainable" if it does not deplete the resources (from raw materials to packaging to end of life) on which it depends.
In addition to "sustainable" often being used as an advertising gimmick, let me suggest that it is not enough to create a livable future. 70% of the planet's topsoil, the layer allowing plants to grow, is gone. We are losing topsoil between 10 to 40 times the rate at which it can be replenished. [1] According to the Minerals Education Coalition every citizen of the United States born will use 3.11 million pounds of minerals, metals and fuels in their lifetime including copper, coal, salt, gold, zinc, bauxite and other minerals. [2] Global energy consumption is projected to continue to increase 48% by 2040, yet the U.S. Department of Energy estimates that it takes 300 million years for fossil fuels to form. [3] [4] Our appetite for these energy dense hydrocarbons goes way beyond nature's ability to form them.
So, you see, the problem is that we are already operating at an incredible deficit and sustaining the current status quo is not enough. What is required for a sustainable future are regenerative systems that work with, rather than against, nature, and that restore the resources and ecosystem services on which we depend. This means rethinking our current systems and ways of life, as well as building new systems with a different set of principles.
This rethinking must include a deeper understanding of what nature provides us and  how to protect our particular ecosystem in the Brazos Watershed. It must also provide for the people that live here. We are a part of nature. Although we are capable of the most detrimental effects on the ecosystem, we still have to provide for human needs with these new systems. However, the new systems must find ways to limit what we take from the earth and provide for the needs of everything equally in our community, both human and non-human.
I can hear someone thinking, "That sure sounds nice, but what does it look like in practice?" Glad you asked! Let me give you a couple examples, one big and one small.
First, on a large scale we can look at Waco and McLennan county and ask what are the resources in our bio-region that can help us become more resilient and less dependent on unsustainable practices and resources. The Waco Downtown Farmers Market (http://www.wacodowntownfarmersmarket.com/) has provided a rich environment for local producers to grow their businesses. Many of these, such as Heritage Creamery, source their ingredients and raw materials from other local producers. This helps grow and strengthen our local economy which in turn makes us more resilient as a community.
On a much smaller scale, we can each think about the spaces around the places where we live. For too long the American lawn has served one primary purpose: to be greener and more beautiful than the neighbors. In pursuit of this goal homeowners pour on 10 times more pesticide per acre than conventional farmers in the U.S. [5] Landscape irrigation accounts for one-third of all residential water usage, totaling nearly 9 billion gallons per day. [6] In fact, lawns are the largest irrigated crop in the U.S. covering more acreage than corn, wheat, or soy. [7]
On the other hand, yards are great places to grow food, raise chickens, plant native plants, provide habitat for birds and wildlife, as well as look beautiful and provide space to play and relax. Many plants and trees can serve more than one of these purposes at a time. My rule is that if you have to water it, you should be able to eat it! Rain gardens can be used to better manage storm water and runoff from downspouts and other areas. You can learn more about how to make your lawn more sustainable by getting involved with the HOT Urban Gardening Coalition , McLennan County Master Gardeners  and HOT Master Naturalists.
It will take all of us working to change the way we think about our individual choices and the systems that provide both the food, gadgets and transportation we depend on in order to move beyond sustainability to a future where our ecosystem has been restored and our lives work with rather than against nature.
---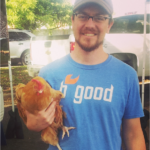 Lucas Land is an eco-theologian, urban farmer, activist, aspiring master naturalist, facilitator, musician, and writer. He is avoiding growing up by constantly learning and trying new things. He also works in Grants Management for Waco ISD. He lives with his wife, three children, flock of chickens, dog, and cat in the Sanger Heights Neighborhood in North Waco.
The Act Locally Waco blog publishes posts with a connection to these aspirations for Waco. If you are interested in writing for the Act Locally Waco Blog, please email [email protected] for more information.
Notes:
[1] "What If the World's Soil Runs Out?" in Time Magazine Dec. 14, 2012 (http://world.time.com/2012/12/14/what-if-the-worlds-soil-runs-out/)
[2] http://www.mineralseducationcoalition.org/mineral-resource-statistics
[3] http://www.eia.gov/forecasts/ieo/
[4] http://www.fe.doe.gov/education/energylessons/coal/gen_howformed.html
[5] https://www.fws.gov/raleigh/pdfs/Homeowners_Guide_Frogs.pdf
[6] https://www3.epa.gov/watersense/pubs/outdoor.html
[7] http://earthobservatory.nasa.gov/Features/Lawn/lawn2.php
(Visited 47 times, 1 visits today)