"I set a Goal I Thought I Couldn't Achieve – to win National History Day!"
By Harper Hoover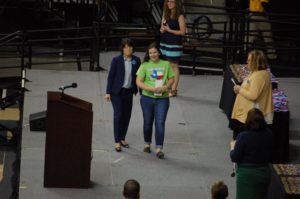 Young historians around the world will soon begin the process of months of historical research that leads to National History Day. As the competition springs to life for another year, I grow more and more thrilled at the idea of history fair. American history as never been more fun than this (unless presented in rap musical form, of course.) My name is Harper Hoover, and I recently competed at National History Day at College Park, Maryland, where I won first place in the division of Junior Individual Performance. History fair is near and dear to my heart for many reasons, and my journey this past year includes quite a few memorable ones.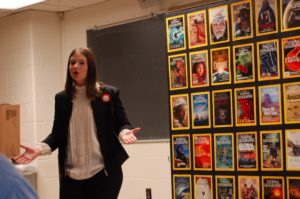 Creating a National History Day project takes A LOT of work. It may not be exactly "life consuming," but I spent many hours on my performance to make it historically accurate, interesting and as sharp as possible. This past year, my performance was on the early history of the National Geographic Society and how it has changed the world as we know it. As a part of my research, I had the opportunity to speak to people involved with National Geographic, such as their archivist staff, and I was able to attend a lecture led by one of their photographers at the Perot Museum in Dallas. When my ATLAS 8th grade class visited the Washington D.C. in May, I was able to visit the actual archives deep inside the National Geographic Headquarters (I even ate lunch there; I recommend their chicken.) The very kind and patient archivists gave me a tour of the thousands of photographs held there, and told me about the history of their photography. The experience was a once in a lifetime, but the best part? Unexpectedly seeing CBS correspondent Mo Rocca in the lobby.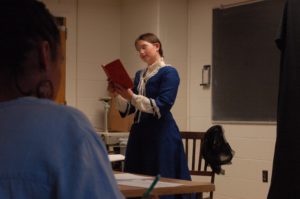 Spending a great amount of time on the computer polishing my research undoubtably made my project stronger, but the competition is by far the best part of history fair. Regional competition held at Baylor consists of performing in the early hours of dawn, then waiting all day for the results to be announced. State brings even more excitement and anxiety, where you have to perform in morning preliminary rounds, and hopefully again in the afternoon finals. Late afternoon brings the awards ceremony with hundreds of nervous teenagers in a confined space (yikes.) Many students go home empty handed, but the others are soon to embark on a very intense, yet very rewarding, journey to Nationals.
Competing at the National level (or even in State finals) is similar to being nominated for an Oscar. Whether you place or not, your project is already in the very top percentage of your competitors. I've seen countless projects compete at Texas History Day that are better than projects at the National level from other states. While it may be easy to get caught up in the lights of Nationals, it really is amazing to be surrounded by some of the best young historians in the world, let alone compete with them. Trading state buttons may be the most important social event of NHD, but growing closer with my classmates, competitors and fellow Texans is definitely one of my favorite parts of the experience (but buttons are pretty cool too.)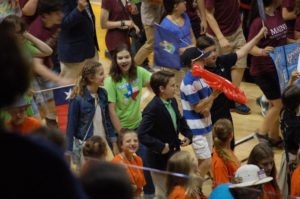 This year, I've competed with students from Guam, South Korea, Guatemala and more- people from countries I may never visit, all because of National History Day.
Don't get me wrong, the competition is grueling and very nerve-racking. I've walked into my finals room before thinking, "What are my first words?" "Did I forgot a prop?" "I don't have enough sources!" Yet, I've managed not to pass out at any competition yet. This year, I was very lucky to do well in my performance and to have judges that appreciated my work.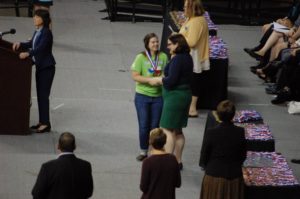 The awards ceremony at Nationals is possibly the most anxious three hours of the entire week. It consists of countless minutes of talking until your category is called. Then your stomach sinks to your feet, and it's hard to remember you're "having fun." The feeling I was overwhelmed with when they called my name was one of shock, excitement and honestly just a lot of confusion. I sprinted down the stairs, whether to keep the ceremony moving or because I couldn't stand to walk. I had done it!
At the beginning of the last year, my social studies teacher, Mr. Wright, had us write down a goal for the year. I could have written "To pass the STAAR test" or "Make A Honor Roll", but instead I wrote a goal I thought I couldn't achieve – to win National History Day. As I share my experience with others or look back at this summer, all I am is thankful. Thankful that the dice rolled my way, thankful for my family and friends who pushed me to do the best I can. I'm thankful for my church and school family, my school district and teachers who give so much so that I can have an opportunity like this, and really thankful for a community that supports me in whatever I do. There isn't a day that goes by that I regret doing history fair, no matter how stressful it might have been. And I'm thankful that I didn't give up.
---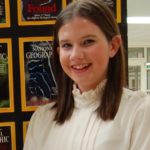 Harper Hoover is currently a freshman at Waco High School where she stays busy with band, choir, school and community theater, and her 3 cats. This was her fourth year competing in the NHD contest, and her second time to make it to Nationals. She would like to thank the Waco Scottish Rite Foundation, the Heart of Texas Regional History Fair and Waco Independent School District for making her journey to Nationals possible.
The Act Locally Waco blog publishes posts with a connection to these aspirations for Waco. If you are interested in writing for the Act Locally Waco Blog, please email [email protected]  for more information.
(Visited 54 times, 1 visits today)