How to manage stress in college
By Diego Loredo
I know how stressful college can be! It can go from one week of relaxing and not having any work to having a huge amount due in such a short period of time. It can all be overwhelming, and sometimes it's just too much to handle.
I've had numerous experiences of being stressed out during the time I've been at UNT so far. I was already stressed out early into this semester when I had to do a communications audit for a nonprofit. The nonprofit ended up not being able to work with me, and I had to find another one and do the audit in a really short period of time. Luckily, I managed to get it done in time. I've tried a few things to help manage my stress and here's a few that I found to be particularly helpful.
Exercise
I usually play soccer with my friends whenever we can all get together. Whether it's through intramurals or just getting together and kicking a ball around, it always helps clear my mind. It doesn't have to be soccer though, it can be working out, playing other sports, or just going for a run.
Go out with friends
I know this is pretty obvious but that's why it's such a good method to relieve stress. Take time to go out with people that you're comfortable with. Don't just stay inside all the time; go out and experience new things. Whenever my friends and I go out, we usually go out of town and find new things to do. These include playing Top Golf, going to the outlets in Allen, or going to a FC Dallas game. Take some time to stop doing so much work and have fun with those close to you.
Manage your time efficiently
---
Don't push everything off to the last minute. Try to get it done early or at least a few days before it's due. Not only will you be stressing out because you procrastinated so much, but it will also affect your grades because you didn't put as much time into it as you should have. Mark down all of your due dates on the calendar or go to the library once or twice a week to do work. Just make sure you manage when you do school work well.
I know college can be hard and I know sometimes it can be too much to handle. Honestly, it's just one of those things that comes with going to college. There are going to be stressful days and there are going to be times when you just want to give up. I know how it feels and I've been close to giving up several times. Luckily I've encountered people who have become close to me and helped me through it all. Also I've learned new ways to manage my stress. I'm still learning how to manage my stress well and I hope these tips can help any college student relieve their stress.
---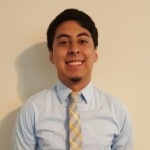 Diego Loredo is a junior at the University of North Texas and is majoring in public relations. He graduated from University High School in 2014. He plans on working in sports PR or for a nonprofit. He loves to play soccer and is a huge FC Dallas fan. Have something that you would like Diego to write about or have a problem that you would like to ask him? Shoot him an email at [email protected].
The Act Locally Waco blog publishes posts with a connection to these aspirations for Waco. If you are interested in writing for the Act Locally Waco Blog, please email [email protected] for more information.