Downtown Waco: The ABC's of Living Downtown
By Rolando Rodriguez Soto
(This post is part of an on-going series about Downtown Waco.  In a sense, Downtown is "everybody's neighborhood."   In this series of blog posts we hope to contribute to the on-going conversation in Waco about what it takes to have a great downtown, and what we want for our own "Wacotown."  To see all the posts in this series, click here: Downtown Waco. – ABT)

This past weekend, I invited two of my good friends to a fun night in Waco. They had never truly experienced downtown! I can't really judge them. I have lived in Waco for about 20 years, and for most of those years, I only knew downtown as the place with the courthouse and the Alico building. My appreciation for downtown has definitely grown since I started at Baylor. For those two friends and for all Wacoans who are willing to explore the hidden treasures of downtown, I have created an introductory course – The ABC's of Downtown Waco: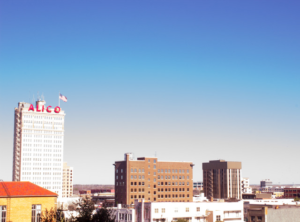 ALICO Building (425 Austin) – The ALICO Building is one of the first skyscrapers in Texas, and it remains the tallest building in Waco. I love driving on Franklin Avenue towards downtown and slowly starting to see the skyscraper peeking above the hill.
Balcones Distilling (225 S 11th ST) – Some of the best whiskey in the world is distilled in the old Texas Fireproof Storage Building right here in downtown Waco.  Balcones received double gold medals in three different categories at the 2016 New York World Wine and Spirits Competition.
Culture & Arts – Earlier this month, the Texas Commission on the Arts approved the city of Waco's application for a cultural district designation. Each year Wacoans celebrate culture and art in the annual Cultural Arts Festival in the fall and Art on Elm Avenue in the spring. ( Waco Cultural Arts Festival – usually last weekend in September.  Art on Elm, April 7-8, 2017.  Creative Waco. )

Dr Pepper Museum (300 S 5th ST) – Waco is home to the oldest major manufacturer of soft drink concentrates and syrups in the United States. It's always fun exposing fellow connoisseurs of the Dr Pepper brand from out of state to the museum.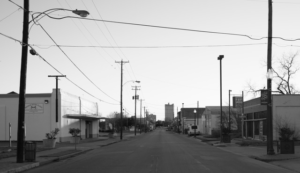 Elm Avenue – When you visit Elm Avenue, the beautiful historic buildings remind you that it was once a thriving business district before a terrible flood in 1936 overwhelmed East Waco.  My favorite is to grab a coffee and breakfast pie at Lula Jane's (406 Elm) and then take pictures with friends around the murals and historic buildings.
Farmers' Market (400 S. University Parks Drive) – Every Saturday morning, you can expect to find the Waco Farmers' Market behind the old Fire Tower along the Brazos River. Strawberry and Nutella crepes by Co-Town Crepes are my preferred indulgence.
Graffiti, Murals and Art – Elm Avenue isn't the only place with beautiful art. Some are in plain view in downtown while others will take a little more work to find. Here are a few to get you started: the Martin Luther King Jr. mural (near the Suspension Bridge), the Starry Night mural (corner of 10th St and Columbus Avenue) and the "You Look nice today Wacotown" mural (corner of Sixth St and Washington Avenue).
Hippodrome Theatre (724 Austin Ave) – The Hippodrome is not your typical movie theatre. It comes with a complete full service in-theatre dining and a restaurant and bar overlooking Austin Avenue.  They show first run movies, but the best experience is their special movie screenings of older movie favorites. Looking forward to "Rocky Horror Picture Show" coming up in a few weeks! (October 28)
Indian Spring Park (across from the Hilton on University Parks) – As a kid, I remember when Indian Spring Park only had a few longhorns. Now there's a herd! One thing is for certain, there are definitely more people at the park; I guess we have Pokémon Go to thank for that.
Jake's Texas Tea House (613 Austin Ave) – In this 50's themed restaurant, you can always find great banana pudding, and if you're lucky Elvis and Marilyn Monroe will show up.

Kayaking and Water Activities – There are so many activities to enjoy in the Brazos River including kayaking, wake boarding, fishing or if you're feeling fancy, you could charter a boat for a tour of the Brazos River.  (Bicycle World for canoe/kayak rentals, Waco River Charters)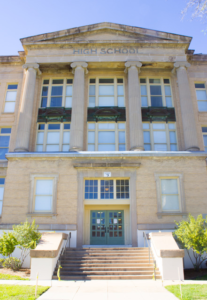 Lofts – The historic lofts make the downtown living experience different than any other part of Waco. The historic Waco High campus, many factories and warehouses have all been transformed into beautiful high-end living spaces perfect for young professionals.  (Historic Lofts at Waco High – 815 Columbus Ave)
Magnolia Market (601 Webster Ave) – We can't talk about downtown without mentioning Chip and Joanna Gaines of "Fixer Upper" fame.  No trip to Waco is complete without an obligatory selfie at the Silos.
Nightlife – Downtown Waco has an amazing nightlife with a variety of bars to choose from that all offer a unique experience such as Halftime, Trojans and Crickets. Every first Friday of the month, businesses stay open later than usual for a fun experience with live music and great food. (First Fridays)
Old Buildings – Every building in downtown has a story to tell. The best way to discover the secrets and people behind the buildings is to download the Waco History app on your phone. It allows you to read feature stories on influential people and locations in Waco as well as pinpoint every location on a map so that you can truly experience Waco's rich past.

Parades – Waco never misses an opportunity to close the streets of downtown for a fun parade. As a kid, my parents took me to downtown to see the Baylor homecoming parade. Little did I know, I would be attending Baylor years later. (Baylor Homecoming Parade – Saturday October 15)

Quack! Quack!: Cameron Park – When I think of Cameron Park, I associate it with quacks as the ducks huddle around the bank of the Brazos River. Throughout the park, you see bikers and joggers, families barbecuing, college students playing disc golf and children laughing as they splash away the hot weather in the spray pad.

River walk: Brazos River – On one side of the river you can enjoy the beauty of Cameron Park while the other side offers Bledsoe-Miller Park and Manny's on the River as well as Buzzard Billy's.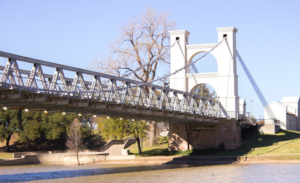 Suspension Bridge – At the edge of downtown, the historic Suspension Bridge connects both sides of town. While you're on the bridge, bring some tortillas to take your chance at tossing them onto a concrete installment isolated in the Brazos River.
Texas Food Truck Showdown – Three-dozen food trucks invade Heritage Square in the spring to determine which truck truly serves the best food Texas. If you can't wait until April for the next showdown, you can go down Franklin Avenue on the Brazos River to try out the row of food trucks. (Third Annual Showdown – April 1, 2017)

Upscale Restaurants ­- As much as we all love our food trucks, farmers markets and fast food, downtown is also a great place to find more upscale restaurants and venues for your special event such as the Phoenix Ballroom, DiamondBack's or Klassy Glass Wine Bar.

Vendors: Restaurants & Stores – Where's the middle ground between fast and fancy? While you are in downtown don't forget to visit Dichotomy, Portofino's and the shops of River Square Center.

Waco Wonderland – Each year in Heritage Square, there is a holiday parade, ice-skating rink, Ferris wheel, carousel and you can take pictures with Santa Claus. The tree lighting is something truly magnificent. (Waco Wonderland)

Xristo's Café (Corner of Franklin Avenue and University Parks Dr.) – Xristo's is a one of a kind mobile café serving southern, Mediterranean and Turkish cuisine.

Youth – Downtown Waco is the perfect environment for any college student, recent graduate or young professional to live in after landing their first job.
Zoo (1701 N 4th ST) – Lastly, while you're in downtown, venture out a little further to reach Cameron Park Zoo. I only got to experience the zoo as a teenager and an adult, but it is still a fun time getting to see the animals and nature.
---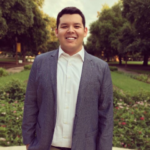 Rolando Rodriguez Soto was raised in Waco, TX, and he is currently attending Baylor University with plans to graduate in December 2016 with a Bachelor of Arts in Professional Writing & Rhetoric. After graduation, he hopes to work in Waco in the nonprofit sector to help realize the full potential of Waco. His long term goals include hopefully creating and publishing creative work whether that is a novel, short story or even a television show.
The Act Locally Waco blog publishes posts with a connection to these Aspirations for Waco. If you are interested in writing for the Act Locally Waco Blog, please email [email protected] for more information.