Warm Family-style meal provides a sense of "home" for homeless students
By Craig Nash
On the week before Thanksgiving every year the National Coalition for the Homeless commemorates National Hunger and Homelessness Awareness week, in an effort to draw attention to some of the most vulnerable of our neighbors. Waco is home to numerous non-profits, churches and focused initiatives to address the issue of homelessness and hunger, such as The Gospel Café, Salvation Army and Caritas, just to name a few. The newest of these is The Cove, which is dedicated to providing a safe space in the evenings for the students of Waco ISD who find themselves, for whatever reason, without a permanent home.
In addition to tutoring assistance, connections to social services and providing a place to shower and wash clothes, The Cove has partnered with several churches and other community organizations to provide a warm, nutritious meal for students every school day. Meals are served family style, which gives students an opportunity to experience a sense of normalcy and "home." Kenneth McAdam, an MSW intern for The Cove, says that both the students and staff are enjoying the meals, and the partnership is vital to the current success of the organization.
Currently meals are provided by groups from Antioch Community Church, St. Alban's Episcopal Church, and Baylor's Campus Kitchen. Wednesday meals are provided on a rotating basis by other individuals, churches and non-profits. They have meals being provided through the end of the year, but are beginning to look ahead for early next year. If you or your organization is interested in participating in this exciting and important effort to alleviate the burdens of hunger and homelessness among Waco ISD's students, send an email to [email protected]. For more information about services The Cove provides, and how you can help, their website is www.thecovewaco.org.
---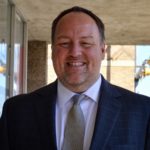 Craig Nash has lived in Waco since 2000. Since then he has worked at Baylor, been a seminary student, managed a hotel restaurant, been the "Barnes and Noble guy," pastored a church and once again works for Baylor through the Texas Hunger Initiative. He lives with his dog Jane, religiously re-watches the same 4 series on Netflix over and over again, and considers himself an amateur country music historian.
The Act Locally Waco blog publishes posts with a connection to these aspirations for Waco. If you are interested in writing for the Act Locally Waco Blog, please email [email protected] for more information.
(Visited 13 times, 1 visits today)