By Jenuine Poetess
There is an age-old stereotype that artists thrive in chaos…or maybe not thrive, but that artists exist in disorganized mayhem.  And admittedly, I have my fair share of disorderly conduct around my home and studio.  The good news is, that there are more and more creative solutions for implementing and maintaining order in one's life.
If you've been feeling a bit out of sorts in your life, now is a perfect time to integrate some new habits, new creative outlets, and new methods for tracking your life.  Whether you would like more regular joy intervals in your week, or you need a way to track those art commissions coming up for spring, or you have writing goals you keep forgetting about, my hope is that by the end of this post you will have some practical tools for artfully organizing your days, weeks, and months.
Jars
Over the past few years there's been a growing trend to find a jar, mug, bowl, box, journal, some kind of beloved receptacle, in which individuals, couples, or families place slips of paper on which they have written their gratitudes, joys, happinesses, made-it-happen victories, favorite memories, or whatever else you wish to collect!  Some people review them weekly, some monthly, and some annually as a New Year's Eve tradition.   In my knowledge, author Elizabeth Gilbert was one of the pioneers of this kind of project but many others have modified, expanded, and customized the concept.  The fun part is you can get as creative as you like with the container, the papers, what you document, and how you revisit them!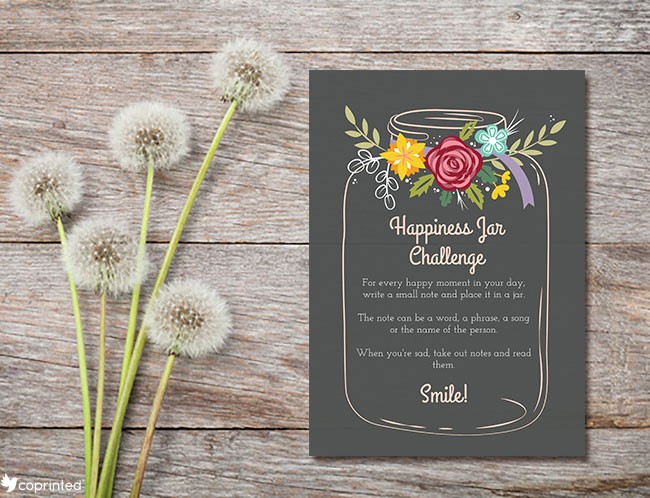 (image source)
Art Journaling
Some people prefer to process their lives, thoughts, memories, and goals via journal.  Art journaling is a process that integrates a mixed media approach to the reflection/meditation process.  This site has a collection of techniques, prompts, and inspirations for visually documenting important moments in life.  As I move through my personal healing and growing process, grief is a big work I am moving through.  To cultivate balance, I decided to document moments of joy alongside my grieving.  Here is a sample from one of my art journals: a visual interpretation of a J.K. Rowling quote on grief, and a collection of joyful moments from that day: walking in the rain with my favorite umbrella (a stained glass lamp inspired design) and an artjam session with a good friend.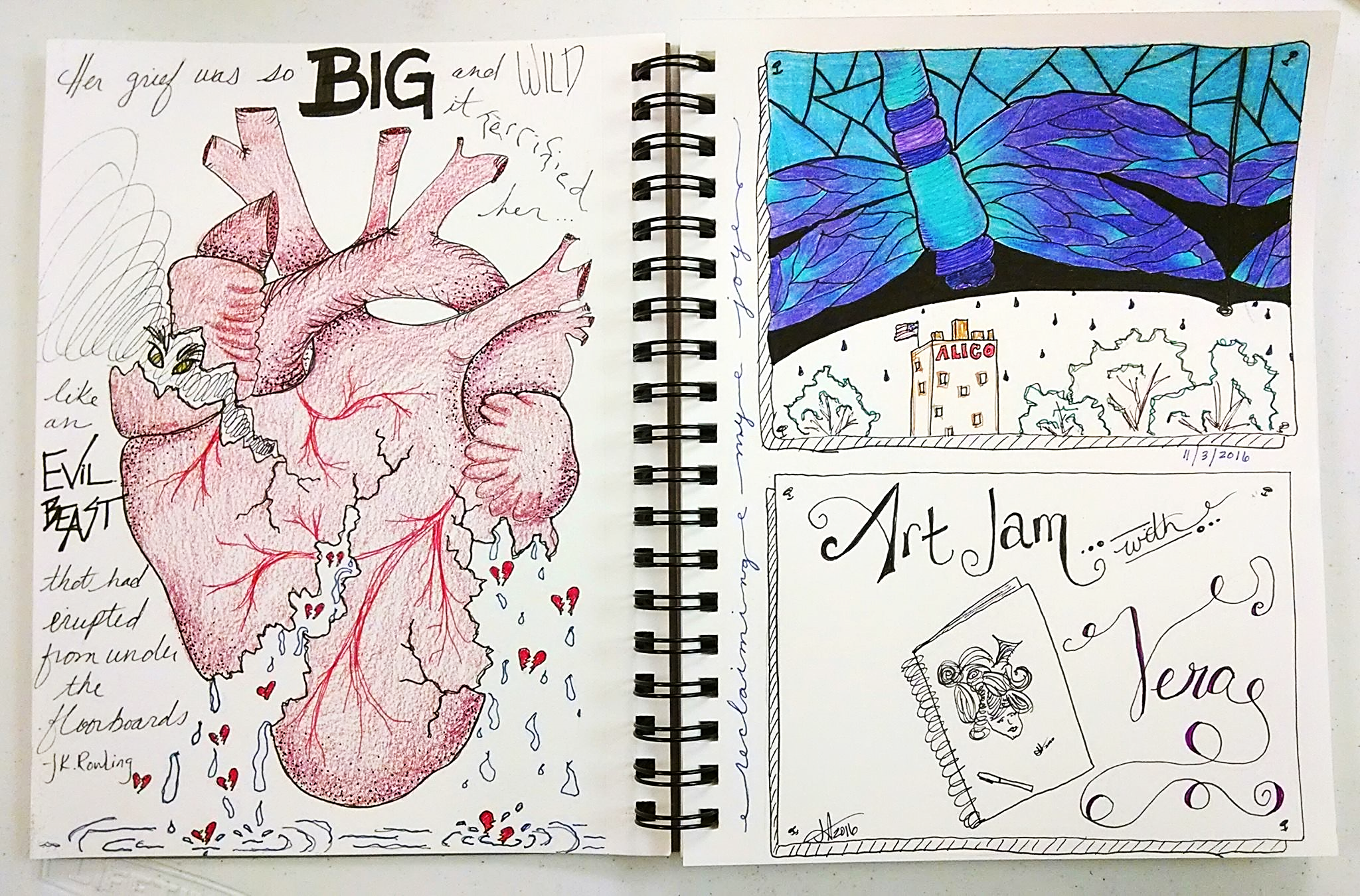 If you're feeling at a loss for what to art journal about or where to begin, this blog post offers 10 ideas/prompts to get you started.  This example shows several mantras interspersed between daily reflections.  Whether you're collecting poems, creative projects, your personal reflections, or notes from class or a meeting—using art to visually document your work can also help your mind remember and recall the content in ways different than text-only notes can offer.  This is especially useful for anyone who is a visual learner!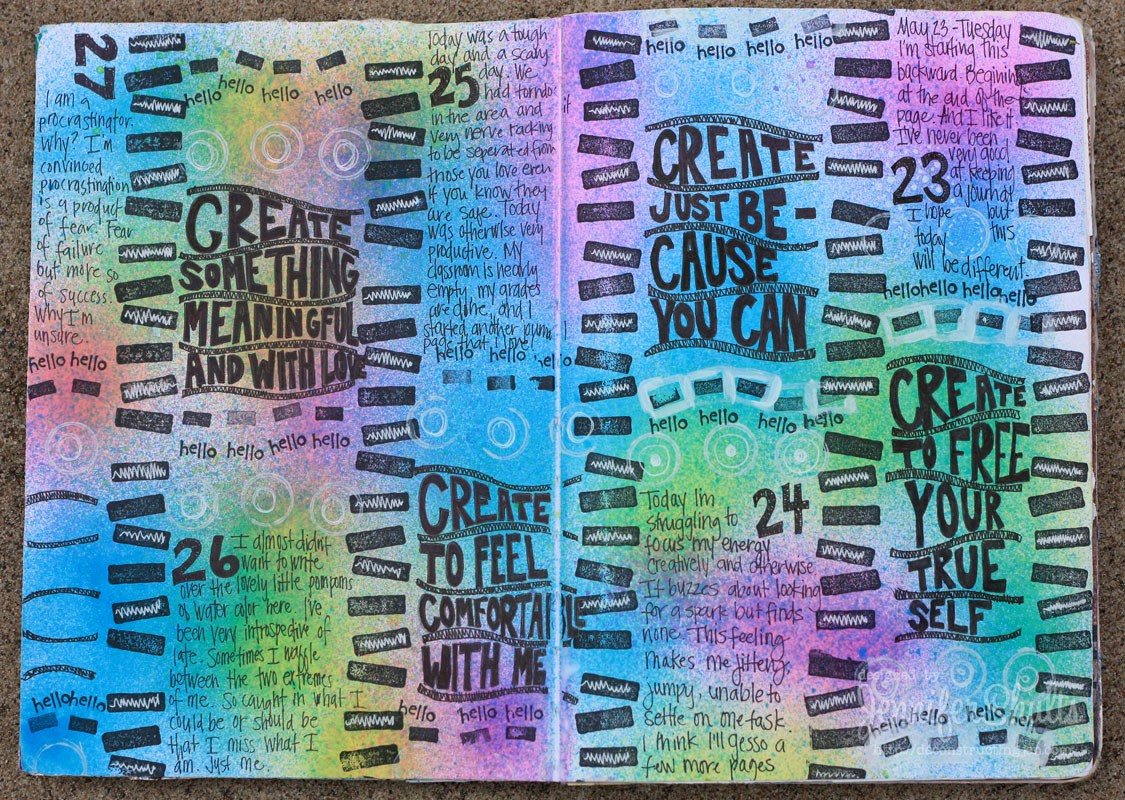 (image source)
Bullet Journaling
You may have heard the recent buzz about bullet journaling…it's taken off like a shot 😉  In my research, I discovered that this system of organizing, recording, and tracking life was developed by Ryder Carroll, a designer from Brooklyn, NY.  The practice is meant to be tailored to suit each person's creative outlets and personal needs.
Many bullet journals include monthly sections and ongoing sections.  In a monthly section one might find logs such as: habit tracker, food & water intake log, gratitude diary, task lists, brain storm pools, budgets & expenses, meal and grocery planning, and future planning.  Ongoing logs might include: movies/shows to watch, books to read, items out on loan, birthday & holiday calendar, savings tracker, workshops to take, hobbies to learn, garden planning, blog/social media post ideas, recipes to try, vent session/solution ideas, travel, experiences, quotes, art projects, and more!  There is no limit to what you can record and gather in your bullet journal but if you need some ideas to get you started, this list is a great beginning.
Administrative responsibilities are not always an artist's favorite chores, but if there is a way to do it artfully, we just might be inspired to stick with it…and maximize our creative play time while we're at it!  Check out these amazing examples: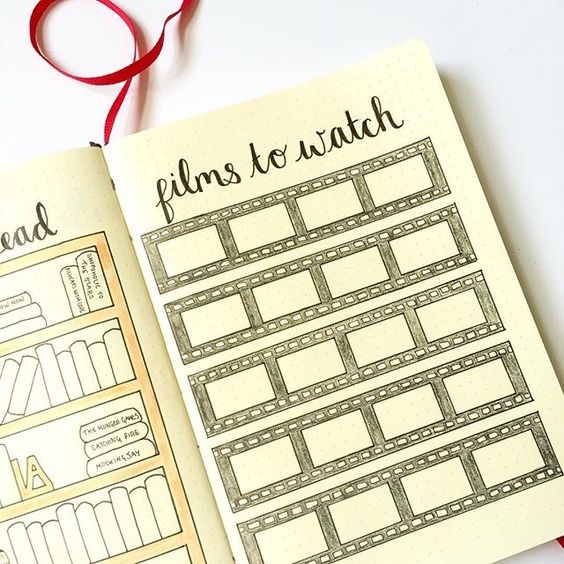 Why make a regular list when you could create a visual index?!  Image source.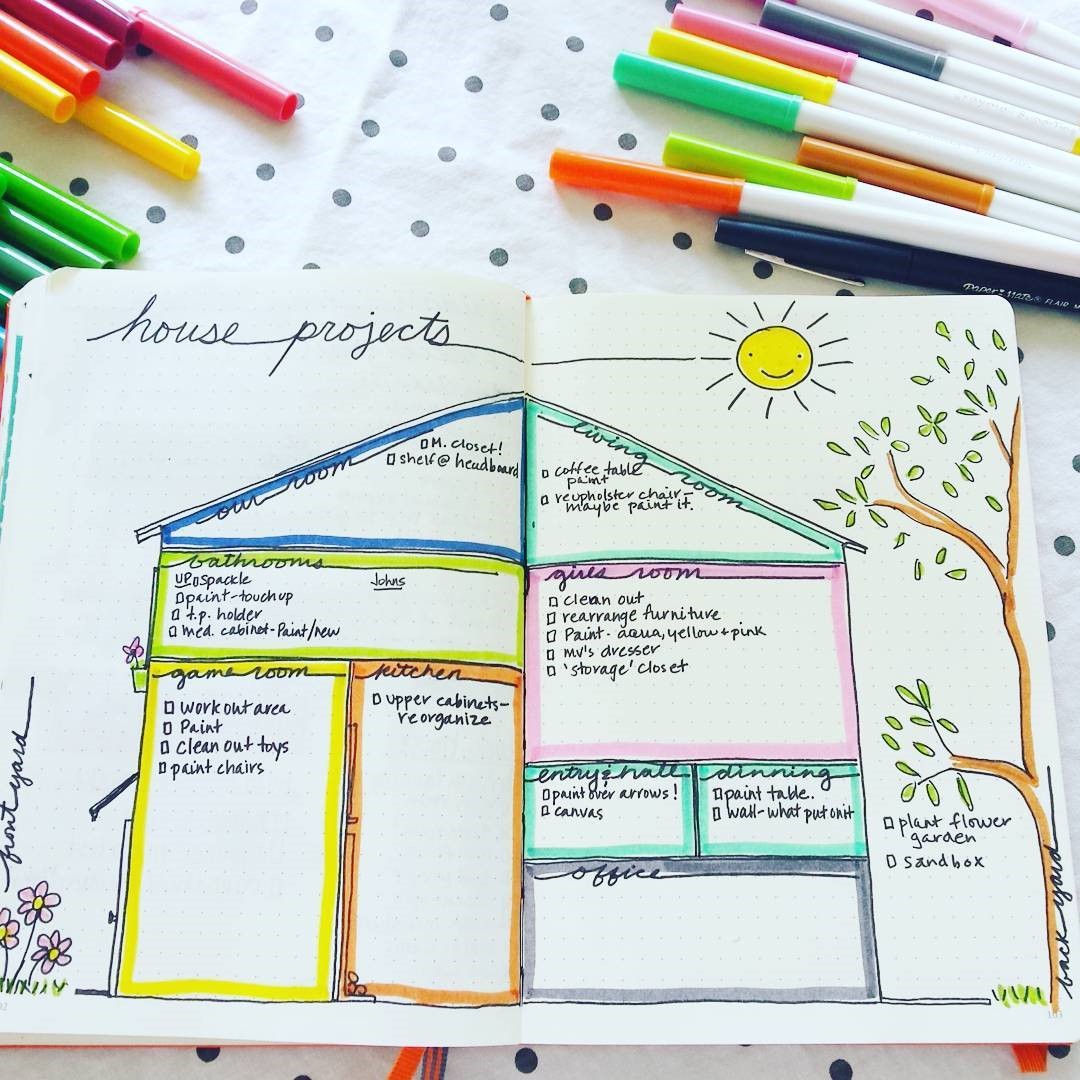 House projects and chore lists just got a whole lot more exciting!  Image source.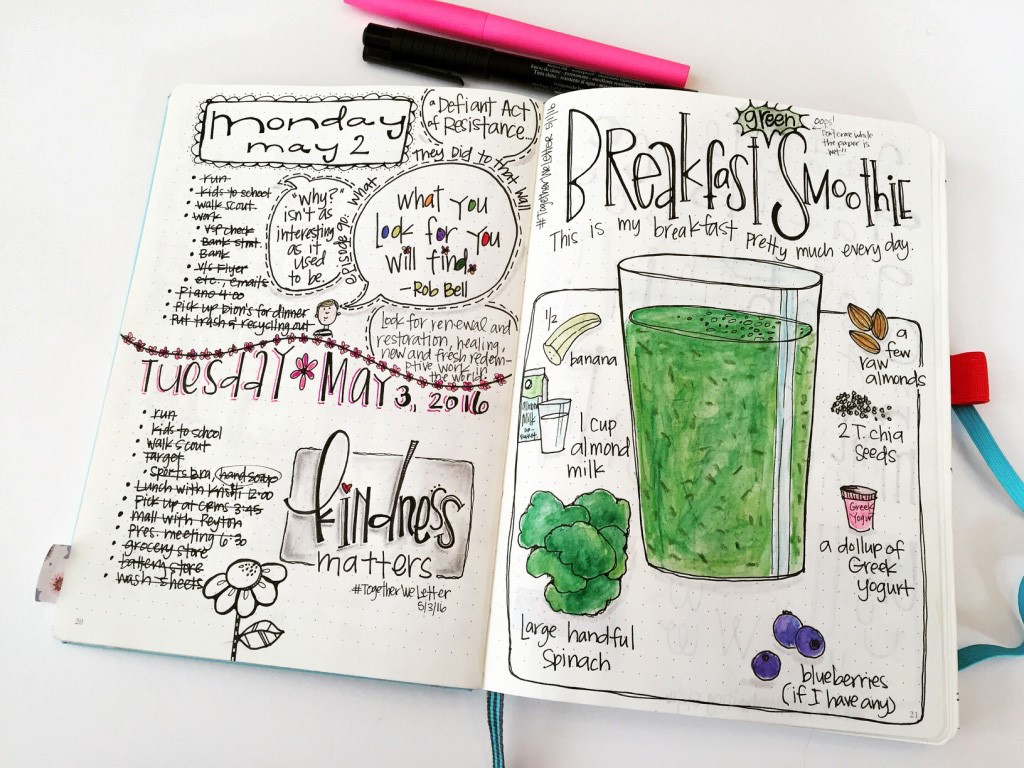 Daily tasks, notable quotes, and illustrated smoothie recipes reflect this bullet journalist's dynamic days. Image source.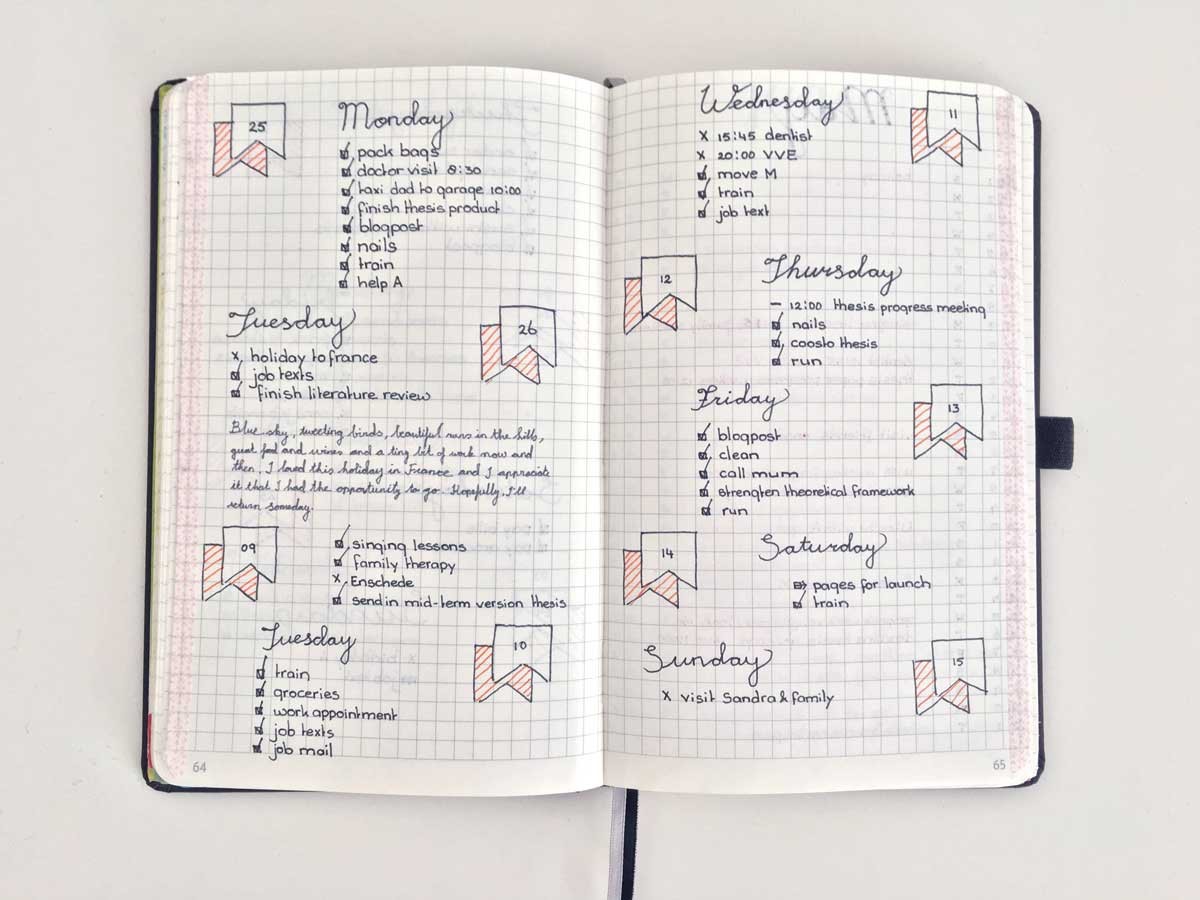 Some prefer clean lines and a minimalist approach to bullet journaling…the good news?  Anything goes!  Image source.
Maybe you want to remember which pens work best on which surface—make a bullet journal log for it.  Maybe you need to keep track of your inventory for the upcoming ComiCon or artist market—make a bullet journal log for it.  Maybe you want to collect data so that you can determine when are your busiest and your slowest times of year for custom art commissions—make a bullet journal log to track it.  Maybe you want to remember which brand of paint or pen or paper or ink or fabric is your favorite for which kind of project–*say it with me now* make a bullet journal log for it!
However you work best, use that method to organize your life.  Who says spreadsheets are the only way to keep track of data?  And the best thing about using creative process to take care of your life business?  You have a tangible place you can go back and look up items for reference, to compare productivity over the years, identify which months are most creatively productive and which are slower.  And the more we know ourselves, the more dynamic our art becomes!
What are your favorite tools for restoring, creating, and maintaining order in your life…with a splash of art?  Share with us in the comments!  We love to learn new things from our readers.  And if you have a skill you'd love to share with others, consider leading a workshop to spread the joy!
---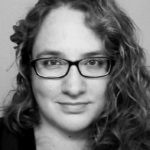 Jenuine Poetess is an artist, visionary, and community organizer. In 2010, she founded In the Words of Womyn (ITWOW), an international, grass-roots, written and spoken-word arts project with chapters throughout Los Angeles, CA; Waco, TX; and Lebanon.  Jenuine is the founder of Waco Poets Society and co-founder of the Central Texas Artist Collective.    She writes, organizes, and creates rooted in the fierce conviction that holding intentional space, access, and opportunity for all people to foster their creative health is a matter of justice and is a vital asset to the sustainable thriving of communities.  She currently lives and poems in Central Texas where she enjoys finding new ways to disrupt the homeostasis of her city.  You can contact her at: j[email protected] .
The Act Locally Waco blog publishes posts with a connection to these aspirations for Waco. If you are interested in writing for the Act Locally Waco Blog, please email [email protected]  for more information.
(Visited 38 times, 1 visits today)