By Bill Gaventa
This last weekend saw one of the most popular service events in Waco, the Really Big Fishing Event for very Special People. The pictures in the WacoTrib were great as was the effort and support put in by so many people and organizations in the Waco area".  But there is a "catch" here (so to speak) and one that is not meant to criticize the event at all. In fact, it is a positive illustration of the very point I wish to make.
The day of fun and service drew together people who often move in very separate worlds. One of the biggest issues for people with intellectual and developmental disabilities, as well as people with other disabilities, is the fact that social, cultural, and architectural barriers often limit their opportunities to participate fully in the kinds of activities many of us take for granted. On the other hand, many people we might call "non-disabled" don't see or interact with people with disabilities on a regular basis, sometimes because the services and supports for them can separate them from typical settings, or because they stay at home with nothing meaningful to do.
Thus, we end up in a world where people who labeled "disabled" are often seen in one conceptual box, and people labeled "normal" are in another. The problem with these kind of labels is they take on far too much power by seeing a person only by one dimension of their lives. That's not just a problem here: think now-a-days about political labels, racial labels, cultural labels, religious labels, sexual labels…the list can go on and on. Those labels prejudice what we see, because they fill a whole backpack of assumptions and expectations that we think are true about another person even before we know them. In her famous TED Talk, Nigerian novelist Chimamanda Adichie calls it "the danger of a single story."  Every one of us has experienced that from other people in a way that does not feel right or true to who we are.
Labels put people in boxes in the shelves of our minds. What we need, in so many ways, are bigger boxes into which two boxes labeled differently can fit.  Hence the Really Big Fishing Event for Very Special People. The bigger box was fishing, an activity that people from all kinds of backgrounds enjoy. In fact, for avid fishermen and fisherwomen, the fact that some other people may love fishing but never have a chance to go fishing is the real tragedy or disability, not the other kinds of labels they may wear.
The potential power of this annual Saturday event might also lead to other opportunities for people who love fishing to find other ways to help people with disabilities who also love fishing to have more opportunities to do so. Not in big events, but rather in small boats, from the river bank, from the dock, opportunities where the fishing "box" helps tackle the stereotypes and fears we may have, and where people then build relationships and friendships that mess up our smaller boxes and more rigid labels.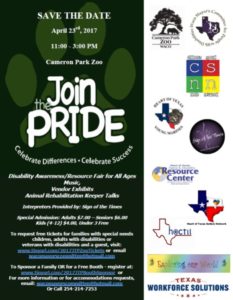 There are organizations around Waco making great strides in building those bigger boxes. Sports brings people together with many levels of ability in Special Olympics and No Limitations Athletics. The Arc of McLennan County uses country music, barbecue and a raffle auction to bring together people in the community who support individuals and families. The Autism Walk on Saturday, April 8 does the same as does art in several venues and programs.  Join the Pride, an event on April 23, uses the great Cameron Park Zoo to do the same, as well as to celebrate people of all abilities at a zoo with a great reputation for its work in support of animals with one form of disability or another.  The Waco Mayor's Committee on Disabilities coordinates this upcoming event with sponsors who help the day to be free for people with disabilities and their families. Volunteers are both needed and welcome.
The events are all inspiring not only because of the commitment and excitement that runs rampant but also because they find bigger boxes into which we all fit.  They are doubly inspiring if we all look for ways this can happen in everyday lives. So rather than seeing people with differences as labeled boxes on a shelf, every time we see someone as "other," or "not like me," could we not ask ourselves: "Gee, I wonder what bigger box we could both fit into."  They are not hard to find and not hard to build.
All we must do is start the conversation, reach beyond the boxes in which might find ourselves, introduce yourself, and ask questions about who they are, what they like to do, and the dreams they have.  Ronald Reagan first designated March as National Developmental Disabilities Month. If you want to do something in March, any of these organizations can help you. But perhaps you already know some individuals or families where you can start. There is no telling how many labels (and bigger boxes) you will find that you share in common with someone sitting on the shelf with you.
---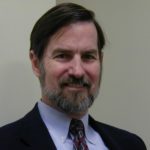 Bill Gaventa is an ordained Baptist minister currently serving as the Director of the Summer Institute on Theology and Disability and the national Collaborative on Faith and Disability. . Bill's pastoral career has been in a variety of roles at the intersections of faith and disability, including community supports with people with disabilities, training for clergy, seminarians and community services staff, aging and end of life/grief issues in intellectual and developmental disabilities, cultural competence, and community building. He is currently serving as the President of American Association of Intellectual and Developmental Disabilities for 2016-2017.  He and his wife Beverly moved to Waco in 2013 where she serves as Professor of New Testament Interpretation at Baylor University.  In Waco, Bill serves on the Mayor's Committee on Disabilities, the Board of the Arc of McLennan County, and the Professional Network Advisory Committee of the Heart of Texas Region MH/MR Center. You can email Bill at [email protected]

The Act Locally Waco blog publishes posts with a connection to these aspirations for Waco. If you are interested in writing for the Act Locally Waco Blog, please email [email protected] for more information.
(Visited 25 times, 1 visits today)