2017 Greatest Hits #8: Communities of Waco…King's Landing
(During December we will be reprising some of  "2017's greatest hits" from the Act Locally Waco blog. I couldn't possibly pick my favorites – so I used the simple (cop out?)  approach of pulling up the 10 blog posts that got the most "opens" according to our Google Analytics.  It is an intriguing collection that gives at least a little insight into the interests and concerns of Act Locally Waco readers. I hope this "Top 10" idea inspires you to go back and re-read your personal favorites.  There have been so many terrific ones… If you would like to see the Top 10 according to Google Analytics, here's the link: 2017 Greatest Hits.  Merry Christmas! — ABT) 
by Rebecca Melton Mercer
A good friend of mine often texts me with the best conversation starter, "So what's really good?"
So what's really good, Waco?
Here's something I think is really good. A new hot spot in town that is the product of a 32 year-old family business and a community that has been gathering since long before #Wacotown was a thing. Back in the corner of a shopping center at 1427 S Valley Mills Drive, just a short walk from Bankston's Comics, people of Waco are gathering. People of all walks of life, and all ages are meeting up to discuss their common interests in a place that welcomes all, where they can grab a meal, play games, or geek out about things they love.
It's called King's Landing.  It's a little hard to describe exactly what King's Landing is.  Proud owner Brent Bankston told the Waco Trib it was a "Game Café and retail location."  I would call it the best clubhouse ever!
Geeks and Gamers. Fans and Food.
The force of community is strong here. And like several places in Waco, the community that is building here is one that looks like Waco. There are truly people from all ages and stages and walks of life. Everything from a mutual love for "Walking Dead" to Super Mario Bros. is bringing them together.
Bringing people together is something the gaming community is experiencing in big ways in recent years as people are seeking ways to spend time interacting, and gaming seems to be just part of what is bringing people together. As long-time Bankstons employee and my friend Jamie Cooley said recently, people who love playing games of all types and many who had played years ago are "coming out of the closet AND going in to their closets" to drag out sets of Magic the Gathering and Pokémon games, board games, and video games to play with friends and family. There's a noticeable movement to spend more face to face time in the age of FaceTime.
The thing about "geek culture" is that it was once seen as limited to a few. And those few weren't always understood or loved by the rest. But in recent years that has changed. ComicCons are more mainstream, "geek" has risen from a put-down to a badge of honor, and the characters, teams, and sub-cultures people love have become a way to strike up a conversation with new people or safely bond with those we already know and love.
2016 was noted for divisiveness, and there's something beautiful about watching people dive in to a role-playing game like Dungeons and Dragons and just enjoy a game and a story together. Or to watch the Central Texas Artists Collective (CTAC)  folks walk around their newest display of artwork on the walls and discuss their creative process with King's Landing guests.
I can grab a locally brewed-beer or locally roasted latte, then head back to the back of the building where a family enjoys pinball and arcade games together and a few folks debate which of the retro video game systems they love the most and why. My husband can again admire the mounted Hylian Shield and Master Sword that he really, really likes. (That's from the fandom of Zelda, if you, like me, didn't know.)
I've never dropped by and not had to navigate around smaller groups of patrons intently enjoying a game or conversation. But even though I'm fairly new to all of this, there's an air of welcome and openness.
From King's Landing you can easily walk over to Bankston's Sports Memorabilia, Comics and Collectibles  and catch a conversation about sports teams of old, check out that autographed picture of the famous punch thrown by Nolan Ryan, re-hash Baylor/ home team sports, or watch a parent and child head towards the carefully-maintained comic book wall to catch up on the latest story line.
Events. Events. Events!
In either location, get the scoop from employees about the many upcoming events. The crew travels to schools and ComicCons, and locally hosts community fundraiser events, book signings, artist meet and greets, cosplay volunteers, meet ups after movie releases, and the ever-growing Free Comic Book Day celebration every May. There are LGBTQ groups who meet, ladies who lunch and gather for fierce Mahjong play, groups who paint miniature game pieces, artists who draw together, community gatherings, private events, and on and on. Whew! Good thing there's social media to help spread the word on all the things. (Check out the Epic Valentine's Day Event this weekend!)
Family Business
Talking to Brent Bankston will quickly get you to the topics of community and family. Brent's children and many other members of his family work here when they can. The catering business his wife Lee started in their home kitchen has taken new life in Butter my Biscuit, the delicious cafe part of the multi-faceted business that draws people to the shop on Valley Mills every weekend with scratch-made biscuits crafted into savory entrees, sandwiches, snacks and sweet treats. This business deeply cares and seeks to intentionally build a tolerant and positive place that serves our community.
Join the Fun!
Whether you're looking to let your geek flag fly, are curious, hungry, bored, new in town, looking to reminisce, connect with some friends and family or what the heck ever, I encourage you to check this place out. If we're there, my husband is the guy with the Batman tattoos who speaks way more geek than me. But all are welcome here, even a muggle like me.
---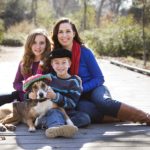 Rebecca Melton Mercer moved to Waco (on purpose) from Houston in 2007 and claims Waco as her adopted home town. Although the "job" she's most proud of is Mom to two smart kids, nowadays she also spends a lot of time teaching English at LaVega High School, and runs a small business as a social media consultant that gets her out in the community and is as much fun as it is work.  Rebecca has been active in building community through her work with Social Cents, her social media consultancy that serves small businesses and non-profits, with The City Review, a local alternative and entertainment newspaper, teaching in local private and public schools, and volunteering with non-profits that serve the Waco area. Rebecca, along with her husband Jeremy Mercer and the two awesome kids previously referred to, enjoy supporting the creative and positive things that Waco has to offer.
Whether it's playing trumpet in the "Friday Band" at MCC or playing board games at King's Landing, One of the wonderful things about Waco is that there are lots of ways to find community here.  Where do you find community in Waco?  Would you be interested in writing about it? If so, let us know.  Email [email protected] if you have an idea for a post.  You could be seeing your own picture on this page!
(Visited 46 times, 1 visits today)