"We create because we have been created…" creating a culture and arts identity in Waco
by Angie Veracruz
"We create because we have been created by the creator of all things; therefore, it is in us to create. It is an abundant circle."
I often speak these words in conversations about why we on a conscious/semi-conscious level collectively do art: the creation of paintings, sculptures, dances, music, writings, etc.  Art's intended purpose, whether intuitively or intentionally, abstract or skillfully accurate, is the expression or application of human creative skill and imagination, to be appreciated primarily for its visual or emotional power.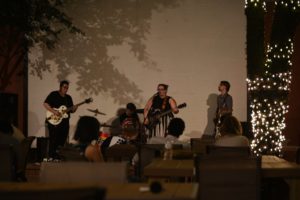 I observe you and can see the divine creation you were intended to be. I can see where life hardened and wrinkled your once smooth features, has now softened your edges as the years pass by. I want to paint you, but mostly experience you in all your amazing wonder. To hear the music in your laugh. To watch as tears create streams down your face. To feel your presence within reaching distance. To me, you are already a wondrous work of art needing no more labels, definitions, separations, or divisions. You are artwork and the artist. You are human.
Arts and Culture in Waco
Waco's arts community has been growing for years. I believe we all understand the benefits a thriving arts and cultural community imparts on a city. Here are a few reminders as described by Fiona Bond, Creative Waco Director, a thriving arts and cultural community…
attracts artists and cultural enterprises to the community
encourages business and job development
addresses specific needs of a community
establishes tourism destinations
preserves and reuses historic buildings and historic community assets
enhances property values and fosters local cultural development.
Over the past two years, Creative Waco has pulled together our community by highlighting many of the wonderful arts and cultural activities happening around Waco. After a long and tedious process with many meetings, emails, opinions, suggestions, events and art happenings, the application was finished, submitted on time, and Waco was awarded a Cultural Arts District status.
What next?
Now more than ever, however, we cannot take support for the arts for granted.  The Texas Commission on the Arts, including the $5M appropriation for Cultural & Fine Art Districts secured through the legislative advocacy work of Texans for the Arts in the 83rd Session, has been removed from the Senate budget. This will directly affect Waco's newly established Cultural District.
It is up to you, me and every citizen of Waco to show support for the arts.  I recommend two ways.  The first is direct advocacy.  There are several ways you can get involved to show your support.
Become a member of the Texans for the Arts to stay in the know about all things arts related in Texas.
Support your local arts organizations like Central Texas Artist Collective, Waco Poets Society, Creative Waco, Waco Cultural Arts Festival, Art Center of Waco, Art on Elm, First Fridays, and more!
Write a letter of concern, or support in restoring the funds to the budget, to the following:
In addition to direct advocacy, get involved with creating the arts and culture identity of Waco.  It's easier than you think. Every day we in Waco are creating our arts and culture identity through the initiatives we support and our attendance at new and favorite festivals such as Deep In The Heart Film Festival (2/16-19), Illectric River Festival (3/18), Texas Food Truck Showdown (4/01), and Art On Elm (4/8).
When we gather with friends for live concerts at the Backyard, when we attend a play or two at Waco Civic Theatre and Jubilee Theatre we are creating our identity. When we enjoy the full orchestra, a concert band, a jazz band, or any blend of musical talents at Waco Hall, Ball Performing Arts Center, or Indian Spring Outdoor Amphitheater we are creating our identify.  When we catch an independent musician performing at Dichotomy, Common Grounds, or any fine establishment we are creating our arts and culture identity.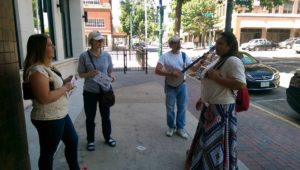 When we start looking, something visually unique and beautiful finds us. Walk through our local galleries such as Art Center of Waco, Martin Museum, or Studio Gallery.  Or, enjoy the art in businesses like the Hippodrome, Tea2go, Rufi's Cocina, Shorty's Pizza Shack, and so many more places!  You can find all the wonderful murals while driving around our beautiful city, and take in the outdoor sculptures that can be found like hidden gems. These are all a part of our arts and culture identity.
Looking for creative ways to get involved in our community?
This past August, Central Texas Artist Collective created a walkable art exhibit called EKPHRASIS: Art & Words. The premise was to pair a visual artist and a writer to collaborate and create an ekphrastic display. The artwork and written pieces were exhibited in the storefront windows of 13 businesses facing Austin Ave between 6th and 8th streets. Over 50 artists, writers, and musicians participated in the exhibit. The opening event drew in community members from all over McLennan County and friends from out of state attended to support their artists.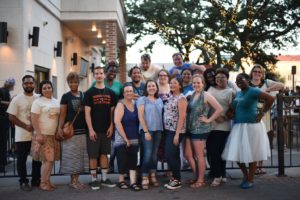 Although the 2016 exhibit did not have a theme, the overall idea was about community and communication. The purpose was to step out of the traditional art gallery and to feel free to roam from location to location. The viewer had the option to take a tour, led by myself, or explore on their own. Exhibit maps were given to the participating store locations for those who just happen to stumble upon the exhibit.
Then something wonderful happened  — during the Friday voting night and Saturday opening event day —  communication. Free flowing, engaged dialogues full of questions and support. Community members showed up and started having conversations about the artwork and written pieces with each other and the artists who were present near their work.
This year CTAC intends to reprise the EKPHRASIS exhibit by focusing the displays and dialogue on a specific community issue that is necessary to address, difficult to navigate alone, and should have a positive impact towards change in our community.
Currently we are putting together an Ekphrasis Committee who will decide the theme, determine every one's strengths and level of commitment, then plan a timeline for the exhibit. Our first committee meeting was held at the Provender Store, 60 Austin Ave on Feb 4, 2017 at noon; monthly meetings will occur every 1st Saturday and as needed until the event.  If you are interested in joining the committee, please email CTAC at: [email protected].  If you would like to stay informed about the call to artists & poets, and any other community creative outlets, like artjams, exhibits, artisan markets, and more! "like" the CTAC facebook.com/CenTexArtists page.  You are a part of the arts community of Waco!
---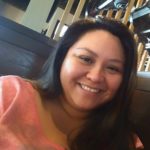 Angie Veracruz is an intuitive artist who is influenced by the world around us and reflective insights. She is the mother of three beautiful girls and their biggest education advocate. She is also a Co-Founder and Executive Director of Central Texas Artist Collective. She is a member of Texans for the Arts and an arts advocate in the making.
The Act Locally Waco blog publishes posts with a connection to these aspirations for Waco. If you are interested in writing for the Act Locally Waco Blog, please email [email protected] for more information.
(Visited 30 times, 1 visits today)