Walking into the Future of Downtown
By Ashley Bean Thornton
I like to walk, and I like downtown, so when I discovered the book Walkable City: How Downtown can Save America, One Step at a Time (by Jeff Speck) I picked it up.  I mentioned it on Facebook to see if I could rope a few folks into reading it with me.  Soon we had about 20 people signed up for a book discussion.  It was such a great conversation that a handful of us decided to keep meeting. We have adopted the name Waco Walks. Now we're even getting T-shirts, so what do you know?  We're a real "thing!"
Our merry group has decided that we want to get out and walk together once a month. Our intention with these walks is to get a little exercise, enjoy each other's company, and see what we can learn and do about making Waco into a community that walks!
Our last walk was on February 11.  We walked from the fine arts building on Baylor campus, down University Parks to Washington, and then across to Sixth street, before jig-jagging to Fifth Street to cross back under 1-35 to return to Baylor campus. Think about all the neat Waco stuff you get to see on that route: the Martin Museum of Art, the Mayborn Museum, the First Street Cemetery, the Downtown Farmer's Market, the food trucks, the suspension bridge, the longhorn statues, the courthouse, the (soon to be open) Mary Avenue Market, the lofts in the old Gradel Printing building, the Silos, First Baptist Church, the Bear habitat, the beautiful new Baylor fountain in the middle of 5th street… It's really a terrific 3.5 mile loop!
So why isn't it more popular for walkers?  Well, there are lots of fun things to look at along the way, but they are not connected together all that well. There are big empty parking lots and dull or boarded up buildings in between the cool things.  There are long stretches of really nice sidewalk, but they are occasionally punctuated with unfortunate patches of badly broken sidewalk and places where you have to walk in the grass or in the street. Baylor and downtown are not too far away from each other to walk, but I-35 is a psychological barrier and the underpasses, while technically walkable and safe enough, are a little intimidating and not very inviting.  How do we go about overcoming some of these challenges and maximizing the benefits of the great pieces we have?
Enter one of the things I love most about Waco:  our awesome city employees!  We invited Clint Peters and Chelsea Phlegar from the City of Waco Planning Office to come with us on our walk.  They willingly took time away from their own Saturday morning plans to walk with us and educate us about some of the possibilities for making the area more walker-friendly.  They even brought handouts!
It was exciting to hear about upcoming plans for better sidewalks up and down University Parks and on Sixth Street, and new hotels and apartments with first floor retail and public space for pedestrians to peek into and enjoy.  We dreamed together about the possibilities for developing the parking lot and current drive-thru bank area between the courthouse and Austin Ave. into a walkable city square similar to the ones in Georgetown and Denton.  We talked about the pros and cons of one-way and two-way streets and how that affects walkability and storefront development. We talked about the culture changes needed so that people are willing to walk a couple of blocks instead of parking directly in front of their downtown destinations. Clint and Chelsea helped us understand overlay districts and TIF rules and the influence they have on making downtown more walkable and pleasant.  They gave us some great information about how we might be able to speak into the I-35 expansion project (if it happens!) in regard to making the underpasses more inviting and walkable "gateways" from Baylor to downtown.
What were my main take-aways from our walk together?  First, there are all kinds of terrific ideas and possibilities for making downtown more walkable and interesting. We residents of Waco need to educate ourselves about what it takes to actually implement those ideas.  Second, there are an awful lot of good things going on right now.  If we took this exact walk again in just six months we would see lots of new developments moving us toward the goal of an ever more interesting and walkable downtown.  Exciting times!
Are you interested in helping to make Waco a community of walkers?  We'd love to have you join us! Check the Waco Walks Facebook page for information about upcoming meetings and walks.
Are you specifically interested in downtown development?  On February 25, from 9:00 to Noon, Baylor Continuing Ed is offering a class called "Waco 101: How to Grow a Downtown."  We'll learn about the theory and practice of downtown development from Megan Henderson of City Center Waco, then we'll take a brief walking tour of downtown led by local developer Shane Turner.  We'll cap it off with a question and answer session with Megan, Shane, City Manager Dale Fisseler and City Councilman Dillon Meek.  It costs $10, you can register online at https://www1.baylor.edu/ers/upay.php?event_id=106643&action=register.   See you there!  Walk on!
---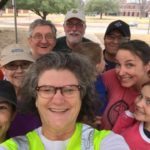 This Act Locally Waco blog post is by Ashley Bean Thornton, she works at Baylor, helps out with Act locally Waco, and facilitates the Waco Foundational Employment Network which is a part of Prosper Waco.  She likes to walk and doesn't mind at all if you honk and wave when you see her.
 The Act Locally Waco blog publishes posts with a connection to these aspirations for Waco. If you are interested in writing for the Act Locally Waco Blog, please email [email protected] for more information.