Santiago Fraga – Just another kid who loves (Challenger Little League) baseball
By Coleen Heaton
The sounds of baseball…the cheering crowd, the announcer, the crack of the bat. America's pastime is a favorite for many. What happens, though, if you love the game, but the sounds just overwhelm you?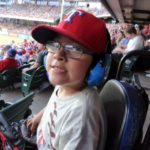 Eight-year-old Santiago Fraga is a huge sports fan, like many children his age. According to his mom, Evonne, he can spend a whole Saturday watching college football with his dad, and when there is not a game on TV, he watches videos of the Baylor Bears and the Dallas Cowboys on YouTube. They think he may someday be a sports announcer just like The Voice of the Bears John Morris.
Of all sports, baseball, it seems, was the one to capture his heart above the rest. When he was finally old enough to play baseball, his parents quickly signed him up. While that may be considered typical, this story is anything but "typical." Santiago was born at 28 weeks. He has hydrocephalus due to grade three and grade four brain hemorrhages, and was diagnosed with quadriplegic cerebral palsy at the age of two. He uses a wheelchair to get around. None of that deterred his family from wanting to sign him up to play the game he so dearly loves and that was where Challenger League came in.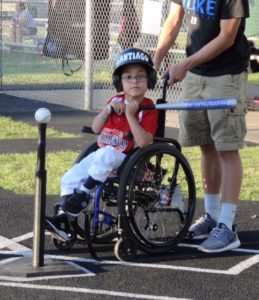 Challenger Little League, first established in Texas in 1989 (and then in Waco in 1990) as a separate division of Little League, is an adaptive baseball program for boys & girls with physical or cognitive challenges. It offers children the opportunity to enjoy the game of baseball along with millions of their peers who participate in the sport worldwide. Over 30,000 athletes participate in Challenger Division every year; over 100 of them participate right here in Waco.
Four years ago, Santiago became a Challenger League baseball player. However, those beloved sounds, the cheering crowd, the announcer, and the crack of the bat, bothered him so much that he spent much of his first season on the field crying while his mom and dad cried at the fence. Volunteers continually encouraged his parents, saying it would take some getting used to.
The league uses "Buddies" to assist and encourage players during games. Santiago's buddy was then-China Spring High School student Mason Gist (also a huge baseball fan). The love of the game brought the two brought together and they developed a deep friendship along the way. Mason helped Santiago focus on the game and encouraged him when he became overwhelmed. Noise canceling headphones helped, too, and Santiago was able to finish his first season.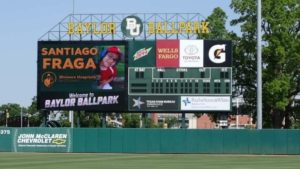 The beginning of his second season was much the same as the first: he was on the field, and his parents were crying at the fence. Santi, however, was no longer crying (he was laughing and enjoying his favorite sport with his teammates). Mom and dad were now crying tears of joy. They were so proud of how far he had come and so thankful that they stuck it out through some difficult times.
Each season has been better for him than the one before. His parents say Santiago has made many new friends, is more independent, and has so much fun out on the field. Mr. and Mrs. Fraga have also made new friends on this journey with their son, "amazing families who have been so supportive in our journey, as many of them are in similar situations," says Evonne.
During his time with Challenger, he has played on Baylor Baseball field multiple times in the Shriner's Classic. He has had his name called over the loud speaker while at bat, and has had his picture on the jumbo-tron. He was once invited into the press box at a Texas Rangers game to meet and speak with Tom Grieve and Steve Busby. Recently, he attended Lunch with a Legend where he met Baylor Baseball Coach Steve Rodriguez and David Murphy.
In addition to baseball, Santiago plays football, basketball, and soccer.
If you know a child who wants to join Santiago and the rest of the challenger players, registration for the 2017 season is underway. There is no registration fee and anyone ages 4-18, or up to age 22 if still enrolled in a school program, with a physical or developmental challenge may participate.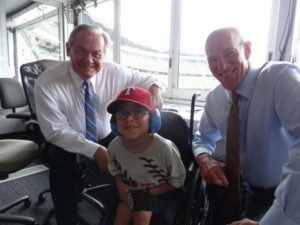 Waco's Don Deatherage Field, a unique baseball field modified to meet the needs of all players, is located at 2021 North 44th Street, between Cobbs Drive & Trice Avenue, behind the Lake Air Softball Fields.
One of the benefits of having Challenger Division is that it encourages the use of "buddies" for the players. "Buddies" assist players whenever possible, encouraging players to bat and make plays independently. However, the buddy is always nearby to help when needed. Often buddies are peer athletes who are participating in a Little League Baseball or Softball program. As with Santiago, buddies can make all the difference!
Challenger is a uniquely rewarding program, always welcoming new sponsors and volunteers. For more information on how to become a player, sponsor, or volunteer, contact league representatives at [email protected] or look them up on facebook and like their page, Challenger Little League in Waco Texas.
---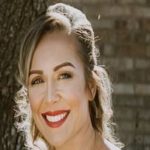 Coleen Heaton has volunteered with Challenger League in Waco for over a decade. She has coached in the past and currently recruits and trains volunteers ("Buddies"). She also is part of No Limitations Athletics, a local organization offering sports to the special needs community. They currently offer flag football and cheerleading in the winter, basketball in the summer, and soccer in the fall. In addition to sports, they have a Girl Scouts Troop (Troop No Limitations), plan an annual special needs prom for the area, and began an online support group for special needs moms. They are also pushing for an inclusive park to be built in Waco.