Innovation for Career Readiness at Connally ISD
By Hermann Pereira
When I entered into the education field 10 years ago I thought to myself, "Next year I will find a real job…" I had studied business administration at Stephen F. Austin and thought the corporate world was where I wanted to spend my career. We had moved to Waco and I figured teaching would be easy. Boy, was I wrong! Being an educator was challenging and rewarding and I was hooked early on. I followed my wife into the profession after I saw the influence she had in the classroom and as a coach. I wanted to do the same for students that looked like me and ones that came from blue collar families like me as well. I found my motivation to impact young people's lives early in my teaching career at West ISD. Then, as I began working at Connally ISD, I realized my motivation to impact others needed to be broader. That led me to Baylor University where I earned my Master's degree in Educational Administration.
I have been blessed to lead the team at Connally Career Tech for the past year and it has been one of the most rewarding things I have ever done. We have had success in a short amount of time and I think that all boils down to a few key ingredients: motivation and partnerships.
Motivation is key
More than three years ago Connally ISD decided to think outside of the box. They created Connally Career Tech Early College High School. Leaders at Connally were motivated to serve the students at Connally ISD in a unique way because the reality is not every student has the desire to attend a 4-year university. We are a school within a school model, which means students can experience high school sports and activities and attend college classes. One important feature of our campus is that all tuition, books and supplies are free to the families so cost is not a barrier to students. All students from Connally High School can apply to be a part of our campus if they have the desire to enter into one of our career clusters. Those clusters consist of Construction, Computers, Criminal Justice, Drafting, Healthcare, Manufacturing, Technology, Transportation Technology or Visual Communications. Once students show an interest in these fields we educate them on what types of opportunities they may have if they study one of these fields.
Students are learning hands on career skills in a certain field as well as soft skills that will help them to become the very best in their chosen industries. We have seen that once students begin working in an industry for which they feel a passion, their motivation will push them to achieve more than they would have ever imagined. Students receive extra support and guidance in a "small school feel" from teachers and faculty due to the Early College High School (ECHS) model that we follow. Some students will finish with college hours in a career field, some will complete certifications or an Associate's degree in a certain field. Either way they are realizing that these opportunities are generation changers.
Partnerships
Connally ISD is fortunate to be part of the greater Waco area which is filled with people, companies, higher ed institutions and other organizations that are ready and willing to partner with the efforts of all schools. For schools like ours, that make college hours available to students, it all begins with our higher education partners. Texas State Technical College was the first college partner that opened its doors and made its programs available to our students. On TSTC's Waco campus, Connally Career Tech students are able to earn certificates and Associate's degrees in high demand technical fields. Our students are able to learn from the best professors and are able to experience top notch facilities in these different fields. Our focus on career readiness also led us to a partnership with McLennan Community College that will kick off this upcoming fall. With this new partnership Connally Career Tech students will be able to choose from a number of public service careers. Our students will have the opportunity to earn certificates and possibly Associate's degrees in industries such as health care and emergency service fields. Recruiting is almost over for next school year and we have had a great deal of interest from families about our new career offerings.
In a short amount of time we have found that members of the community are eager to partner with us to help create more well-rounded, career driven students. So far we have relationships with large companies, small local businesses, and nonprofits who are providing mentoring, opportunities to serve those in need, career guidance, supplies for clubs and activities, and paid internships. These key relationships have been fostered through our active advisory board at Connally Career Tech.
In my conversations with students I try to stress to them that in a few short semesters they will be walking the stage as Connally ISD graduates and we all will be proud of them. Students are motivated to finish high school, but what I emphasize is that they need to make sure they are college and/or career ready before they shake my hand on stage. Our career driven campus serves students in our school district well, but it is also something that could be replicated. Hopefully in the coming years other local school districts will choose to embark on a similar journey, and when they do Connally Career Tech will be there to partner with them.
---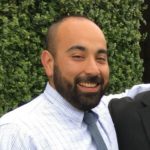 Hermann Pereira is the Principal of Connally Career Tech Early College High School and has been in education for 10 years. He is a Houstonian who roots for all Houston sports teams but has called Waco home for the past decade. He has been married to Kristi for 13 years and has two children, Hudson who is 8 years old and Ruby who is 5 years old.
(Visited 35 times, 1 visits today)