Communities of Waco: Flying high with the Waco Disc Golf Association
By Cameron Frymark
It's not hard to understand why disc golf is the fastest growing sport in the United States. Getting started is fairly cheap with most discs costing anywhere from $8-$20, most courses are in public parks and free to play, and it's a sport that anyone can have fun playing. When the weather is nice, people of all ages and backgrounds will be roaming the courses trying to get a hole-in-one, or scrambling to save par. The United States currently has more than 5,600 courses with more than 375 of those in Texas alone. Waco has both an 18 hole par 66 championship level course at Brazos Park East (the bEast), as well as a 23 hole course at Cameron Park West that is generally considered one of the most fun courses in Central Texas. Woodway and Hewitt each have an 18 hole disc golf course with unique challenges and landscapes, and there is also a 9 hole course at Lorena Middle School and at Arlington Farms Apartments.
My first time to play disc golf was with two friends who lived at Arlington Farms Apartments. It was dark, we had no lights, and we (probably just me) lost 3 discs in the first 3 holes. We called it quits after the third hole because I was feeling bad for losing our friend's discs, but we had a great time doing it! The fun of being with friends outdoors is what initially drew me to disc golf. I had always enjoyed hiking and had lived on beaches for a good portion of my life. Tossing a Frisbee with friends and family was common, but what really got me hooked on disc golf was when I saw people that were actually good at it. When I saw people in the park that could throw 400 feet, or make the disc fly in an 's-curve' around trees, or make long putts, that is when I told myself 'I want to learn how to do that.'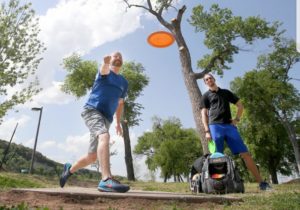 After being bit by the disc golf bug, my brother and I introduced the sport to my father and younger brother who both took to the sport naturally. I'm sure my dad looks back fondly on those first 6 months of playing together when he could throw farther than his sons, but now two of us play professionally and can regularly crush 450 foot drives. My dad has settled into an age-protected amateur division that many say has the most fun. Disc golf has become a family event and it's a guarantee that if we are in the same city together that we are meeting at the disc golf course.

Since I started playing disc golf in 2007, the sport has seen impressive growth and bold new milestones. In 2007, the world distance record was 820 feet, a record that had stood untouched since 2002. The current world record is 1108 feet, set last year when two players (one of which will be playing our annual event here in Waco) broke the 1,000 foot barrier. The sport has had numerous impressive shots show up on ESPN thanks to widespread live video coverage of disc golf events. Disc golf tournaments continue to grow in size and scope with some reaching payouts of $100,000 and hosting 1,000 disc golfers from around the country. It is now common and expected by the disc golf community for major tournaments to be covered by professional media groups. We have worked hard locally with the help of the city and countless volunteer hours to grow our profile and course quality to get to the point where we can host an event with the national circuit, dubbed The Disc Golf Pro Tour.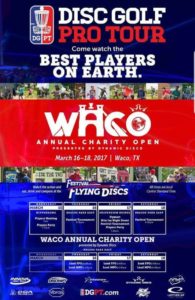 Starting Wednesday March 15th, the best disc golfers in the world will descend upon Waco to challenge the bEast and compete for large cash purses. Ryan Draper and the Waco Disc Golf Association have been working for years to get to this point and much planning has been done to make this an amazing event for both disc golfers and spectators. The event kicks off with a party/players meeting at the historic Hippodrome theater, and play for the professionals will begin Thursday morning at Brazos Park, and finish Saturday with the lead pro ladies card teeing off at 9:30 am and the pro men's card teeing off at 2pm. Spectators will be able to win raffle prizes daily just by coming out. There will be a pub crawl with a $100 prize starting Wednesday night at 7pm and finishing Friday night at 7pm at our party on the Suspension Bridge. Live local music, vendors set up on the bridge, food trucks, glow-in-the-dark disc golf, and so much fun will be happening at Indian Springs Park and it's all free and open to the public.
The best disc golfers in the world will be testing their skills on one of the most challenging courses in Texas. The bEast offers scenic views while testing golfer's abilities and mental game. The front nine features many long, demanding holes with out of bounds flanking every fairway. Players with the right skills will have the opportunity to be aggressive and throw bomb shots, or to rack up out-of-bounds penalties that can sink a good round. The back 9 holes are the inspiration (or frustration) behind the namesake of the course, the bEast. Each hole has been carefully carved out of thick woods by master course designer Joey Harrell, a Texas legend and hall of fame member, to offer players the opportunity to play it safe and stay in the fairways, or to be aggressive and risk the rugged, unforgiving rough that every hole has awaiting players.
I would like to extend an invitation to you to come out and experience our event. If you have ever been curious, this is the time and place to see what disc golf is all about. If you decide you'd like to try it out, you can find me on Facebook and I'd be happy to show you our courses.
---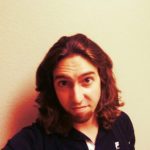 Cameron Frymark is a professional disc golfer, student at Tarleton University, and warehouse supervisor at Preferred Medical. Cameron and his wife Tara live downtown with their fat and happy Chihuahua, Butters.
Whether it's playing trumpet in the "Friday Band" at MCC,  or riding with the Waco Knight Riders, or an afternoon playing with the Waco Disc Golf Association, one of the wonderful things about Waco is that there are lots of ways to find community here.  Where do you find community in Waco?  Would you be interested in writing about it? If so, let us know.  Email [email protected]. If you have an idea for a post.  You could be seeing your own picture on this page!