The Difficult Task of Inquiry
By Elizabeth Ligawa
We wear the mask that grins and lies,
It hides our cheeks and shades our eyes-
This debt we pay to human guile;
With torn and bleeding hearts we smile
— Excerpt from Paul Laurence Dunbar's poem, "We Wear the Mask"
We wear the mask the grins and lies
The last time I was asked the question, "How are you?" was last night at H-E-B.  I usually splurge on late night errands when I have a child-free night, and I was taking full advantage of the late operating hours.  Before my visit to the store, I had just finished up a painful conversation with a friend going through a very difficult time.  My heart was heavy.  My mind was still trying to wrap itself around the traumatic experiences that were shared with me.  My spirit was low.  The inquiry came as I was placing my items for purchase on the conveyor belt, still in the fog of my previous conversation: "How are you?," the cashier asked. My response was a polite, socially acceptable lie: "I'm doing just fine, thank you.  And you?"
In situations like this one (being in line at the grocery store to be exact), we are usually not expected to engage in deep conversations about life, or suffering, or innovative approaches to a long-standing challenge in our community.  No one is expected to describe Anselm's ontological argument in the bread aisle next to the pickles, or to participate in a solution that will protect our most vulnerable residents.  But, if you wanted to have a meaningful conversation around a difficult topic, where would you go?
It hides our cheeks and shades our eyes
In the last several months, I have been approached by a growing number of faith and community leaders who are genuinely seeking guidance on techniques and strategies of engaging people around one of these difficult topics: race.  When it happens, I am always honored by this inquiry because of the risk involved in the asking.  Waco is a very interesting place when it comes to race, and I am finding out more and more that while we see it, we usually do not know where to go with this conversation?  Do we talk about our community's history, and its contributions to how race plays out with regard to outcomes and opportunities?  Are we seeking to understand the missing racial diversity in our congregations, or among other community institutions?  Do we share in our understanding of the implications of race?
In topics like race, where we may not feel confident in our navigation skills, we follow similar patterns of dialogue that resemble my engagement level with the cashier at HEB: we politely wear our mask.  We politely decline the opportunity to meaningfully engage.

This debt we pay to human guile; With torn and bleeding hearts we smile
To be clear, I am not promoting the idea that we should share the questions of our hearts with the cashiers at H-E-B, or the baristas at Starbucks, or even the person sitting next to you as you're reading this post.  What I am saying is that a community functions much in the same way as an individual.  And as a community practitioner, I am particularly interested in how you (as a community) are having these conversations about what impacts you.  How do you feel about the local impact of federal policies?  What are you doing with the questions that you are not sure are welcome in polite company?  How are you dealing with issues concerning race and your organization, or community?
There is a way to have these conversations well, and it is as easy and accessible as having different modes of facilitation as part of your tool belt.   On June1-2, the Public Deliberation Initiative will be hosting its inaugural "Civic Life Summit: Doing Democracy Differently".  At this summit, you will learn how to: 1) Build mutual respect and understanding across race, religion, and more; 2) Move beyond divisiveness to work together for greater good; 3) Identify common ground across difference, and potential steps forward together, and 4) and Develop a framework for public engagement within your group or sphere of influence. To register for the Summit, please click here. The cost is $95 per individual with limited scholarships available. For more information, please contact Erin Payseur by sending an email to [email protected].
We can embrace conversations with courage.  We can bring confidence in engaging these challenging topics.  We can produce change.  But first, let's talk.
---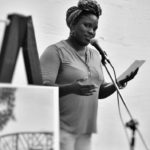 Elizabeth Ligawa is a recent graduate from Truett Theological Seminary, and the Diana R. Garland School of Social Work, earning both her Master of Divinity, and Master of Social Work.  Though her prized role is being a mother to her dear son, Elijah, Liz has a love for encouraging people to come together in ways that engender healthy communities.  Her role as the Director of Community Engagement at Prosper Waco allows her the room to work in and among the many faces of her beloved Waco community. She may be reached at [email protected].
The Act Locally Waco blog publishes posts with a connection to these Aspirations for Waco. If you are interested in writing for the Act Locally Waco Blog, please email [email protected] for more information.