Summer Learning Opportunities
By Robin McDurham
In a few short days, the teachers in Waco ISD will be giving our students hugs and high fives and send them home for summer. However, learning does not have to stop for ten weeks. There are several things families can do to engage the brain and prevent summer learning loss. Applying academic skills to everyday activities can keep the learning in the forefront. Wouldn't it be great if this blog posts could start a conversation with the Act Locally community about how we keep learning alive during the summer? Here are a few of my favorites:
If you are taking a road trip, consider listening to a book on tape together. If you want to push the learning, do a Google search for book discussion questions ahead of time. Focus on questions that require everyone in the car to consider what the author is trying to convey.
Give the list making duties to the kids.  By organizing and writing down items on grocery shopping list, packing list, and chore lists, children are using critical thinking skills and taking ownership of family responsibilities. The potential for learning increases when taking the lists further by creating a weekly meal plan, developing a budget, and charting progress.
Have a yard sale or open a lemonade stand, and put your child in charge.
Turn on the closed caption feature on your television to encourage reading along with the shows. When they get good at reading the captions, push them by turn off the sound.
Parents don't have to prevent summer brain drain all by themselves. Several organizations offer learning opportunities for students during the summer. The short list provided below is a snapshot of opportunities provided by Waco ISD campuses and educators:
Elementary Schools
June 6th-June 30th (8:00 am to 3:00 pm- Monday through Friday). Language Acquisition Summer School for all current English Learners in PK and Kindergarten. The program will be presented at Bells Hill Elementary. We have a great plan for the children filled with intense direct instruction in literacy, language, math, and other disciplines! Transportation is available. Breakfast and lunch will be served. Contact the department at 254-755-9525 for more information.

June 6-8, 12-15, and 19th (8:00 am to 1:00 pm) J. H. Hines Elementary School – Summer Enrichment Program – J.H. Hines is partnering with the YMCA, and other organizations to offer exciting opportunities for students including Tours of McLane Stadium, The Cameron Park Zoo, Waco Wetland, Mammoth Site, World Hunger Relief Farm, Cameron Park, Mayborn Museum, and a Spectacular Science Day. Breakfast, lunch, and transportation will be provided. 

Saturday, June 10, 2017 (2:00 pm – 3:30 pm) Author's Alley at the Waco-McLennan County Library- Waco ISD teacher, Mary Evans, will present a lively reading of her book, Thunder and Lightning.  She will talk to the kids about writing a book and what it's like to be an author. There will be a fun craft for kids to make and take, too.  Books will be available for purchase and signing. A percentage of the proceeds will benefit the Friends of the Waco-McLennan County Library.
June 12-15, 10 a.m.-noon  – McLennan Community College summer camps- Cooking with the Rainbow  – This four-day session will highlight stovetop-based recipes for pre-teens and teens. Main dishes, sides, and desserts will be featured while focusing on a "rainbow" of ingredients. Young chefs will be educated about making meals with a focus on both taste and nutrition. Your son or daughter may even offer to make dinner after this week is done! For ages 13 to 17. Class will be taught by Waco High teacher, Wendy Moulds. Cost: $79 Class ID: AVC 5245.01
June 26-July 14 (8:00 am to 3:00 pm- Monday- Thursday) West Avenue Elementary is hosting VOICE Inc. summer camp from 8am-3pm for students enrolled in 1st through 5th grades.
July 10-15 Waco High School Overture Summer Theatre Camp for Kids – Students entering the 2nd-9th grades and may be enrolled in schools other than WISD. We're producing 101 Dalmatians. We still have "spots" available. Email klynn.childress@wacoisd.org for more information.
Saturday, August 12 (9 am – noon) Family Fest – food, fun, vaccinations & information, school supplies and backpacks for registered WISD students
Date and times to be announced. The Waco ISD Education Foundation awarded a grant to Kendrick Elementary to refurbish the existing outdoor classroom that had become overgrown and unused.  Much of the work will be done this summer so that Kendrick students can start using the garden in the fall. Projects such as building a deck for seating, constructing raised garden beds, and establishing an area for a butterfly garden are on the agenda. Skilled workers and volunteers would be much appreciated.  Local businessman Thomas Arnold, the owner of Central Crushed Concrete, has graciously donated the materials needed for a walking path. This will be another task that will require many hands.  Work dates have not been determined at this point, but anyone interested in helping can call Dina Hoffman at 254-495-0070.
Middle Schools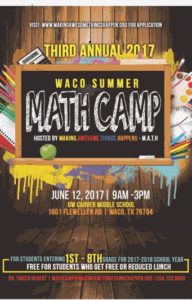 June 12-15 (12:30-2:30 pm.) McLennan Community College summer camps Pasta and Sauces for Teens – Get a taste of Italian as you learn to make a different sauce for each day of this four-day cooking session for preteens and teens. You will learn about different pasta types and salads as well as finish off your meal by making an Italian dessert! For ages 13 to 17. Class will be taught by Waco High teacher, Wendy Moulds. Cost: $79.  

June 26- July 20th (9:00am-4:00 pm Monday through Thursday) Bulldog Summer Enrichment Program at Indian Spring Middle School for students attending Indian Spring in the 17-18 academic year.  Activities include a robotics program, kayaking, rock climbing, swimming, leadership training, team-building, arts & crafts, tennis, soccer, kickball, basketball, gardening, hiking, educational trips, and more.
June 6th – July 20th excluding July 3rd & 4th (1:00 pm – 5:00 pm) – Texas ACE Summer Camp at Carver Middle School campus and Doris Miller YMCA for swimming. The camp is for Carver students who just completed 6th, 7th, and 8th grades. Activities involved:  swimming (at the YMCA), gardening with World Hunger Relief, Zumba, Y fitness, reading club, and art.
High Schools
June 5-8 and 12-15 University High School STEM team is hosting Project SOAR a two-week Project Based Learning program that incorporates fun, hands-on activities while learning the important skills needed in Pre-AP, AP, and Dual Credit classes. The two-week program is based on real-world experiences and helps you to develop creativity, critical thinking, problem-solving, and teamwork. The theme for this summer is "Destination Mars." The program is for students in the UHS 2019, and 2020 cohorts Call Ms. Stephanie Bailey at (254) 756-1843 ext. 2196 or Mr. Jeffrey Cunningham at (254) 756-1843 ext. 2124 for more information or to register.
July 17-20 8:00am to 1:30pm. Freshmen institutes- Waco High School and University High School will be hosting Freshman Institutes for incoming 9th graders to introduce them to high school life.  The class of 2021 will learn about study skills required for success, earning credit, getting involved in campus activities, and building the relationships that will help them navigate the next four years of learning.

A few additional plugs
Monday, July 24: 8 a.m. – Registration for the 17-18 school year begins. Parents may register online or at campuses.

Summer Meal Program –  Any child up to 18 years old can participate in the Summer 2017 program by showing up at one of the campus, city or mobile sites on the days and during the meal time(s) indicated on the SFSP schedule. Sites will be open all summer from June 5, 2017, through August 14, 2017. Please note the dates and times of service at each location. Meals will not be served before or after the scheduled serving times. Meal times and dates are subject to change. Some sites will be closed on Monday, July 3, 2017, and Tuesday, July 4, 2017, in observance of Independence Day. Click here for the list of Summer Meal Program Sites.
So now for the action part for all of us Act Locally faithfuls.  Let's see how many folks can add to this post by sharing ideas and events for preventing summer learning loss.  Add a comment and pass it along. There are roughly 70 days of summer can we shoot for a new learning idea or event for each day?
---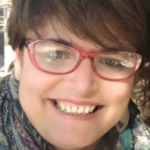 Robin McDurham is an assistant superintendent with Waco ISD. Although she and her husband Doug are currently enjoying life as emply nesters, they had a great experience as Waco ISD parents for 16 years with their sons Zane and Dakota. Robin is passionate about providing opportunities for students that make learning relevant. Contact information: Robin McDurham, Ed.D., Area Assistant Superintendent, Waco ISD. 254-755-9601. [email protected].