Juneteenth: A Day of Freedom and Remembrance
By Rachel E. Pate
Looking back on some of my fondest childhood memories of growing up in Waco, I can remember summers filled with family, fun and celebrations.  It seemed like every summer we visited Indian Spring Park along the Brazos to partake in the fanfare of the Juneteenth festivities.  The crowd would be filled with families from my church, neighborhood friends and citizens from throughout the community.     I especially enjoyed the snow cones, cotton candy, soda pop, barbecue, talent shows and the variety of activities.  As a kid, I can remember wondering, "This sure is fun, but why do we celebrate Juneteenth?" Through my childhood eyes it was simply a day for celebrating community and having fun, but I'd later learn that this sacred day of remembrance was quite more significant in our American history.
Juneteenth is the oldest known celebration commemorating the abolishment of slavery in the United States.  Dating back to 1865, it was on June 19ththat the Union soldiers, led by Major General Gordon Granger, landed at Galveston, Texas.  The troops brought news that the Civil War had ended and the slaves were now free. This was two and a half years after President Lincoln's Emancipation Proclamation – which became official January 1, 1863. The Emancipation Proclamation had little impact on the enslaved Texans due to the minimal number of Union troops to enforce the new Executive Order, and in part due to the isolation of the state. However, with the surrender of General Lee in April of 1865, and the arrival of General Granger's regiment, the forces were finally strong enough to influence and overcome the resistance.
A name for the celebration of June 19th was coined –  "Juneteenth" –  and the remembrance grew with more participation from former slaves and their descendants over the last century. The Juneteenth celebration is traditionally a time for reassuring each other, for praying and for gathering remaining family members. Juneteenth continues to be highly revered in Texas, and many of my own family members make an annual voyage back to Waco on this date every year.
As an adult, I have invested more time in learning exactly what Juneteenth means to me.  It is an opportunity to rise above our beginnings, take pride in our heritage and move forward in the knowledge that it takes a community to enforce change.  This year I'll be celebrating with my extended family on Sunday the 18th at a private cookout in the park.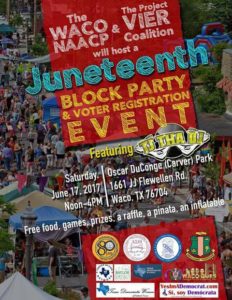 You can take part in Waco's celebrations on Saturday, June 17:
10th Annual Juneteenth Parade hosted by the Cen-Tex African American Chamber of Commerce  – Saturday, June 17th, 10:00am-12:00pm (Parade route begins at Quinn Campus and will proceed along on Elm Avenue, ending at Indian Spring Park)
Juneteenth Block Party & Voter Registration Event hosted by the Waco NAACP and the Project Vier Coalition – Saturday, June 17th, 12:00pm-4:00pm at Oscar Duconge (Carver) Park- 1661 JJ Flewellen Road
---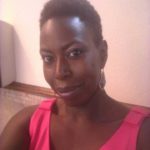 Rachel E. Pate is a native Wacoan and 1999 graduate of University High School.  She currently works as the Public Relations person for the Cen-Tex African American Chamber of Commerce and serves as Coordinator for the Esther's Closet program for women.  She's also a proud mom of one, lifelong member of Toliver Chapel (TCMBC) Church, lover of the great outdoors, avid sports fan and dedicated wearer of Converse's Chuck Taylor shoes.
Historical Information Sources:
Website, Juneteenth.com – "History of Juneteenth"