By Tami Nutall Jefferson
I don't know the correct term for that awkward feeling you get when the light bulb flashes on and you suddenly realize "OMG, I'm going to be an Aggie — and an Aggie mom at the same %$@# time!". It started off as pride. Then rounded the base to old. Then another base at nausea, before finally sliding back to home at pride.
This is what I experienced while I was leisurely strolling Shadow, my dog, down my North Waco block this afternoon after I finished reading an invitation – my first of many I hope – to attend the Annual Howdy Party at Cameron Park Zoo. The party is hosted by the Waco-McLennan County Aggie Moms & The Greater Waco A&M Club. I mean, really? Who wants to hang out with a bunch of moms? I was about to dismiss it until I read the midsection that extolled meeting A&M Yell Leaders and other Aggie families in McLennan County. Then a glimmer of excitement set in. I get to meet other Waco Aggies! Maybe I won't be here all alone next school year. That clinched it for me. Then my eyes fell on the Aggie Moms logo, and that's when the "awkward" emerged.
But at the end of it all, pride was left. In case you haven't heard of me, let me introduce myself. I am Tami – the loudest and the proudest member of the fighting Texas Aggie class of 2020. A Whoop! Sidebar – I don't know my class yell yet, so I adopted the one from the 2019 class because it just sounds good. But you can bet there will be a story from me about it when I learn it. End of sidebar. I'm also a wife. A mother. A doting dog baby owner. And a future Waco changemaker. Ready for more awkard? I met my husband at college a few years ago. He happens to be one year older than my daughter who is currently a sophomore at college and in the middle of moving from Maryland to Texas this week. In another year or so, she will become a part of the fighting Texas Aggie family as well. So what does that make me? That makes me a 40-something year old grandmother – sexy might I add – who is heading back to college for the second time this millennia to grab hold of her bachelor's degree.
The second-first time I returned to college was in the fall of 2011. I said during my thirties that I would go back and finish school whenever my daughter graduated high school. So one day in May 2011, I woke up and realized that my daughter was exiting high school. I couldn't let me lie to me, so I decided to go for it. Perhaps, the universe decided for me. At that time, I was jobless, homeless, and surfing on my best friend's couch in Maryland with no prospects for the future. Somehow, in 3 days, God took me from $0 to $120. Just enough to pay for my airfare from Maryland to Texas. I had a laptop, a suitcase, and a loosely defined plan to be an Aggie graduate. The only thing I didn't have was my then 17-year-old daughter who refused to return back to Texas with me.
On July 31, I landed in Houston, at my mom's house and by August 19th, I had a desktop computer, a full-time class schedule, tuition, and a room on campus. And $114 from my 4-week stint at Sonic. An angel of a woman picked me up in Houston and drove me to Waco and dropped me off at my new apartment. I was now a full-time student at Texas State Technical College with a twitter account called @TamisBigDoOver. That was my motto for my life. My goals were few – only 16. By the end of 2013, I had accomplished all 16 goals, and graduated TSTC with a degree in Architectural Drafting and 3.9 GPA. Not on that list, was a husband, but I also left TSTC with that.
I started working in Waco as a building designer. When I started, I swore to myself and my husband, that December 31, 2016, would be my last day there. Three years – that's all they get. It's funny how the universe listens and responds to what you say. Funny as in ironic. Because on January 2, 2017, I was laid off from my job. I couldn't stay past my expiration date even if I wanted to.
I was happy. But I was sad. I wanted my freedom. But I wanted my paycheck. But, I remembered my promise to myself, and I figured "I have to do this now. I don't have 20 more years to waste." I logged onto ApplyTexas.org and began completing my application to Texas A&M University. This was the most nerve-wrecking thing I've ever done. You see, I've wanted to be an Aggie since I was 8 years old. I grew up an unwittingly poor, country, black girl in Bryan, TX in the 80s. Texas A&M was a BIG thing to me. We didn't see black people go to college in my city back then. But something in me wanted to. I wanted to be a world-traveling architect. I could have taken the easy way out and said that my dream was never realized because I became a single mother at 17 in my senior year of high school. But I'm really not a fan of self-lying. The only reason my dream never materialized was because when my mother handed me the TAMU admission application at 17 years old, the biggest ball of fear I'd never felt before came rolling in. I couldn't bring myself to open myself up to that much rejection. So, I let the application stay in my room where I could keep an eye on it before it eventually moved its way to the trashcan.
That feeling of fear has become a familiar one since that day. What moved me beyond that fear to actually turning in my Aggie admission application? The Dean of Students at TAMU's College of Architecture told me in February of this year that he better see my application in his email box that Monday or else I wasn't getting in. I had two days to write five essays – about ME… hardest thing ever. But I did it.
Then I waited. And waited. And waited.
I checked my application portal daily for almost two months. Nothing. No word. Then on April 19th, I finally emailed Dr. F and asked him when decisions would be made. No response. But on April 20th, I received that email saying "You've been accepted." It was a surreal moment. Fear subsided. Aggie pride crept in. Happiness crept in. I could finally say to my mom – who's been my biggest yet quietest supporter of this my whole life – that "I am an Aggie. I got in." Then stupidity slithered in. Honestly, I did feel really stupid because I could have done this 24 years ago – or 20 or 10 or 5. My life and my daughter's life would have been completely different. The only saving grace is that now, I know my place in the world. I know what I want from my career. I know how to control my education plan to get the most out of my degree and time and money. I know exactly how my education will position me to influence Waco – now my forever home.
But this is not my first go around. Remember, it's my do over. The first time I came to Waco was to go to TSTC in 1994. I knew I wanted to transfer on to TAMU and become an architect. But I had no idea what that meant. I knew when I was working downtown in Waco in 1997 and I would stand in the middle of Austin Avenue, I wanted to transform the ugliness into a vibrant place for people to enjoy. But I had no idea how to do that. I knew when I graduated in 2013 after returning to Waco some 10 years later, that that decades old vision was still burning inside me. But I had no idea how to bring that out of me. Now, after living here and activating myself in the community and meeting local government and business leaders and getting involved in grassroots development efforts, NOW, I know how to harness my education to make Waco a more prosperous, beautiful, sexy city for the next generation to thrive in.
So this is my journey. For the next two and a half years, I'll share with you what it's like to be the old, married, grandmother on campus. I'll share with you my collegiate research and lessons and projects and discoveries on what happens when real estate and life meet here in The 254. I'll share with you my testimonies and inspirations as I attempt to attend university without taking on anymore student loan debt. And I hope that you will share with me – because we're not alone in this journey of life "do overs".
---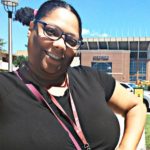 Tami Nutall Jefferson has over a decade of experience in real estate sales and management and currently works as a home and building designer. This Fall she will begin her first academic year at Texas A&M University pursuing a Bachelor's Degree in Urban Planning and Real Estate Development while commuting between Waco and College Station. Her hope is that Waco becomes the most attractive, modern, vibrant, and prosperous version of itself as an inclusive city and her professional mission is to help make that happen. Tami is also a 2017 graduate of the Leadership Plenty Institute and volunteers her time and voice to many downtown Waco placemaking and economic development causes and organizations.
To engage and share your non-traditional student experiences with Tami, contact her at [email protected] or connect with her on Facebook https://m.facebook.com/tami.nutall1