MCC's Corporate Training program helps provide skills for ever-changing workforce
by Candice Kelm and Madiha Kark
Corporations have been flocking to Texas for its business-friendly environment, location, and community, which is evident by the booming economy in Waco and the surrounding areas. These new businesses and growing corporations have created a demand for skilled workers willing to take initiative and learn new ways to handle and manage a changing workforce. MCC's Corporate Training program can help employers equip their employees with the essential tools needed to succeed and take businesses and individual's careers to the next level while revolutionizing the workforce into indispensable parts of an organization.
Through customized training and a wide range of highly interactive online courses, MCC's Corporate Training Department can design a program based on the training needs and objectives of a business or organization. Classes may take place on the MCC campus or on-site at an employer's location.
A broad variety of topics can be tailored to the best skills development and training program for any business:
Industrial & Technical Training
Leadership/Supervisor Training
Computer Applications
Communications
Teamwork
Workplace Spanish
Customer Service
Sales & Marketing
Quality Improvement Management
Project Management
Workplace Safety
Healthcare
MCC's Corporate Training program partners with many local businesses to request Skills Development Funds, training grant funding from the Texas Workforce Commission (TWC). MCC has been awarded more than $12 million in grant funds to enhance the skills of several local companies' current workforce and new employees. Most recently, the program received a $688,760 grant to train 781 new and incumbent employees in a manufacturing consortium comprised of Aramark, Marathon-Norco, Trane, and Vossloh Fastening Systems.
To learn more about MCC's Corporate Training and how they can help your organization, visit www.mclennan.edu/cortraining or contact the program coordinators: John Hutchens at 299-8156 or [email protected], or Steven Wenzel at [email protected].
---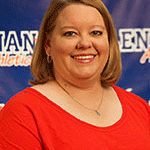 Waco native Candice Kelm has served as the Sports Information Specialist for MCC Athletics since 2006 and lends a hand as a writer to the Marketing and Communications department. She received her bachelor's degree in education with an emphasis in journalism and business from Baylor University in 2002.
(Visited 26 times, 1 visits today)