Close Out Your Summer at the Fabulous Waco 52 Pop-Up Gallery
By Caitlin Giddens
If the Waco 52 Pop-Up Gallery isn't on your summer bucket list, you're missing out. This inspiring pop-up gallery, hosted by Creative Waco, will feature local art, live music, farm-to-table dinners, weekend yoga classes and more.
The pop-up gallery is not a new concept, but it's new to Waco's Cultural Arts District. This short-term gallery, lasting from August 3 to September 2 at 712 Austin Avenue, will bring together visual artists, performers and more to showcase Waco's creative potential.
The gallery space will feature 52 pieces, all created by local artists, that depict Waco and McLennan County. Next to the gallery, you'll find a retail area, offering framed prints and locally handmade items, and Luna Juice Café. The pop-up events calendar includes a Gospel Brunch, a calligraphy class, art classes and even poetry and philosophy events.
Creative Waco is also offering Mini Residencies lasting one to four weeks for visual artists. All Artists in Residence are invited to participate in a weekly "Happy Hour Review" of work in progress each Thursday at 5 pm. Creative Waco hopes this will be a wonderful opportunity to build community among artists, receive valuable feedback on work and connect with buyers and art lovers from Waco and beyond.
The Waco 52 Pop-Up Gallery isn't just an art collection — it's a gathering place for creatives and an evening hangout spot. It's an example of redeeming hope and forging community. To see a calendar of events at the Waco 52 Pop-Up Gallery, visit www.creativewaco.org/waco52/. If you're interested in hosting an event at the gallery, email [email protected].
---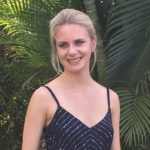 Caitlin Giddens is a local English teacher and writer. She graduated from Baylor University's Honors College in 2013. When she's not teaching or writing, she enjoys leading yoga and barre classes at Yoga Pod Waco.