2 Girls and a Construction Crew!
By Dawn Broadwater
Working for Skillpoint Alliance as Waco Program Coordinator has been both a challenge and a life changing learning experience for me. In January 2017, Mallory Herridge, Waco Program Director and I faced some daunting tasks: We needed to find a qualified HVAC/Construction Core Instructor and then test and interview potential candidates.  Doing so helped us resolve some personal stereotypes that only men can be successful in the construction trades! We put together a diverse class of both men and women who are learning how to be HVAC Technicians. By diverse, I mean all ages, races and backgrounds.
Prior to stepping up to the challenge of coordinating our first HVAC/Core Construction class, the only 'Tools of the Trade' we were experts at purchasing were mascara, eye shadow and lipstick. Fast forward two months and we can shop for tools and specialty supplies with the best of them!  Our first class project was completed at Maker's Edge, which is a makerspace and DIY prototyping studio here in Waco. The class made a chair and constructed a stand to hold an air conditioner unit. Two of our students were so dedicated to their success that they donated a small refrigerator and an air conditioning unit for extra learning.
Our Instructor, Mr. Ric Staton, has over 20 years' experience in the HVAC field. He has owned and operated an HVAC business in Bastrop and taught HVAC at National Institute of Technology in Austin. He brings humor, integrity and a vast portfolio of knowledge to our program. Next on our HVAC Wish list is a 'teaching trailer' to hold our supplies and also serve as a workstation. Ideally the trailer should be covered and 8 x 8 through 8 x 24. The students would be able to practice hands on skills and apply what they learn in class. Another item on our class 'wish list' is a used A/C Condenser and Furnace Unit. To date, we are grateful that this wish has been fulfilled by Capstone Mechanical.
Skillpoint Alliance has been providing 'Rapid Workforce Development' training to participants in Austin since 1994. They expanded to Waco in 2015 with a few pilot classes and are now finding a permanent home here in Waco.  Their office and classrooms are located at the Barron's Branch Apartments on Colcord. Skillpoint is attempting to help residents who have a desire to obtain a certification in such fields as HVAC/Core Construction, Medication Aide and Certified Nurse's Aide. Mallory, who started as Director in 2016, states "although Skillpoint has only been in Waco a short time, this 'Rapid Workforce' model has already been identified as an integral piece of the puzzle when it comes to increasing the financial security of our citizens."
The Skillpoint Alliance Heating, Ventilation and Air Conditioning training is an eight week specialty course that prepares participants for work as an HVAC Apprentice.  Students spend the first three weeks of the training completing the Construction Core program, which earns them certifications needed for entry-level positions in the construction trade.  The course then covers building codes, pipe fittings, diagnosing malfunctions and air duct systems.  It includes hands-on experience and instruction from dedicated instructors about aspects of HVAC systems for commercial, industrial and residential buildings. HVAC continues to be one of the fastest-growing service occupations due to heightened awareness of fuel conservation and environmental concerns.
Participants earn certifications for: NCCER Level One HVAC, NCCER Core Construction, EPA 608 Universal Certification, TDLR HVAC Technician Registration, OSHA 10 Certification and First Aid/CPR Certification.
Soft skills training, resume work shops and interview preparation also prepare our students to enter the work force. Engaging community partners to help collaborate with the needs of our students during their training has proved beneficial. As we move into September, our second HVAC class is getting ready to learn the 'tools of the trade'!  Four of our students from our first HVAC class have secured employment in the HVAC/Maintenance Field. (And, yes, one of those newly employed is a woman.) We are excited for all of them and wish them the best! We currently have a few openings for our upcoming HVAC class that starts on Monday, September 11th. Potential students are encouraged to call our office ASAP to schedule assessment testing and interviews to be considered.
As we continue to expand and grow, we hope to serve many more Wacoans with an opportunity to learn and obtain certifications that offer a living wage, debt-free. We desire to collaborate with local HVAC and Construction companies to provide information and support for our students. 'Lunch and Learn' opportunities from local employers' help our students learn about prospective companies that are hiring in the area.  For more information visit our Website @ www.skillpointalliance.org  or stop by and visit: 817 Colcord Avenue Waco, Texas. Our office phone: 254-732-0620
---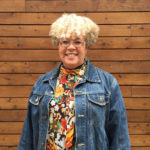 As the Skillpoint Alliance/Waco Program Coordinator, Dawn is responsible for coordinating and carrying out the activities for programming in the Waco region including: Classroom Management, Participant Coordination and Data Management. Prior to joining Skillpoint,Alliance, Dawn worked at Mission Waco as a Program Coordinator/Job Trainer/Job Developer for Waco Homeless population. She has previously worked as a Staff Respiratory Therapist, Respiratory Therapy Department Manager and Clinical Evaluator for Promise Hospital of Phoenix, Phoenix, Arizona and Clinical/Didactic Instructor for a Respiratory Therapy Program at Apollo College in Phoenix, Arizona. Dawn moved to Waco with her husband, Tom in 2011.
The Act Locally Waco blog publishes posts with a connection to these aspirations for Waco. If you are interested in writing for the Act Locally Waco Blog, please email [email protected] for more information.
(Visited 80 times, 1 visits today)