Teaching and learning at its best…Freedom School
By Mary Duty
The morning I read was just like the good old days of teaching.  Up at 5:30, out the door by 7, I was on my way to the guest reader at the Children's Defense Fund Freedom School at Baylor University. The school was held at Cesar Chavez Middle School (CCMS) . Dr. Lakia Scott invited me to read.  She worked with student reading programs at CCMS for a couple of years.  She began to develop a vision for a comprehensive summer reading program, and the Freedom School filled that bill.
CDF Freedom School is a program that develops literacy, civic engagement, and advocacy training.  Based on a similar program from the days of the Civil Rights Movement, these schools develop a curriculum that involves active reading and researching on a topic of interest and then helps students develop a response to their research.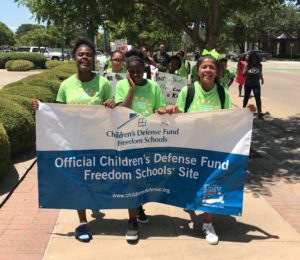 Every year at Freedom School there is a day set aside for a social action project.  Last year it was studying, researching and conducting voter registration drives. This year's theme for the National Day of Social Action was Child Hunger.  Students began to read about and research the problem of child hunger around the world, in the United States and locally.  Guest speakers came to talk to the scholars about child hunger.  From there students were encouraged to write speeches and letters and discuss ways to help solve the problem.  With the help of their teachers, they organized a March and a Rally in downtown Waco, complete with a trip to City Hall to visit with elected officials.  I could not wait to meet these young scholars.
I was brought to the gym.  The kids came in and gathered around.  And then magic filled that space.  The overly loud PA system began to play the Quincy Jones version of the Hallelujah Chorus. The kids didn't mind.  They began to move around the room and sing and sway to the music.  Teachers joined in.  What a way to start the day!  This is how every day started at Freedom School.  They also engaged in a few minutes of "recognition" time where scholars and teachers call out people for good work or good deeds from the day before.  Guest Readers, joyful music and an attitude of gratitude set the mood.
As the music faded away the scholars sat in a semicircle and waited for me to read.  I read a book about the childhood of John Lewis.  They had just finished reading Lewis's book, March.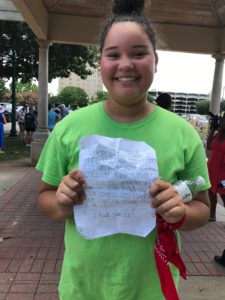 After reading the book and answering questions the students went to their classrooms to read and work on writing and poster making.  The day I read was the day of the big march downtown.  We went from room to room with a member of the staff and what I saw was nothing short of spectacular.  Large colorful posters and banners littered the floor.  Speeches were on the tables, ready for their last revision.  The excitement about showing their work was evident in every room.  One teacher had worked with the students on their silent demonstration that showed the number of children that go hungry at night.  One young man told me of how the body that has not been fed reacts to school the next day.  Concentration suffers.  Kids don't master new ideas.  Schoolwork suffers.  He was serious.  Every kid deserves a chance, he said.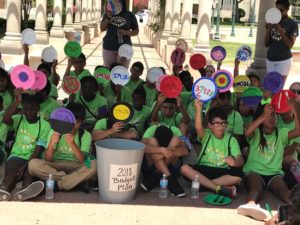 At about 2 p.m. I drove to Heritage Square.  The kids marched.  They carried their posters.  They were blessed by Virgil, Waco's praying man.  After about 30 minutes in the hot summer sun, they gathered in the shade of the arbors at Heritage Square.  Townspeople came.  Baylor students showed up.  Parents of kids were in the crowd.  The students made speeches and at the end they explained what their plates represented.  The young man that told me about how kid's minds don't work well when they are hungry finished his speech with a plea to the crowd.  "We all can help."…..and looking out over the grownups he added "You could give money."  He had grown to understand that if the programs that kids rely on for food are in the federal budget cuts, then we must look to our community…our civic organizations and churches to pick up the slack. Everyone smiled and nodded when he finished.  Then, row by row, in complete silence they filed by and dropped their empty plates in a trash can.  Symbolic of the number of kids that go without, they made a powerful statement with a peaceful and gentle voice.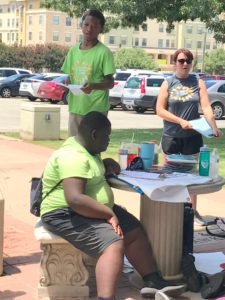 As quickly as it began, it was over.  They gathered their water bottles scoured the area for trash and loaded on the bus to go back to Cesar Chavez.  I walked away transformed by what I witnessed.  In education jargon, it is called "integrated, thematic learning."  This was that kind of learning at its best.   At the March and Rally, kids showed off their knowledge of science, history, and mathematics. They did it with reading, writing and speaking skills. And their work held deep meaning to them.  Their attitude toward their fellow man, their view of themselves and their place in the world will be forever changed for the better.
The CDF Freedom School at Baylor held a grand "Finale" program on their last day of school. The crowd was full of proud parents and friends. Dr. Marcus Nelson represented WISD.  It was a celebration of what was done at this year's Freedom School. Scholars danced and sang.  They performed a play based on the story of the eagles that thought they were chickens.
At the close there was a final "recognition" time.  One student from each class came forward to read a note to their teacher. The first young man made it through about three lines of his prepared remarks and then the tears began to flow.  He was overcome with his feelings about what this Freedom School meant to him. Every child that followed let the tears flow. The recognitions were raw and real and cut to the heart of what good teaching is.  Finally, as they danced their final dance, this next generation of politicians, doctors, lawyers, teachers and citizens let it all go. Through their tears and laughter and promises, this first class of Freedom School graduates go forward to change the world. Thanks to this powerful Baylor/Waco ISD partnership, these scholars found their voice.
---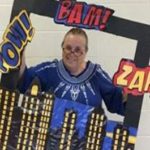 Mary Duty is a long time Waco educator and business owner. She is a chronic volunteer and seeker of truth and justice.  The Chair of Mclennan County Democratic Party, Mary is the mother of 5 incredible Wacoans and grandmother to 7 adorable grandkids. She is the wife and soulmate of Waco businessman, Roland Duty.